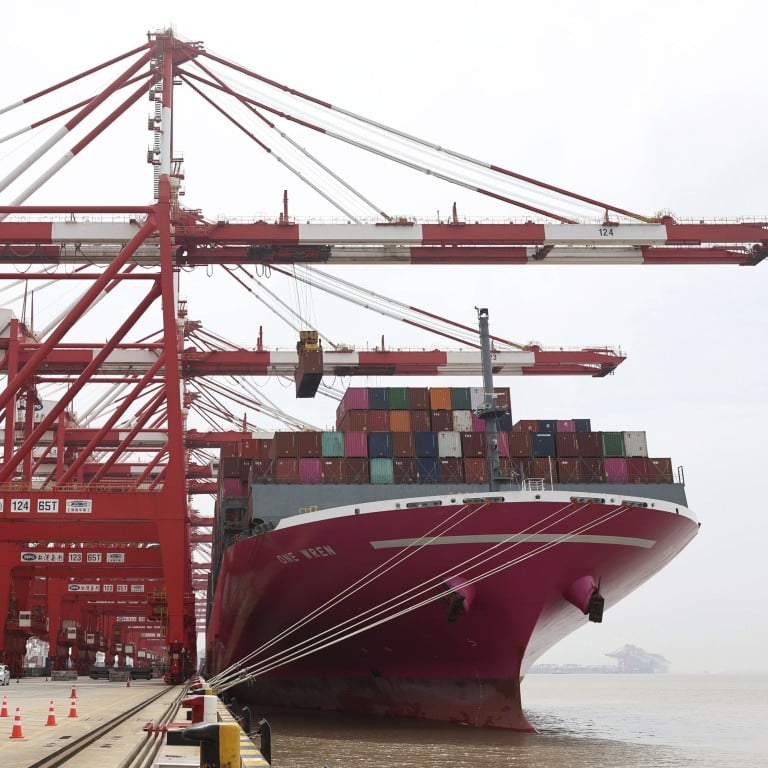 China trade: export growth in May boosted by Shanghai reopening, but 'temporary blip' to fade amid headwinds
China's exports grew by 16.9 per cent in May compared with a year earlier, up from 3.9 per cent growth in April
Imports grew by 4.1 per cent in May compared with a year earlier, up from an unchanged reading in April
China's export growth rebounded in May as manufacturing activity in Shanghai gradually returned to normal towards the end of its two-month coronavirus-induced lockdown, but any forward momentum is set to fade amid rising uncertainties, analysts said.
Exports grew by 16.9 per cent last month from a year earlier to US$308.25 billion, compared to
3.9 per cent growth in April,
according to the data released by China Customs on Thursday.
The May figure was above expectations for a rise of 7.3 per cent, according to Wind, a leading provider of financial information services in China.
Imports, meanwhile, grew by 4.1 per cent in May from a year earlier to US$229.49 billion, up from an unchanged reading in April, and also above the expectation of a 0.6 per cent rise.
"Resuming international trade has been a priority for the local governments in Shanghai and the cities in Zhejiang and Jiangsu provinces. Their efforts paid off," said Zhang Zhiwei, chief economist at Pinpoint Asset Management.
The container throughput for foreign trade at eight major ports in China increased by 13 per cent year on year in May, according to the China Ports & Harbours Association.
But despite the recovery, the momentum is still weaker than before the latest coronavirus outbreaks, and it is unclear if the double-digit export growth is sustainable for the rest of this year, Zhang added.
"Exports in May are to a large extent driven by orders placed before the outbreak. The new export order indicator from the
[purchasing managers' index]
in the past two months is quite weak," he said.
The increase in export value in May from US$273.62 billion in April can also be attributed to overseas inflation, according to Golden Credit Rating.
"China's major export destinations such as the United States and Europe are experiencing high inflation … this also supported the high growth rate of exports in May to a certain extent," the Chinese credit rating agency said.
Overall, the 10 countries of the Association of Southeast Asian Nations (Asean) retained their place as China's largest trade partner in May, followed by the European Union and the US.
China's exports to the Asean countries rose by 25.9 per cent compared with a year earlier to US$49.3 billion in May, while imports dropped by 2 per cent to US$32.5 billion.
Amid ongoing talks of the United States
considering removing some of the tariffs
imposed on Chinese goods, imports from the US rose by 21.2 per cent from a year earlier to US$15.9 billion in May, while exports grew by 15.7 per cent to nearly US$52 billion.
Iris Pang, chief Greater China economist at ING, said that the discussions over the removal of tariffs are likely to be drawn out as it is both an economic and political policy issue, with any changes unlikely to happen until the third quarter.
In May, China's trade surplus with the United States widened by 13.5 per cent from a year earlier to US$36.1 billion, up from US$32.2 billion in April.
China's imports from Russia rose by 79.6 per cent to US$10.3 billion in May, but exports fell by 8.6 per cent to US$4.3 billion.
Sheana Yue, China economist at Capital Economics, said "the rebound in exports in May is likely to be a temporary blip as virus disruptions were eased".
"Given growing headwinds to exports, we continue to expect a fall in outbound shipments over the coming quarters," Yue said.
"For a start, shifts in global consumption patterns that have supported Chinese exports will unwind coming out of the pandemic. What's more, high inflation and rising interest rates in many key markets for Chinese exports will weigh on household purchasing power of consumers there."
Li Xingqian, an official with China's Ministry of Commerce, said on Wednesday that some foreign trade orders, which returned last year due to the coronavirus outbreaks in neighbouring countries, have now left China and returned to the neighbouring regions.
But Li stressed that the scale is largely under control and that the impact is limited.