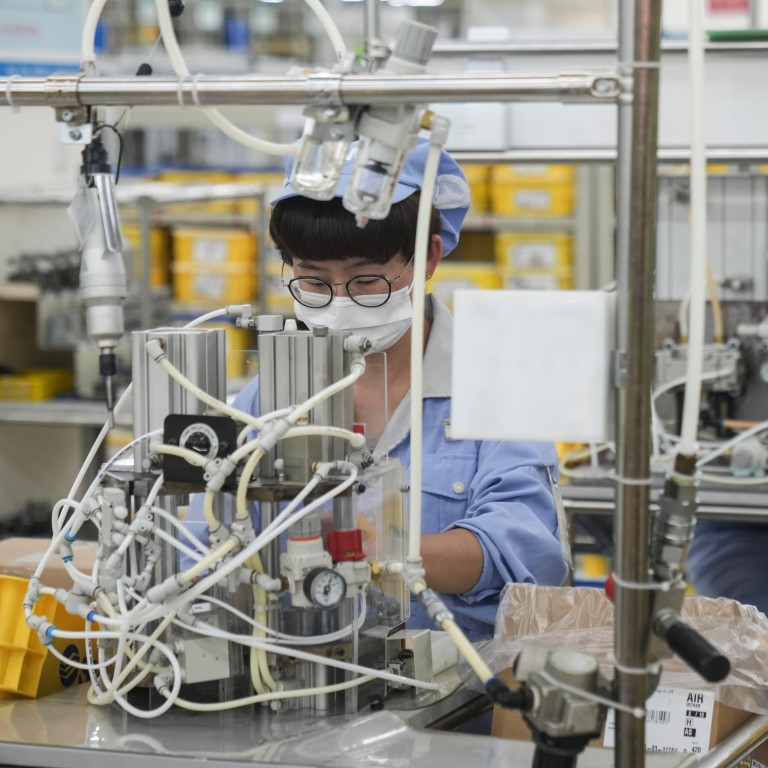 China inflation: increased demand as coronavirus restrictions ease could push up prices
China's consumer price index (CPI) rose by 2.1 per cent in May from a year earlier, unchanged from a rise of 2.1 per cent in April
The producer price index (PPI), which reflects the prices that factories charge wholesalers for products, rose by 6.4 per cent in May, down from a rise of 8 per cent in April
Increased demand due to the easing of coronavirus restrictions could contribute to a rise in China's consumer inflation later this year, analysts said, even after prices remained stable last month.
The consumer price index (CPI) rose by 2.1 per cent in May from a year earlier, unchanged from an
identical rise in April,
the National Bureau of Statistics (NBS) said on Friday, as China's consumer inflation remained within the government target of "around 3 per cent" for the year.
However, given the low price of pork a year ago, as well as firming demand due to the easing of coronavirus-related restrictions, analysts at Goldman Sachs have warned of a potential year-on-year increase in headline CPI.
"High-frequency data suggests that prices of pork and fresh fruits increased in early June," Goldman Sachs said.
Food prices in China rose by 2.1 per cent from a year earlier in May, up from an increase of 1.9 per cent in April, while non-food prices rose by 2.3 per cent last month, year on year, up from a reading of 2.2 per cent growth in April.
"In May, the pandemic control continued to improve, with overall sufficient supplies in the consumer market, CPI has decreased compared to last month, and the year-on-year increase remained stable," said senior NBS statistician Dong Lijuan.
"As a great amount of fresh vegetables entered the market and logistics gradually smoothed, prices of fresh vegetables fell by 15 per cent [compared to last month]."
Like CPI, the producer price index (PPI), which reflects the prices that factories charge wholesalers for products, matched market expectations as its growth slowed for the seventh consecutive month to 6.4 per cent in May from a rise of 8 per cent in April.
This was the lowest reading in over a year since growth of 4.4 per cent in March 2021.
"We expect year-over-year PPI inflation to decline further due to base effects in the coming months," added Goldman Sachs.
China's core consumer inflation rate, excluding the volatile prices of food and energy, rose by 0.9 per cent in May compared with a year earlier, unchanged from an identical rise in April.
"Due to weak demand, supply disruptions in China since early March as a result of the resurgence of Covid-19 have not led to a rapid rise in domestic inflation," said Nomura analysts led by Lu Ting.
"Therefore, Beijing is not overly concerned about inflation when rolling out policies to stimulate demand, but the scope for policy rate cuts remains limited by gradually rising CPI inflation in China and [US Federal Reserve] rate hikes."
Slowing PPI inflation could reflect some
disruptions to supply chains
due to lockdowns and travel restrictions across several manufacturing hubs amid the latest Omicron outbreaks, according to Capital Economics.
China economist Sheana Yue also noted that high prices elsewhere were partly offset by falling coal prices amid a better supply last month.
"Factory gate inflation will continue on its downward trajectory throughout the rest of the year," said Yue.
"Looking through the uncertainty caused by the war in Ukraine, we generally think global commodity prices will end the year lower.
"Meanwhile, despite stronger demand amid the improving virus situation, we think CPI inflation will remain below the government's target of 3 per cent."
Rising commodity prices were offset by weak service prices, such as travel and entertainment, said Zhang Zhiwei, chief economist at Pinpoint Asset Management.
"The transmission from PPI to CPI has turned out to be muted, because of weak domestic demand," said Zhang.
"As PPI inflation is already on a downward trend, inflation is unlikely to be a constraint for further policy easing. I expect the government will roll out more stimulus in the next few months."
A lower CPI figure will allow the People's Bank of China (PBOC) "more room" to ease policy further to support growth, Yue added.
The PBOC have the chance to make a changes to its policy interest rates on Wednesday when the central bank announces the June fixing for the one-year medium-term lending facility loans to some financial institutions.