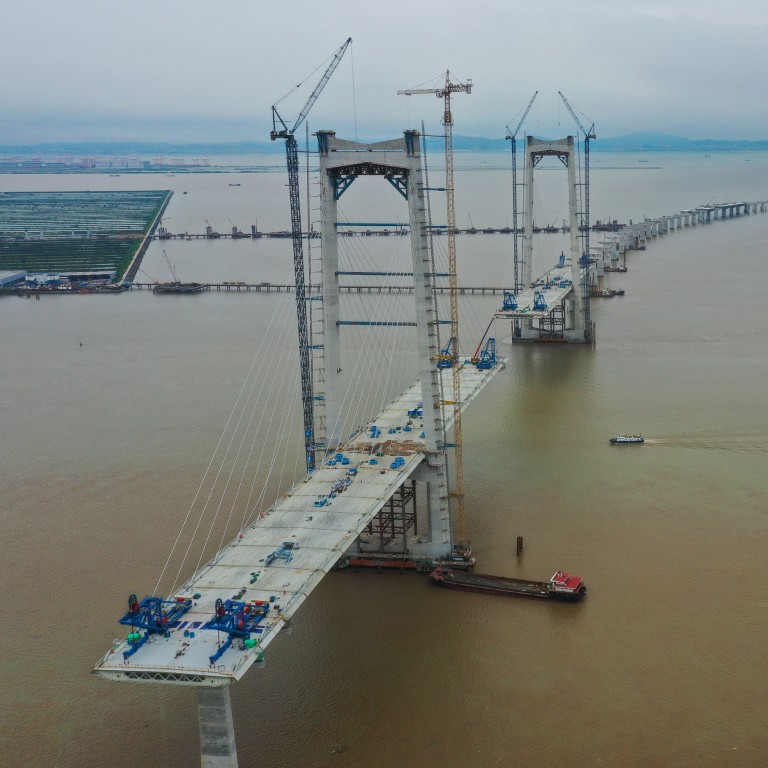 China's debt-fuelled infrastructure investment drive sees record 1.94 trillion yuan bonds sold in June
Local governments sold 1.94 trillion yuan (US$289 billion) worth of bonds in June as China turned to its old playbook of boosting economic growth
China's State Council said last month that policy banks would increase their credit line to provide 800 billion yuan to fund infrastructure projects
China is racing against time to rescue its coronavirus-hit economy with a renewed push of debt-fuelled infrastructure investment after its local governments set a record for bond issuance in June.
Local governments sold a record 1.94 trillion yuan (US$289 billion) worth of bonds last month, representing a year on year increase of 143.27 per cent, according to Great Wall Securities, as China once again turned to its old playbook of driving up growth through public investment.
This topped the previous record of 1.3 trillion in May 2020, but analysts still believe Beijing's hopes of meeting its economic growth target of "around 5.5 per cent" this year could still be hampered by the growing
burden of its zero-Covid policy
which mandates lockdowns, mass screening and quarantine.
"Despite last week's moderation, China's Covid restrictions remain among the harshest in the world," said London-based research firm TS Lombard on Monday.
"The worst may indeed be over, but the zero-Covid framework is here to stay and new outbreaks in China and elsewhere serve as a warning that further severe lockdowns on the scale of that in Shanghai cannot be ruled out."
According to the latest official figures from the Ministry of Finance, China issued 1.21 trillion yuan of local government bonds in May, taking the total for the first five months of the year to 3.32 trillion yuan.
Infrastructure investment has been touted by Beijing as the key driver to steady the economy, which is expected to slow sharply in the second quarter following a citywide lockdown of China's financial hub Shanghai for over two months until it reopened on June 1.
Special purpose bonds, which are used to fund infrastructure spending, made up 71 per cent of the total bond issuance, making it the key driver of the record public debt growth last month, according to Great Wall Securities.
In the first six months of the year, 93 per cent of the 3.65 trillion special purpose bond quota had been issued, totalling 3.41 trillion yuan, according to the securities firm.
In total, local governments had sold 4.89 trillion worth of bonds as of the end of June, according to Haitong Securities, and more are expected to be released with the likes of Heilongjiang, Jiangxi and Jilin advertising sales.
China's State Council said last month that policy banks would increase their credit line
to provide 800 billion yuan
(US$119.2 billion) to fund infrastructure projects.
Analysts at Soochow Securities expect the central government to step in to set up a fund dedicated to more infrastructure spending largely due to deteriorating local government finances.
"The idea of leveraging large-scale public capital participation through limited fiscal funds has gradually become more apparent," said Soochow Securities last week.
"Looking back, it is not uncommon to set up funds and support infrastructure – it's old wine in a new bottle."
Reuters reported on Tuesday that Beijing will set up a state infrastructure investment fund worth 500 billion yuan to spur infrastructure spending in the third quarter, citing unidentified sources.
China's economy is expected to
post its lowest quarterly growth
rate in more than two years when the data is announced next week, with its gross domestic product (GDP) set to grow by just 1.4 per cent in the second quarter from a year earlier, according to Chinese financial data provider Wind.
The official manufacturing purchasing managers' index (PMI)
rose to 50.2 in June
from 49.6 in May, marking the first expansion since February, while the non-manufacturing PMI also rebounded to 54.7 in June from 47.8 in May.
"This set of PMI data indicates that demand remains weak. And future demand depends on the likelihood of further lockdowns as the government remains committed to its zero-Covid policy," said Iris Pang, chief economist for Greater China at ING.
"We think that it will be challenging for the government to achieve the 5.5 per cent GDP target set in March. There will need to be a lot more infrastructure activity if the government is to achieve this target."