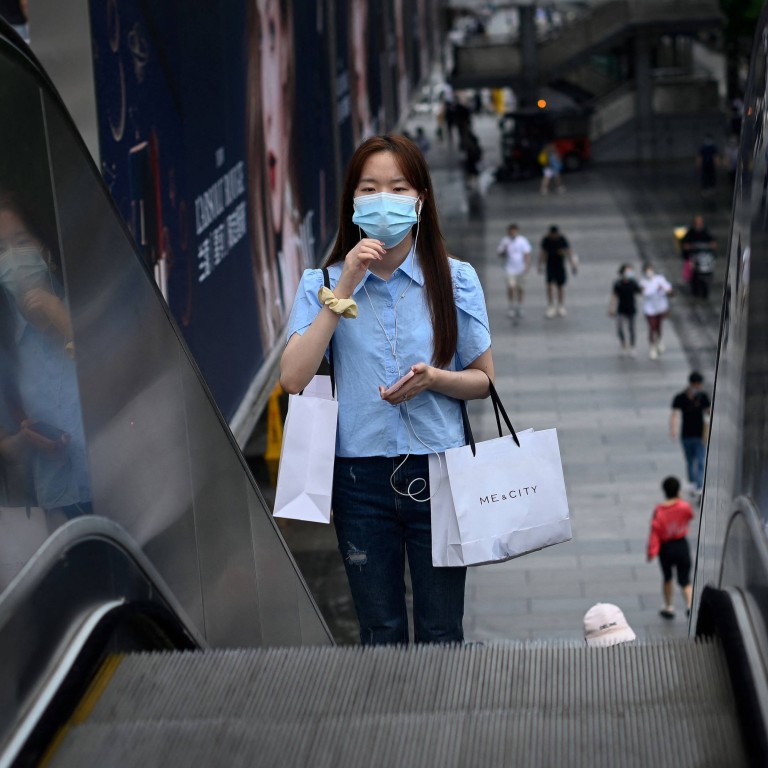 China GDP: second-quarter economic growth plunges to 0.4 per cent, lowest in 2 years after missing expectations
China's economy grew by 0.4 per cent in the second quarter, compared with a year earlier, down from the 4.8 per cent growth seen in the first three months of the year
Retail sales rose by 3.1 per cent in June from a year earlier, while industrial production also rose by 3.9 per cent last month
China's economy fell short of expectations and grew by just 0.4 per cent in the second quarter of 2022 compared with a year earlier, the National Bureau of Statistics (NBS) announced on Friday.
It represents the lowest growth rate since China's economy
shrank by 6.8 per cen
t in the first quarter of 2020 after the coronavirus shut down large swathes of the country.
The world's second-largest economy had been predicted to grow by 1.1 per cent in the second three months of the year, according to Chinese data provider Wind, following expansion of
4.8 per cent in the first quarter
.
"We should be aware that the foundation for a sustainable and steady recovery of the economy is yet to be consolidated due to: externally, the risk of stagflation in the world economy is rising, the policies of major economies tend to be tightened, and external instabilities and uncertainties are adding obviously; and domestically, the impact of the epidemic is lingering, shrinking demand intertwines with disrupted supply, structural problems combine with cyclical problems and market entities still face operational difficulties," NBS spokesman Fu Linghui said on Friday.
In other figures released by the NBS on Friday, industrial production, a gauge of activity in the manufacturing, mining and utilities sectors, grew by 3.9 per cent in June from a year earlier, up from 0.7 per cent growth in May.
This was below the forecast by Wind, which had predicted 4.5 per cent growth last month.
Retail sales rose by 3.1 per cent in June, year on year, up from a
fall of 6.7 per cent in May
. This was above the forecast by Wind, which had predicted a fall of 0.5 per cent last month.
Fixed-asset investments – which Beijing has relied heavily on this year to stem downturn risks – rose in the first half of the year with a growth of 6.1 per cent, from a rise of 4.7 per cent in the first five months.
The urban surveyed jobless rate, an imperfect measurement of unemployment in China that does not include figures for all of the nation's tens of millions of migrant workers, remained elevated at 5.5 per cent in June, compared with 5.9 per cent in May.
The jobless rate for the 16-24 age group continued to rise to a record 19.3 per cent in June.
On a quarter-on-quarter basis, GDP fell by 2.6 per cent in the second quarter, compared with a revised 1.4 per cent gain in the previous quarter.
In the first half of the year, GDP grew by 2.5 per cent compared with a year earlier.
"The economy likely bottomed out in the second quarter. It is on track for a slow recovery. The rebound of retail sales is encouraging, and the strong credit growth indicates growth in the third quarter will likely continue to recover," said Zhang Zhiwei, chief economist at Pinpoint Asset Management.
"Nonetheless, economic growth is still much lower than its potential, as the fear of Covid outbreaks continues to hurt consumer and corporate sentiment."
Also on Friday, the People's Bank of China left the rate on 100 billion yuan (US$14.8 billion) worth of one-year medium-term lending facility loans to some financial institutions unchanged at 2.85 per cent.
The International Monetary Fund (IMF) said on Thursday that China needs to add more fiscal and monetary policy support to combat the economic slowdown brought on by continued coronavirus lockdowns, but less-restrictive containment policies also were needed.
"We welcome the shift to a more expansionary fiscal policy this year, but even more support would help counter the ongoing growth slowdown," IMF spokesman Gerry Rice said at a news briefing when asked about the Fund's policy advice for China.
"This fiscal support would be particularly effective, in our view, if focused on vulnerable households through transparency and strengthening of the social protection system."
Given low core inflation in China, the IMF believes that the People's Bank of China should continue to provide monetary policy support, Rice added.
He said reductions in key policy rates earlier this year were a "welcome step" that lowered borrowing costs and strengthened investments.
Additional reporting by Reuters