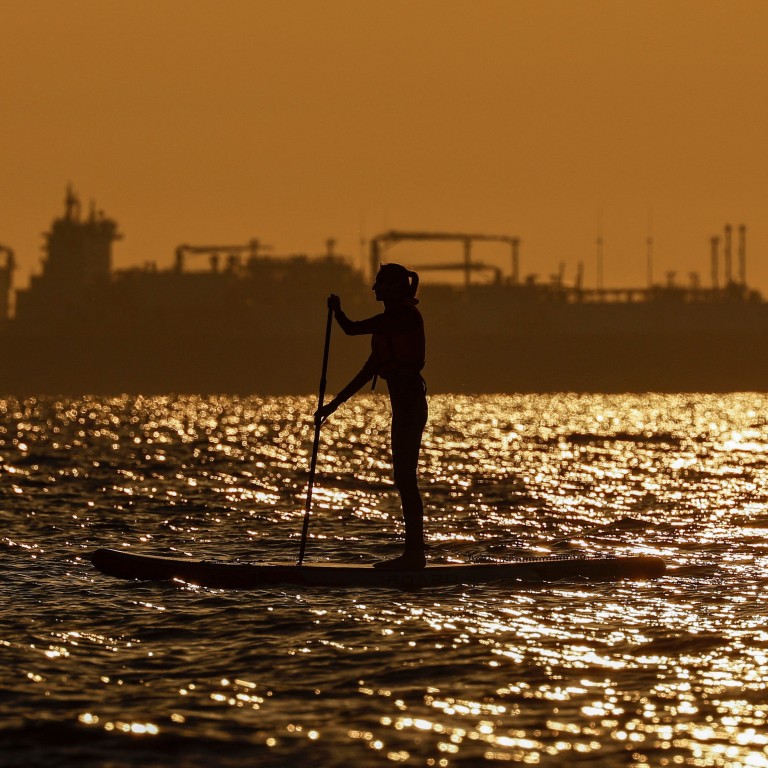 China snaps up over US$2 billion of Russian LNG as energy trade bucks economic downturn
China bought a total of 2.35 million tonnes of LNG – valued at US$2.16 billion – from Russia in the first six months of the year
Except for Russia, all other major LNG suppliers to China have seen a drop in their trade volumes this year
Despite a suppressed appetite for energy amid its economic downturn, China has been absorbing more Russian natural gas so far this year, while imports from most other sources declined.
In the first six months of the year, China bought a total of 2.35 million tonnes of liquefied natural gas (LNG) – valued at US$2.16 billion – from Russia, detailed Chinese customs data released on Wednesday showed.
The import volume increased by 28.7 per cent year on year, with the value surging by 182 per cent, according to the Post's calculations based on the customs figures.
"The increase in Russian LNG could be a displacement of cargoes going to Japan or South Korea because of sanctions, or weaker demand there," said Michal Meidan, director of the China Energy Programme at the Oxford Institute for Energy Studies.
For pipeline natural gas, Russian producer Gazprom announced that its daily supplies to China via the Power of Siberia pipeline had reached a new all-time high on Tuesday, breaking the previous record which had been set just two days earlier.
"Currently, Gazprom carries out the gas supplies above the contractual daily volumes," the company said in a statement.
The state producer, which delivers gas under a long-term contract with China National Petroleum Corporation, said earlier that the supply of Russian pipeline gas to China had increased by 63.4 per cent in the first half of 2022.
Chinese customs data showed that the import value of pipeline natural gas from Russia almost tripled in the first half of the year to US$1.66 billion.
The General Administration of Customs of China has stopped publicising the breakdown in trade volume for pipeline natural gas since the beginning of the year, with spokesman Li Kuiwen confirming last week that the move was to "protect the legitimate business rights and interests of the relevant importers and exporters".
Russia is currently China's second-largest pipeline natural gas supplier after Turkmenistan.
But imports from Russia will be further enhanced with the construction of Power of Siberia 2 gas pipeline via Mongolia, which is expected to begin in 2024, according to a Financial Times interview with Mongolian Prime Minister Oyun-Erdene Luvsannamsrai this week.
China imports over half of the natural gas it consumes, with around two-thirds in the form of LNG, although demand has fallen sharply this year amid economic headwinds.
It imported 53.57 million tonnes of natural gas from January to June, marking a 10 per cent year-on-year decline, according to the National Bureau of Statistics.
The country's economy only
grew by 0.4 per cent
year on year in the second quarter of 2022, dropping to the lowest pace in two years following a contraction of 6.8 per cent in the first quarter of 2020.
China's LNG demand is expected to decline by around 20 per cent in 2022 compared to last year, while pipeline imports are expected to grow by around 10 per cent, mostly from increased volumes from Russia, said Jeffrey Moore, LNG analyst at S&P Global Commodity Insights.
Elevated spot LNG prices have also had a significant impact on Chinese demand, with buyers essentially stopping spot procurement so far this year, he added.
"Because of Europe's need to continue to source significant volumes of LNG, prices are expected to stay elevated at levels which will reduce spot procurement in Asia, especially China," Moore said.
Except for Russia, all other major LNG suppliers to China have seen a drop in their trade volumes this year.
Imports from Australia, China's largest source of LNG, declined by 28.8 per cent year on year in the first six months of 2022 to 11.2 million tonnes.
Deliveries from the US, which saw a big surge in LNG exports to China last year thanks to the
phase-one trade deal
between the two countries, dropped by 76.1 per cent in the first half of the year compared to the same time last year.
"US LNG has been going to Europe because higher prices and demand there have made it more attractive to ship it there," Meidan added.
But as China's demand has been weak due to the economic situation and some price sensitivities from the industrial sector, it is too soon to talk about bigger shifts in trade flows, Median said.
"Russian LNG to China is likely to increase gradually, but will not be diverted away from Europe quite yet," she added.
"When demand recovers in China, pipeline gas and oil indexed contracts will likely be favoured over the more expensive spot cargoes."