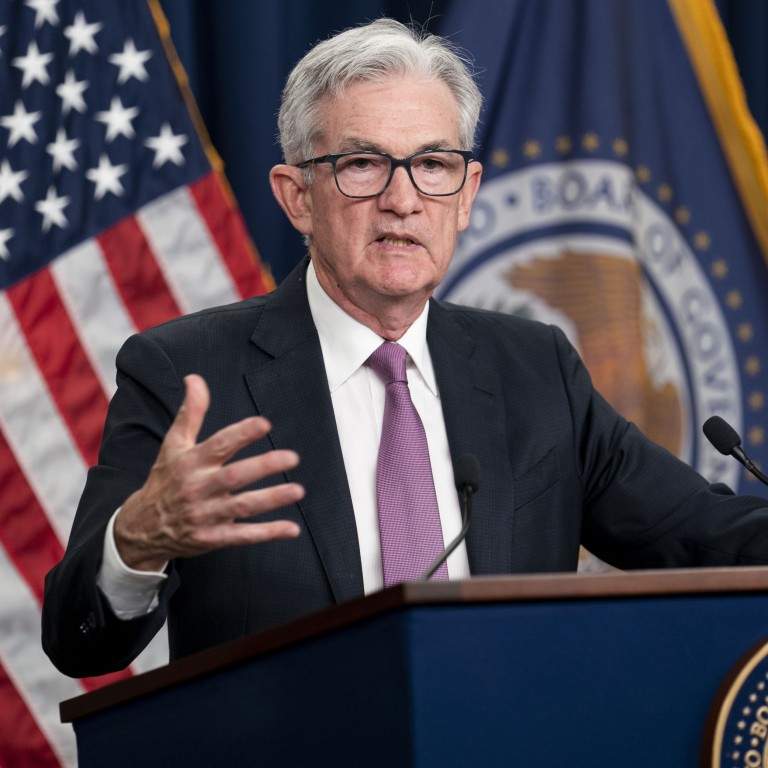 US, China urged to be 'responsible' global economic leaders in wake of Fed rate hike
US Federal Reserve confirmed a widely expected second straight 75 basis point rate increase, lifting its benchmark to a range of 2.25 per cent to 2.5 per cent
On Thursday, China's Politburo refrained from strong stimulus, instead pledging to use proactive fiscal policy to drive up economic growth
A telegraphed fourth interest rate increase this year by the United States created few shock waves in China, but the world's two largest economies have been urged to work together to tackle global economic and financial turbulence.
"China-US macroeconomic coordination should be a more important topic than tariff rollback, considering the looming recession threat," said Chen Fengying, a senior fellow with the China Institutes of Contemporary International Relations, referring to discussions within the Biden administration over removing Trump-era trade tariffs on imported Chinese goods.
Such bilateral coordination could be more efficient as the two countries account for around 40 per cent of the global gross domestic product (GDP), she added.
A Beijing-based diplomat from an Asian nation, who asked not to be identified, also said it was time for the US and China to cooperate to counter global recession risks as "responsible" global economic leaders despite their overall bilateral tensions.
The latest move by the US Federal Reserve is part of strenuous efforts to slow price gains across the economy after inflation rose to a 40-year high of 9.1 per cent in June.
Such aggressive moves, with the rate having stood at between 0-0.25 per cent at the start of the year, have raised concerns in China in the past following the capital flight and yuan depreciation witnessed between 2015-17.
But after capital shifted earlier this year as the US interest rate overtook China's, the Chinese market has gradually calmed.
The People's Bank of China on Thursday kept its seven-day reverse repo, a key policy rate, unchanged at 2.1 per cent, while strengthening the yuan's midpoint by 0.47 per cent to 6.7411 per US dollar, representing the highest daily change since mid-June.
Regulators have also taken some precautionary measures over the last year, including a more flexible yuan exchange rate, optimisation of foreign debt structure and a greater use of foreign exchange hedging tools.
Together with its US$3 trillion foreign exchange reserves, a strong trade surplus and investment inflows, it has enabled China to maintain a loose policy stance favouring domestic needs, despite widened divergence with major Western economies.
"We'll strengthen bottom-line thinking, increase monitoring and analysis, and effectively maintain the smooth operation of the foreign exchange market and national economic and financial security," said Pan Gongsheng, head of the State Administration of Foreign Exchange, in an article published on Wednesday.
At its quarterly economic meeting on Thursday, the 25-member Politburo refrained from strong stimulus, but pledged to use proactive fiscal policy to drive up economic growth.
Beijing has set its gross domestic product growth target for 2022 at "around 5.5 per cent", but China's economy only
grew by 0.4 per cent in the second quarter,
compared with a year earlier, down from the 4.8 per cent growth seen in the first three months of the year.
"The Politburo meeting reinforces our view that stimulus will remain relatively restrained this year and that the economy will continue to operate well below potential over the coming quarters," said Julian Evans-Pritchard, senior China economist at Capital Economics.
"We expect official 2022 GDP growth of at most 4 per cent and think that, in reality, the economy may not grow at all this year."
The Washington-based institution also lowered China's 2022 growth forecast from 4.4 per cent to 3.3 per cent, while growth in the US is forecast to reach 2.3 per cent this year, down from 3.7 per cent predicted three months ago.