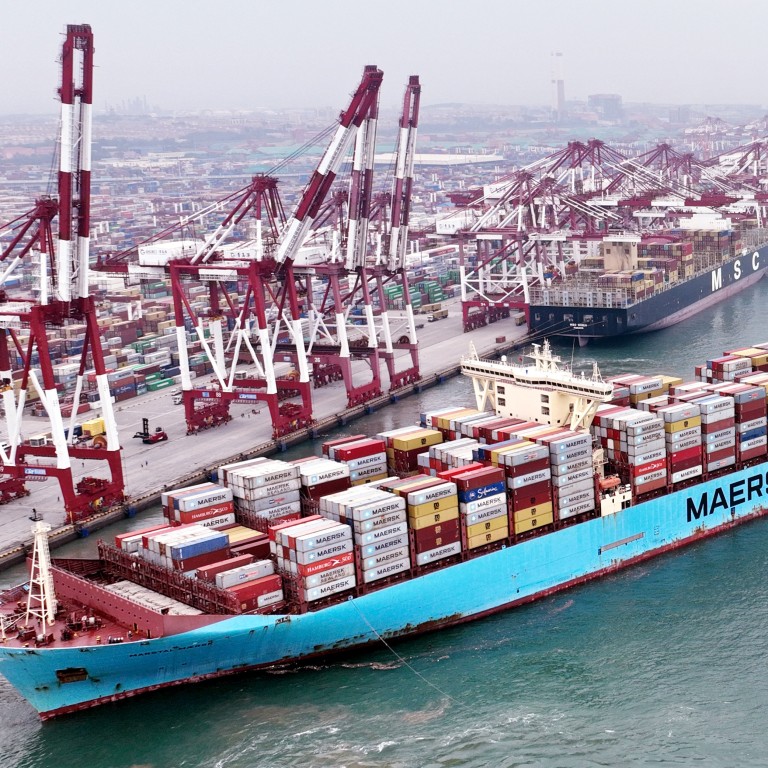 China trade: July 'surprise' as exports beat forecasts, but imports fail to catch up
China's total trade surplus hit an all-time high of US$101.26 billion in July, compared with US$97.94 billion in June
Exports grew by 18 per cent last month from a year earlier to US$333 billion, compared to a 17.9 per cent growth in June
China's export growth continued its rising momentum to beat expectations in July, but imports remained weak, sending the total trade surplus to a record high, latest official data showed.
Exports grew by 18 per cent last month from a year earlier to US$333 billion, compared to a
17.9 per cent growth in June,
according to data released by China Customs on Sunday.
The July figure was above expectations for a rise of 16.2 per cent, according to Wind, a leading provider of financial information services in China.
Imports, meanwhile, grew by 2.3 per cent year on year in July to US$231.7 billion, up from 1 per cent growth in June, but well below the expected 4.5 per cent increase.
This came as China's total trade surplus hit an all-time high of US$101.26 billion in July, compared with US$97.94 billion in June.
Alicia Garcia Herrero, chief Asia-Pacific economist at French investment bank Natixis, said China "is not comfortable with a trade deficit" in such difficult times.
"The more reserves they can accumulate the better, for rainy days. Taiwan's situation shows that sanctions on [Beijing] could come," she added.
"[Foreign exchange] reserves do help in a grey area situation, which is where we are now, [and] exports help in that direction."
Zhang Zhiwei, president and chief economist at Pinpoint Asset Management, was of the same view. Noting that China's export growth "surprised again on the upside", he said "the strong export growth continues to help China's economy in a difficult year as domestic demand remains sluggish."
China has ruled out excessive stimulus to boost growth as the economy faces the fallout of a zero-Covid policy and related curbs.
China "
won't resort to
super-large stimulus or excessive money printing to accomplish a high growth target," Premier Li Keqiang said last month, while pledging that Beijing will maintain targeted macro policies.
"The strong export data reinforces the government's policy stance," Zhang pointed out. "[It] helps boost confidence in the [yuan] exchange rate, which in turn helps to deter capital outflows."
The International Monetary Fund in late July cut its 2022 growth forecast for China to 3.3 per cent from 4.4 per cent in April, because of the country's
draconian Covid-19 lockdown
measures.
The Association of Southeast Asian Nations, the European Union and the United States remained China's three largest trading partners in July.
With Russia, trade remained resilient in July and imports went up by nearly 50 per cent. Chinese exports to Russia rose 22.2 per cent year on year to US$6.77 billion, while import volume soared by 49.3 per cent to US$10 billion, the second highest after May's record US$10.27 billion.
In volume terms, the customs data also showed that China's imports of major commodities, such as grain, soybean, crude oil, natural gas and coal, fell year on year in July but the dollar-term purchase values all increased – a sign of the inflation impact.
The purchase of iron ore increased in volume terms, but declined in dollar terms.
On the other hand, Chinese exports of rare earths fell by 8 per cent in July from the previous year, to 3,637.10 tonnes.
China controls around 90 per cent of the world's
supply of rare earths
, a group of 17 chemically similar elements abundant in nature but hazardous to extract, which are essential components of hi-tech goods including smartphones, television and computer screens, X-ray and MRI systems and hybrid cars.
"The data basically confirms China's push for self-reliance on the import side. The recent announcement of limits to iron ore imports is a good example of that, but [it is] also supported by very weak demand," added Garcia Herrero.
"On the export side, China wants to continue to increase market share, as much as possible."