Taiwan
Get more with myNEWS
A personalised news feed of stories that matter to you
Learn more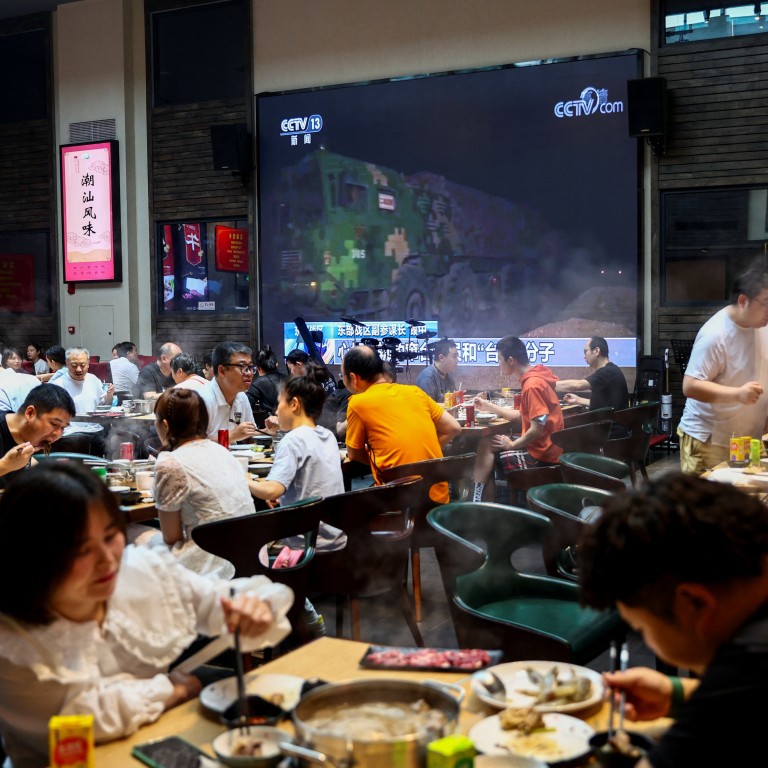 Taiwanese gain confidence in economy, bucking global trend as coronavirus cases fall
Index score toward confidence in overall economic health marked an improvement from last month, according to a survey from Cathay Financial Holdings
Survey showed that minus 25.2 per cent said Taiwan's overall economic health had improved, but 49.3 per cent said it had not
Taiwanese citizens are feeling better about their economy, income and financial markets this month compared to July as coronavirus cases drop despite gloom elsewhere in the world, according to a survey from a domestic financial services firm.
An index score of minus 24.1 towards confidence in the overall economic health of the self-rules island marked an improvement from minus 36.2 last month, according to the survey from Cathay Financial Holdings, which was taken between August 1-8.
The survey, taken at the time of the controversial visit to the island by
US House Speaker Nancy Pelosi
on August 2 and 3, showed that 25.2 per cent said the overall economic health had improved, but 49.3 per cent said it had not.
The scores from the survey represent differences between respondents who believe the economy has improved and those who think it has worsened.
The 20,127 valid responses produced an August index score of minus 2.4 towards their salaries, up from minus 4.9 last month, and a score of minus 1.4 in August towards purchases of big-ticket items, up from minus 6.9 per cent in July.
A rally in US stocks on hopes that record-high inflation had reached its peak rippled to Taiwanese markets and elevated people's spending moods, said Liang Kuo-yuan, the retired founder of the Taipei-based think tank, the Yuanta-Polaris Research Institute.
"Sentiment was high, so there was a knock-on effect," said Liang.
Worldwide, consumer confidence indices have declined in China, India, Britain and the United States over the two most recent periods tracked by the statistics database, Trading Economics.
Taiwan's Centres for Disease Control logged 26,765 coronavirus cases on Sunday, down from a year-to-date peak of 94,610 on May 27.
Ko Chi, 27, has noticed more people eating out when he meets friends in Taipei on weekends – a likely outcome of falling infections, although he is not eating out as much due to rising food prices.
"Caseloads are past their peak, so restaurants are getting more and more people for sure – I go out to eat and drink, so I see [my friends]," Ko said. "But I'm eating out with friends less often because it costs more."
Ko, who works as the supervisor of global affairs at Meet Taipei, a website for news on local start-ups, is worried that unused inventories among Taiwan's hi-tech hardware exporters signals a lack of overseas demand for the likes of phones and computers.
Taiwan university undergraduate Feng Hao still eats out, but shuns drinks as some have more than doubled in price this year.
"I think most Taiwanese aren't satisfied with inflation, but have to move on anyway," 22-year-old Feng said.
Confidence in the stock market reached a score of minus 13.6 per cent in August, up from minus 30.5 in July, the Cathay Financial Holdings survey found.
The Taiwan Stock Exchange gained around 7 per cent between a year-to-date low on June 12 and the first hours of trading on Monday.
Major companies in Taiwan, such as petrochemical firms Formosa Petrochemical and CPC Corporation, saw oil prices drop to some of their lowest since Russia invaded Ukraine in February.
"The relative improvement in financial markets in July and the early part of August has helped to lift confidence in a number of markets, including Taiwan," said Frederic Neumann, chief Asia economist with HSBC Global Research in Hong Kong.
"Moreover, the stabilisation of oil and other commodity prices in recent months helped to reduce price pressure for some businesses."
Exports, a backbone of the US$765 billion Taiwan economy, are likely to stay under pressure as major importers face slumps in demand.
Taiwan's export orders fell
for the second time in 2022 due to weaker demand from key markets that include mainland China, Europe and the US.
"The broader outlook for world trade remains challenging, and smaller economies like Taiwan, especially dependent on exports, may see economic headwinds stiffen again in the coming months," Neumann said.