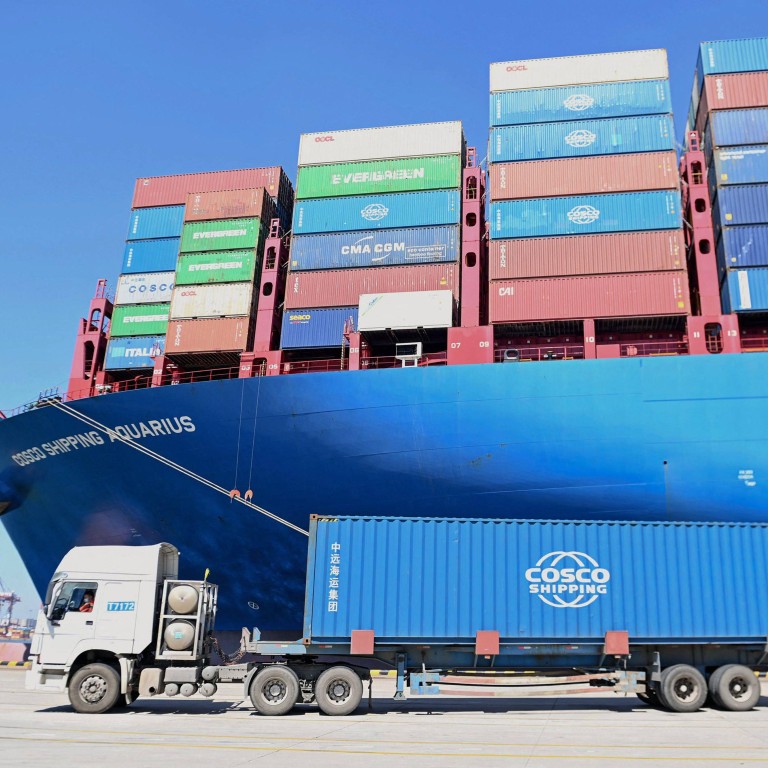 China facing 'soft' trade outlook as export machine splutters amid fading external demand
China's exports grew by 7.1 per cent in August compared with a year earlier, but were down from 18 per cent growth in July, while imports grew by 0.3 per cent last month
The weak data also further dragged down the yuan's exchange rate against the US dollar, now seen as no longer good news for China's export-oriented economy
Worse-than-expected trade data in August amid fading external demand suggests "volumes will soften over the coming months", while offering a fresh glimpse into China's depressed domestic economic recovery, analysts said.
China's exports fell considerably short of expectations and grew by just 7.1 per cent last month from a year earlier to US$314.92 billion, compared with
18 per cent growth in July,
according to the data released by the Chinese customs on Wednesday.
Imports, meanwhile, grew by 0.3 per cent in August from a year earlier to US$235.53 billion, down from 2.3 per cent growth in July, and also missing expectations.
"Export growth slowed due to weakening external demand. China needs to rely more on domestic demand than exports, as the global economy is likely to slow down," said Zhang Zhiwei, chief economist at Pinpoint Asset Management.
The weak data also further dragged down the yuan's exchange rate against the US dollar, with the currency eventually closing at 6.9715. This was weaker than Tuesday's close of 6.9485, having earlier in the day briefly traded at 6.99 per US dollar, further testing the key psychological threshold of 7.
A weaker yuan has traditionally been good news for China's export-oriented economy, but analysts have increasingly warned that it is now not the case since other major currencies have fallen further against the US dollar.
"The depreciation of the [yuan] against the US dollar will not benefit exports, or the positive impact on exports can be ignored," Wang Jinbin, vice-dean of the School of Economics at Renmin University of China, said on Monday.
China's total trade surplus stood at US$79.39 billion in August, compared with an all-time high of US$101.26 billion in July.
"Export volumes fell by the most since March, in a sign that slowing global growth and the normalisation of consumption patterns is starting to weigh on demand for Chinese goods," said Sheana Yue, China economist at Capital Economics.
"In contrast, there was a slight pickup in import volumes due to higher inbound energy shipments. Given growing headwinds abroad and a still bleak domestic outlook, we think trade volumes will soften over the coming months."
China's imports from Russia surged by 59.3 per cent to a record high of US$11.2 billion in August, while exports increased by 26.5 per cent to US$7.996 billion.
Following the news that the Biden administration will allow Trump-era tariffs on hundreds of billions of dollars of Chinese merchandise imports
to continue while it reviews the need for the duties,
imports from the United States declined by 7.4 per cent from a year earlier to US$13 billion in August, while exports fell by 3.8 per cent to US$49.8 billion.
In August, China's trade surplus with the US narrowed by 2.4 per cent from a year earlier to US$36.8 billion, down from US$41.51 billion in July.
"With the outlook for global growth deteriorating, we expect China's export momentum to weaken further for the rest of 2022 and in 2023," said Lloyd Chan, senior economist at Oxford Economics.
"Elevated global inflation and tightening global financial conditions will weigh on external demand."
The US Federal Reserve has made more aggressive moves to tame its record-high inflation, although there are concerns about an ensuing recession due to policy tightening.
China's trade, though, continued to feel the impact of global inflation last month as imports of crude oil and natural gas declined by 9.4 and 15.2 per cent, respectively, from a year earlier in volume terms, but the purchasing cost surged by 27.9 and 25.5 per cent.
"We expect import momentum will only improve at a moderate pace, as the pickup in domestic demand will continue to be hindered by Covid-related disruption, the real estate slump, and a lack of massive policy stimulus," added Chan.
New waves of the Omicron coronavirus variant have been found in several large cities in China, with the tech hub of Shenzhen imposing partial lockdowns, while the likes of Chengdu, Shijiazhuang and Tianjin have stepped up control measures.
"The key challenge China faces is how to strike a balance between domestic economic activities and containing Covid outbreaks," added Zhang.
There were, though, some bright notes contained within China's August trade data as the value of car and petroleum exports expanded by 134.2 and 65.2 per cent, respectively, last month from a year earlier.