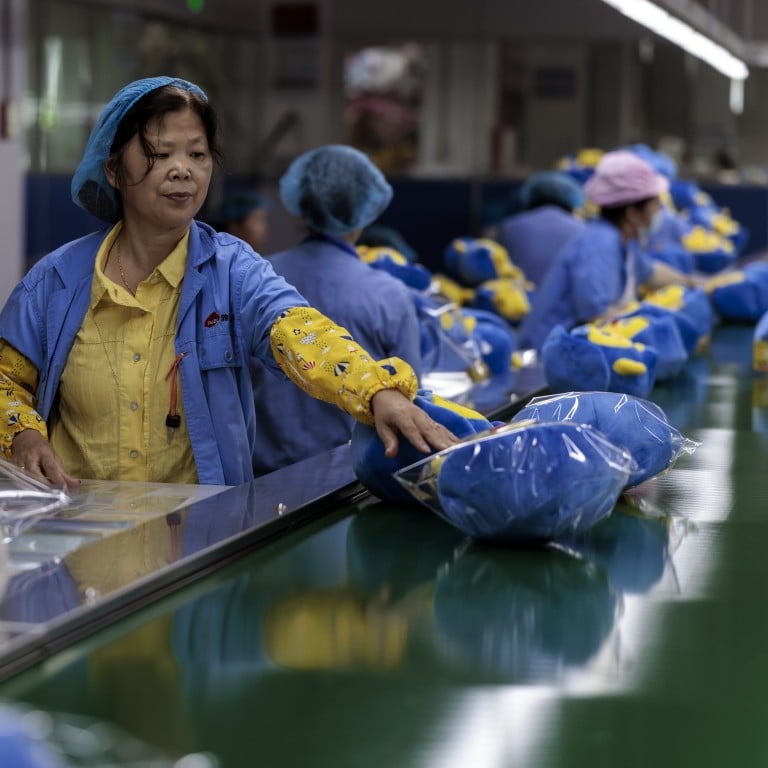 China consumer, producer price inflation set to continue 'falling over coming quarters' after easing in August
China's headline inflation rose less than expected in August, while factory-gate prices also fell short of expectations last month
Analysts expect 'both inflation measures to continue falling over the coming quarters'
China's headline inflation rose less than expected in August amid weak demand as the faltering economy was hit by the resurgence of coronavirus outbreaks, with the decline expected to continue over the coming months, analysts said.
The consumer price index (CPI) rose by 2.5 per cent in August from a year earlier, down from
2.7 per cent growth in July
, the National Bureau of Statistics (NBS) said on Friday, well below Beijing's target of "around 3 per cent" for the whole year.
In comparison, inflation in the United States eased to 8.5 per cent in July but remained elevated having stood at over a 40-year high of 9.1 per cent in June.
The producer price index (PPI), which reflects the prices that factories charge wholesalers for products, rose by 2.3 per cent in August year on year, down from 4.2 per cent growth in July. This also beat expectations as PPI hit the
slowest growth level since March 2021.
"Consumer price inflation fell in August and remains below the [People's Bank of China's] preferred ceiling of 3 per cent, leaving room for the bank to ease policy further. Meanwhile, producer price inflation declined to its lowest in 18 months. We expect both inflation measures to continue falling over the coming quarters," said Sheana Yue and Zichun Huang, China economists at Capital Economics.
Food prices in China rose by 6.1 per cent from a year earlier in August, compared to 6.3 per cent growth in July, while non-food prices grew by 1.7 per cent last month, year on year, down from a reading of 1.9 per cent growth in July.
Pork prices rose by 22.4 per cent last month compared to a year earlier, representing an increase of 2.2 percentage points from the previous month, "mainly due to the lower base in the same time last year", according to senior NBS statistician Dong Lijuan.
The National Development and Reform Commission said on Friday that it will take actions to ensure stable pork prices. Earlier this week, it said that it would release the first batch of pork into the market from central reserves on Thursday to ensure pork supplies ahead of the Mid-Autumn Festival this weekend and the National Day holiday next month.
China's core consumer inflation rate, excluding the volatile prices of food and energy, rose by 0.8 per cent in August compared with a year earlier, unchanged from July.
"Factory gate inflation is set to fall further throughout the rest of the year thanks to a continued drop back in commodity prices and a higher base for comparison. Meanwhile, we think CPI inflation will remain below the [People's Bank of China's] 3 per cent ceiling," added the economists at Capital Economics.
"Although core inflation may inch up if demand becomes stronger when the Covid situation improves, it is likely to be offset by lower fuel and food inflation. As such, the [central bank] will not be constrained to ease policy further to support the economy. The [People's Bank of China] had
lowered most policy rates in August,
and we continue to anticipate more policy rate cuts during the rest of the year."
Dong said the higher-base effect, changes in commodities prices and weak demand led to the easing of PPI growth.
"First, the fluctuating price of crude oil, non-ferrous metals and other bulk commodities in the international market is on a downward trend, so the transmission pressure on domestic imported prices was alleviated," he added.
"The effect of increasing production and ensuring supply in coal and other industries continued to work, and the market supply was strong. Third, due to multiple factors, the demand in industries such as steel was weak."