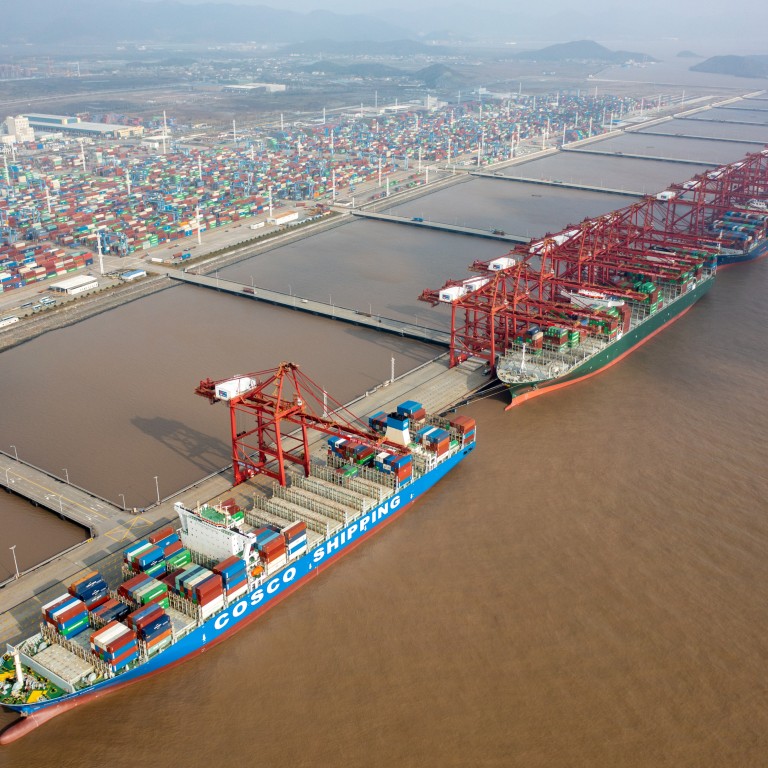 China-US shipping rates tumble due to 'plummeting' demand despite typhoon disruptions
Port of Shanghai and Ningbo-Zhoushan Port were forced to shutdown this week due to Typhoon Muifa
Spot rate for sending a 40-foot container from Asia to the west coast of the United States has dropped by 10 per cent in the past week
Shipping rates from China continued to drop sharply this week due to weakening demand, despite disruptions caused by typhoons – which have forced the shutdown of major Chinese ports twice since the beginning of the month.
The Port of Shanghai – the world's largest container port – resumed operations on Thursday, after having been forced to shut down for
two days because of Typhoon Muifa.
The port had also suspended operations due to Typhoon Hinnamor at the start of September.
The nearby Ningbo-Zhoushan Port – the world's biggest in terms of cargo throughput – also suspended operations on Tuesday night, and most of its terminals had resumed operation as of noon on Thursday.
The implications of such temporary blips were amplified on the global supply chains at the same time last year when they were struggling to deal with
record shipping volumes from China
during its peak export season.
But weakening demand from Western countries this year have continued to drag on the shipping price despite the disruptions, with shipping companies and agents reporting no sign of a peak season this year.
"I don't think we see any major disruption … right now there is no big rush for cargo, or space at origin," said Akhil Nair, senior vice-president of products for Asia-Pacific at Seko Logistics.
"I don't believe we're expecting any major peak season, even though right now it should be peak based on normal seasonality, but we're not seeing it."
Traditionally there is a rush of exports before China's week-long National Day holiday at the start of October, but the market is not showing any signs of a big uptake, he added.
"The overall shipping demand from customers is plummeting, the only exception is the new energy industry, which is still seeing strong exports, but the rest is not good," said a Jiangsu-based shipping agent who only gave his surname as Xu.
According to the Freightos Baltic Index, the spot rate for sending a 40-foot container from Asia to the west coast of the United States has dropped by 10 per cent to US$3,896 in the past week. It has fallen by nearly 75 per cent since the start of the year and is at its lowest level since May 2020.
The rate to the east coast has also dropped, but only by 2 per cent to US$8,533 per 40-foot container, as congestion from New York and New Jersey down to the Gulf coast has propped up the rate, according to Judah Levine, Freightos' head of research.
The ongoing fears of a union strike at ports on the west coast has pushed more cargo to the east in the past months, so the rate has managed to maintain a reasonably higher level, Nair added.
China's
exports grew by 7.1 per cent in August,
year on year, slowing from 18 per cent growth in July, while the value of exports to the US saw a year-on-year decline for the first time since May 2020.
"The latest [US] National Retail Federation data show that monthly import volumes have indeed declined each month since May and estimate that the gradual slide will continue through the end of the year, representing a 2 to 5 per cent decrease compared to last year for each of these remaining months," Levine said.
Despite the decreases, projected volumes from September to December are still at least 12 per cent higher than in 2019, while the total import volume for 2022 will slightly surpass 2021 and set a new annual record, Levine added.
"Which is to say that despite these declines, volumes are still quite strong, and rates are still quite high compared to 2019," Levine said.
The Shanghai Containerised Freight Index spot box freight rate index stood at 2,562 points on Friday last week, down by 10 per cent week-on-week for a second consecutive week, although it remains more than three times the 2019 average.
Shabsie Levy, CEO and founder of digital freight forwarding platform Shifl, said the market is closer than ever to the pre-coronavirus levels following the latest dramatic slump in rates.
"While in July, there was a relatively steady decline in spot rates, the pace has definitely picked up as a milieu of factors continue to soften the market for containerised goods between China and the rest of the world," Levy said.
"Tightening monetary policy, a shift in consumer spending, bloated inventories in the US, and growing geopolitical tensions between the US and China continue to play a role in the movement of rates."
The shipping industry has now entered a period of normalisation back to pre-pandemic levels, Nair from Seko Logistics said.
"There is no backlog now. And in fact, we have some big retailers who are also looking at postponing their purchase orders or cancelling in some cases, because they have a lot of stock right at the destination. And this is in both the US and Europe. Europe is even worse in some cases," he said.