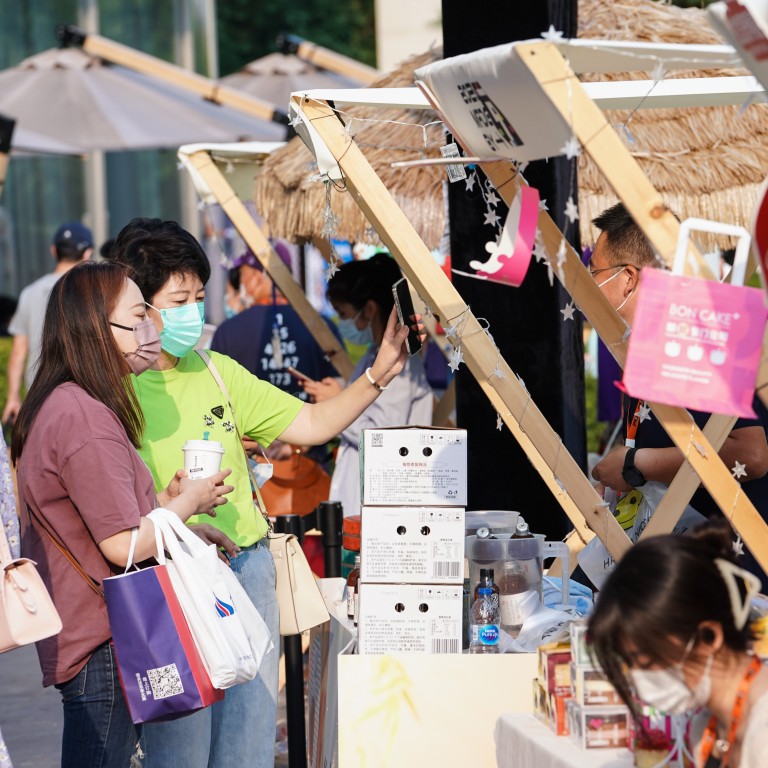 China's economy shows signs of recovery with upbeat retail sales and industrial production, but 'pessimism prevails'
Industrial production rose by 4.2 per cent in August from a year earlier, while retail sales rose by 5.4 per cent last month
Fixed-asset investment rose by 5.8 per cent in the January-August period, while the surveyed jobless rate stood at 5.3 per cent last month
China's economy recovered better than expected in August, but growth momentum continues to weaken amid renewed coronavirus outbreaks and mass lockdowns, slowing exports and a housing downturn, signalling a cloudy outlook for the rest of the year.
Retail sales beat expectations to rise by 5.4 per cent year on year in August, up from the
2.7 per cent growth in July.
Strong automobile sales, which surged by 15.9 per cent year on year, led the way thanks to policy support including tax cuts and subsidies.
Restaurant revenue rebounded to post growth of 8.4 per cent, up from a 1.5 per cent contraction in July. Investment bank Goldman Sachs said, "favourable base effects more than offset the drag from tighter Covid restrictions on the back of protracted local outbreaks".
Industrial production, a gauge of activity in the manufacturing, mining and utilities sectors, rose by 4.2 per cent in August, year on year, up from 3.8 per cent growth in July.
In comparison, the property market is mired in a deep slump, with real estate investment contracting further to nearly 14 per cent, after a 12.1 per cent decline in July.
New home prices also fell by 0.29 per cent last month from July, despite stimulus and incentives to boost demand.
"This marks the 12th consecutive month-on-month decline in Chinese home prices," said Robert Carnell, ING's Asia-Pacific regional head of research.
"As a major pool of Chinese household wealth, this won't help encourage spending. It will take some time for the pool of unfinished property construction projects to be completed with local government support for developers, and in turn, for Chinese households to consider investing in property in scale again.
"Consequently, these numbers are likely to remain a blot on the economic landscape for quite a while."
Fixed-asset investment – a gauge of expenditure that Beijing has relied on this year to stem downturn risks – rose by 5.8 per cent in the first eight months, year on year, up from a rise of 5.7 per cent from January-July.
Infrastructure investment grew by 14.8 per cent year on year last month, up from 12.6 per cent in July, largely thanks to ongoing stimulus from the central government. Manufacturing investment also increased 10.7 per cent in August from a year earlier, after recording 7.6 per cent growth in July.
"While [the data is] better than expected, it's unlikely to change the prevailing pessimism toward China, given the multiple headwinds under way including zero-Covid, property rout and the lack of decisive policy moves before the party congress," said Larry Hu, chief China economist at Macquarie Group.
China's urban surveyed jobless remained high with marginal improvement at 5.3 per cent, down from 5.4 per cent in July. The unemployment rate for the 16-24 age group fell slightly to 18.7 per cent in August, from a record 19.9 per cent growth in July, but that can partly be explained by the start of the school year.
"China's economy held up slightly better than anticipated last month, but the August data point to slight loss of momentum overall, with policy support helping to keep industrial growth steady but failing to prevent a drop in consumer spending. September is on track to be even weaker," said Julian Evans-Pritchard, senior China economist at Capital Economics.
"Although the power shortages have now eased, virus disruptions intensified at the start of the month as an increasing number of cities entered lockdown, the largest being Chengdu. High frequency data point to a further decline in property sales, car sales and the volume of goods passing along highways and through Chinese ports."
China's yearly growth rate has been cut to below 3 per cent by some investment banks.
A new round of policy easing has begun with a focus on property and infrastructure.
During a State Council meeting last week, Premier Li Keqiang vowed to expand investment to create more demand and lift confidence amid a "slight fluctuation" in China's economic recovery.
"These measures are unlikely to be enough to turn the market around, but the direction of policy is clear," said Hu with Macquarie Group.