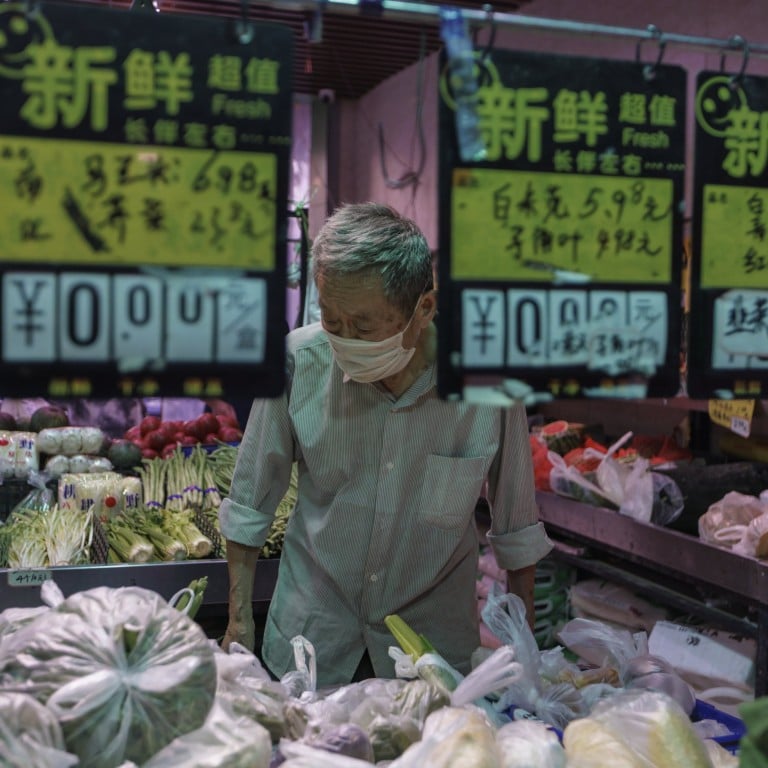 China's rising pork prices trigger inflation concerns as state reserves fail to cool costs
China has released pork from its state reserves this month, with prices having surged by more than 50 per cent compared to a year earlier
Low prices for pork are thought to have helped subdue inflation pressure, but rising prices since April have put Chinese authorities on alert
China's release of pork from its state reserves has yet to cool down the rising price of the staple meat from a 17-month high, dampening consumer demand and triggering fresh inflation concerns.
Pork prices in China have surged by more than 50 per cent compared to a year earlier, standing at 31 yuan (US$4.4) per kilogram on average in 22 provinces and cities as of Friday, representing the highest level since May 2021, according to financial data services provider Wind.
Relatively low pork prices, with the meat having the heaviest weighing among foodstuffs in
China's consumer price index (CPI),
are thought to have helped subdue inflation pressure, but rising prices since April have put Chinese authorities on alert.
"In the past four or five months, the price of pork has gone up very quickly, and I'm spending much less on pork now," said Zhu Yuyun, a 62-year-old retired worker in Guangzhou.
"I used to buy five ribs at a time for about 70 yuan, now I buy two ribs and the price is nearly 60 yuan."
The National Development and Reform Commission (NDRC) has already released two
batches of pork reserves
this month to secure market supply during the three-day Mid-Autumn Festival and the coming week-long National Day holiday at the start of October.
China's state planner will release a third batch of 14,400 tonnes of frozen pork from its state reserves on Friday, pushing the total monthly releases of national and regional pork reserves close to a historic record of 200,000 tonnes.
"As the National Day holiday approaches, the demand for staple foods such as vegetables and pork is booming. Compounded by the unfavourable factors such as the spread of pandemic outbreaks and heavy rainfall in some places, the work of ensuring supply and price stability of staple foods is facing certain pressure," said NDRC spokeswoman Meng Wei on Monday.
The cost of the released reserves should be lower than market to ensure supplies of pigs and pork and that the prices remain stable, Meng added.
Ma Jizhen, a teacher in Guangzhou in her 30s, said that lean meat was around 20 yuan per kilogram in July in fresh meat chain stores, and now it is almost 27 yuan.
"Now the prices of pork are quite different in supermarkets, wet markets and online shopping platforms, respectively, maybe some are frozen meat and some are fresh meat," she said.
She added her family of four has spent a lot more on food, eggs, vegetables and peanut oil, all of which are much more expensive than they were at the beginning of the year.
"Food prices – especially those for pigs and pork – are on the rise due to normal cyclical and seasonal factors, rising energy and logistics costs, and the impacts of severe drought and heatwaves across much of South and Central China," according to a report published by Trivium China, a Beijing-based policy analysis firm.
"Over the next two months, with the economy in the dumps and the 20th party congress around the corner, officials are likely to adopt an even more activist approach than usual to keep food prices under control."
China's August inflation data
showed that overall food prices rose by 6.1 per cent from a year earlier, compared to 6.3 per cent growth in July, while pork prices rose by 22.4 per cent last month compared to a year earlier, representing an increase of 2.2 percentage points from the previous month.
The rise was "mainly due to the lower base in the same time last year", according to senior National Bureau of Statistics (NBS) statistician Dong Lijuan.
China's overall CPI rose by 2.5 per cent in August from a year earlier, down from 2.7 per cent growth in July, well below Beijing's target of "around 3 per cent" for the whole year. In comparison, inflation in the United States eased to 8.3 per cent in August but remained elevated having stood at over a 40-year high of 9.1 per cent in June.
"Rising pork prices are increasing overall consumer prices," said Louis Kuijs, Asia-Pacific chief economist at S&P Global Ratings.
"But generally speaking, CPI inflation remains moderate in China amid subdued domestic demand. We expect that to remain the case in the coming months."
Pork prices had remained relatively low when there was an oversupply from farms, but as the supply bottomed out, prices started to rebound.
Prices have entered the upwards phase of the cycle, but with farming capacity remaining within reasonable limits, there are no grounds for prices to rise significantly, NBS spokesman Fu Linghui said last week.
"My sense is the pork price will continue to rise, and the government will try to use reserves to slow the pace of pork price inflation," said Zhang Zhiwei, chief economist at Pinpoint Asset Management.
"But because the pork price is now, after quite a long period of deflation, on the inflation cycle, it still has room to go up."
Restaurants, already hit by weak consumer sentiment in the wake of the ongoing coronavirus and subsequent lockdowns and restrictions, have also felt the blow from the rising pork prices.
"Our restaurant consumes a lot of pork daily, but we do not dare to raise prices," said Pan Wei, who has run a Cantonese restaurant in Guangzhou for almost 20 years.
"Because of the Covid outbreaks, business has not been good since late last year, and it gets harder and harder to get back on our feet every time we get shut down.
"We try to design more dishes, using more fish and poultry, and hope to reduce some costs."