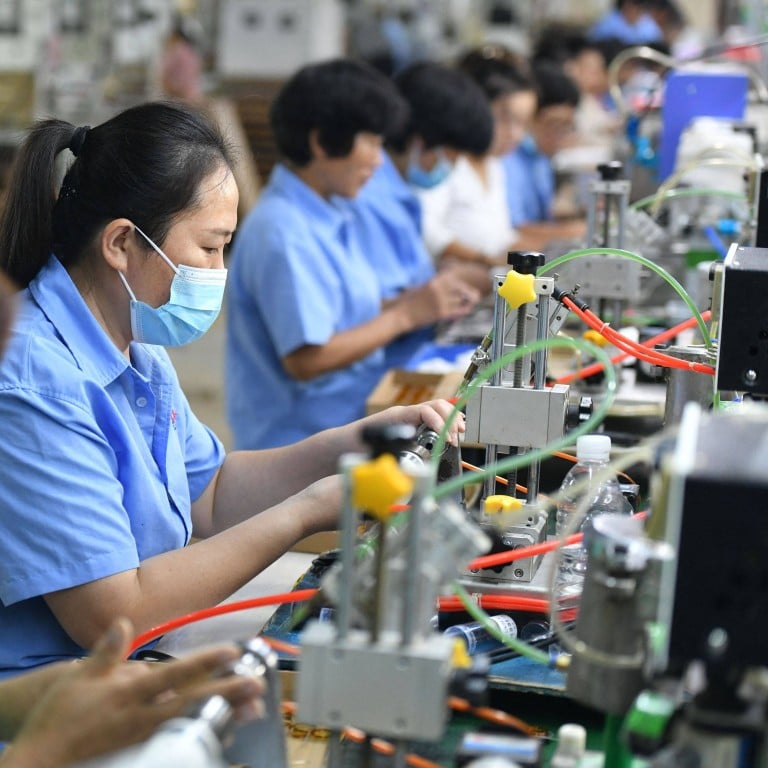 China inflation: consumer price spike to 'prove temporary' after food prices lift index to near 2.5-year high
China's consumer price index (CPI) rose by 2.8 per cent in September from a year earlier, up from a rise of 2.5 per cent in August
Producer price index (PPI), which reflects the prices that factories charge wholesalers for products, rose by 0.9 per cent in September, down from a rise of 2.3 per cent in August
A spike in China's consumer inflation last month is set to only "prove temporary" after a rise in food prices, analysts said, while producer prices are set to continue to ease.
China's consumer price index (CPI) rose by 2.8 per cent in September from a year earlier to sit just under Beijing's target of "around 3 per cent" for the year, up from
2.5 per cent in August,
the National Bureau of Statistics (NBS) said on Friday.
This was below expectations despite rising to the highest level since hitting
3.3 per cent in April 2020,
with CPI having been expected to increase by 3 per cent last month, according to Chinese financial data provider Wind.
The increase was driven by food prices rising by 8.8 per cent from a year earlier in September, compared with 6.1 per cent growth in August, while non-food prices grew by 1.5 per cent last month, year on year, down from a reading of 1.7 per cent growth in August.
"Consumer price inflation rose to a 29-month high in September and is now scraping up against the government's preferred ceiling of 3 per cent. But this was due to a rise in food inflation that is likely to prove temporary," said Zichun Huang and Julian Evans-Pritchard, China economists at Capital Economics.
"With domestic weakness holding down core inflation and producer prices dropping back, China's inflation outlook remains benign."
Chief NBS statistician Dong Lijuan said that a "variety of measures" had been used to stabilise the prices of important goods for people's livelihoods, with the consumer market running generally smoothly".
In comparison, the annual rate of inflation in the United States slowed slightly to 8.2 per cent from 8.3 per cent.
But the producer price index (PPI), which reflects the prices that factories charge wholesalers for products, rose by just 0.9 per cent in September, year on year, down from 2.3 per cent growth in August.
"In September, international crude oil and other commodity prices continued to fall, some domestic industry demand rebounded, and industrial commodity prices trended downward overall, but this downward trend slowed," Dong added.
This was below expectations as the index dropped back for the 20th consecutive month, with PPI having been expected to increase by 1.1 per cent last month, according to Wind.
Economists from Goldman Sachs said that headline CPI inflation, on a year-over-year basis, "is likely to stay moderate in the coming months on both a high base and subdued services demand".
"We expect year-over-year PPI inflation to continue to fall on both base effects and eased inflationary pressures due to lower commodity prices," they said.
China's core consumer inflation rate, excluding the volatile prices of food and energy, rose by 0.6 per cent in September compared with a year earlier, down from 0.8 per cent growth in August.
"Unlike the rest of the world, China is experiencing low inflation due to weak domestic demand stemming from its zero-Covid strategy, crashing property markets and some other sector-specific policies," said economists at Japanese investment bank Nomura led by Lu Ting.
"While lower inflation provides Beijing with more space for monetary and fiscal easing, Beijing's policymaking has been constrained by the ongoing leadership reshuffle. Since the reshuffle will not be fully completed until after next year's National People's Congress, we expect no major easing of the zero-Covid strategy and no other significant policy changes between now and March 2023."