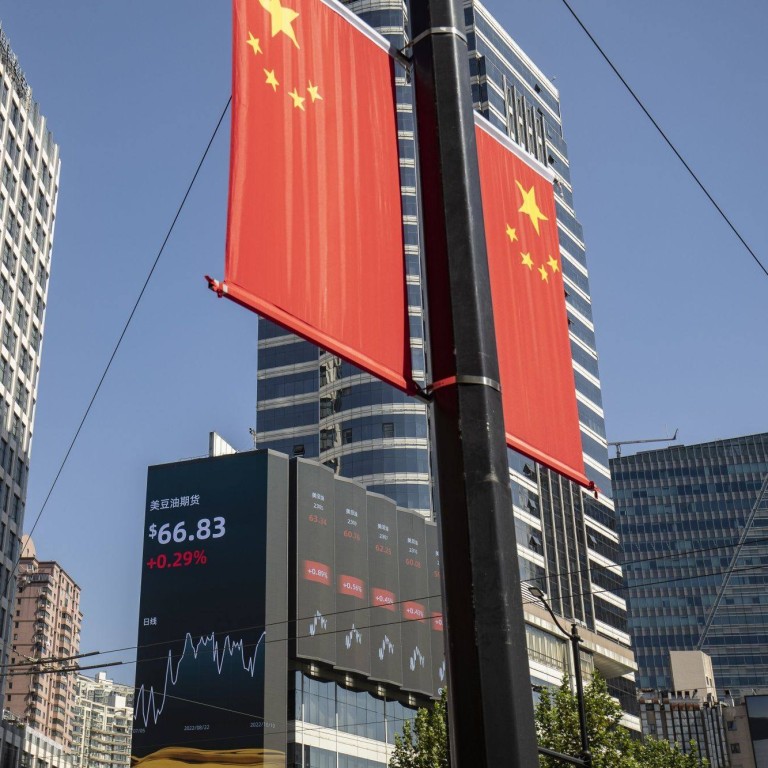 China GDP: economy grew by 3.9 per cent in third quarter, beating expectations, but recovery mixed
China's economy grew by 3.9 per cent in the third quarter, compared with a year earlier, up from the 0.4 per cent growth seen in the second quarter
Retail sales rose by 2.5 per cent in September from a year earlier, while industrial production rose by 6.3 per cent last month
China's economy beat expectations and grew by 3.9 per cent in the third quarter of 2022 compared with a year earlier, the National Bureau of Statistics (NBS) announced on Monday.
The world's second-largest economy had been predicted to grow by 3.7 per cent in the third quarter of the year, according to Chinese data provider Wind, following expansion of
0.4 per cent in the second quarter
.
China has set its gross domestic product (GDP) growth target for 2022 at "
around 5.5 per cent
", but Premier Li Keqiang has since admitted China is likely to
fall short
.
Economic growth in the first three quarters of the year stood at 3 per cent, missing market expectations.
"September activity data presented significant divergence amid tighter Covid controls, prolonged property downturn, weakening export growth and continued policy stimulus," said analysts at Goldman Sachs.
"Real GDP growth rebounded to a stronger-than-expected plus 3.9 per cent year on year in the third quarter, from plus 0.4 per cent in the second quarter, reflecting a bumpy growth recovery from the stringent Covid lockdowns in April-May amid multiple headwinds."
China had been expected to release its third-quarter economic data on October 18 during the 20th party congress, but the release of the data was delayed.
A day before the expected initial release data, Zhao Chenxin, deputy director of the National Development and Reform Commission, said on the sideline of the 20th party congress that
China's growth had "rebounded significantly"
in the third quarter and remained "outstanding" when compared with the rest of the world.
The International Monetary Fund and the World Bank recently slashed their 2022 growth outlook for China to 3.2 per cent and 2.8 per cent respectively, which could be the lowest growth rates in four decades, excluding the initial coronavirus crisis in 2020.
In other figures released by the NBS on Monday, industrial production, a gauge of activity in the manufacturing, mining and utilities sectors, grew by 6.3 per cent in September from a year earlier, up from
4.2 per cent growth in August
.
This was above the forecast by Wind, which had predicted 4.8 per cent growth last month.
But retail sales only rose by 2.5 per cent in September, year on year, down from 5.4 per cent growth in August. This was also below the forecast by Wind, which had predicted 2.9 per cent growth last month.
Fixed-asset investments – which Beijing has relied heavily on this year to stem downturn risks – rose by 5.9 per cent in the January-September period.
China's urban surveyed jobless rate rose to 5.5 per cent, up from 5.3 per cent in August.
The unemployment rate for the 16-24 age group fell to 17.9 per cent in September, from 18.7 per cent in August and a record 19.9 per cent growth in July.
"Activity data for September reflects that the partial recovery continues, but this time it was more a recovery in investments and industrial production. The stronger growth in industrial production should be a result of reduced lockdowns in ports, which increases the speed of logistics and therefore a smoother supply chain delivery," said Iris Pang, chief economist for Greater China at ING.
"But there was a slower recovery in retail sales, which was affected by more quarantines in some residential and shopping areas in September. This reflected a contraction in sales of catering of 1.7 per cent year on year. Covid measures now depends on the number of Covid cases, which is uncertain. This will continue to affect the job market and has a negative feedback effect on future retail sales."
Imports, meanwhile, grew by 0.3 per cent in September from a year earlier to US$238.01 billion, unchanged from 0.3 per cent growth in August, and below expectations of a 1.3 per cent rise.
"On the whole, China's economy has overcome the adverse effects of multiple higher-than-expected shocks and the main indicators have become stable and within a reasonable range, and the positive factors have accumulated," the NBS said in its statement.
"However, it should also be noted that the external environment is becoming more complex and severe, and the foundation for domestic economic recovery is still not solid."