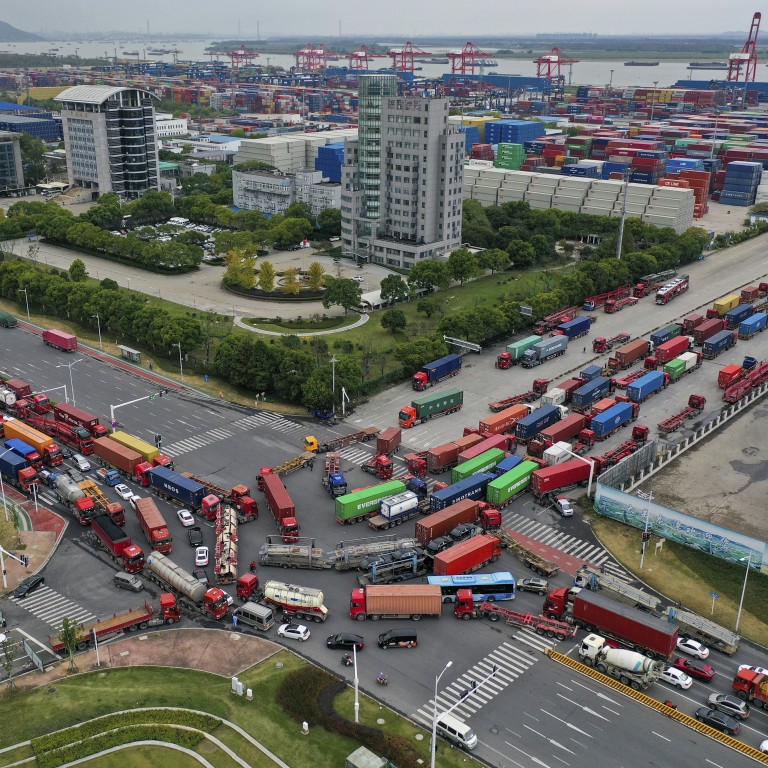 China trade: 'turning point' as export growth suffers first drop in over 2 years on weak demand, zero-Covid
China's exports declined by 0.3 per cent in October compared with a year earlier, down from 5.7 per cent growth in September
Imports also declined by 0.7 per cent in October compared with a year earlier, down from 0.3 per cent growth in September
Momentum from China's coronavirus-triggered exports boom is expected to weaken further in the coming months after shipments in October fell for the first time in more than two years amid dwindling external demand and further fallout from the zero-Covid policy.
Exports fell considerably short of expectations of continued growth and contracted by 0.3 per cent last month from a year earlier to US$298.37 billion, compared with
5.7 per cent expansion in September,
according to data released by China Customs on Monday.
"Although China's exports may benefit from a weak [yuan] and [producer price index] deflation, those benefits could be more than offset by a global slowdown."
Export growth will, according to Nomura, slip further to around minus 4 per cent year-on-year in the last two months of the year.
"As strong export growth has been the single-largest [gross domestic product] growth driver in China since spring 2020, the contraction of exports will inevitably weigh on growth, employment and investment, while it may also prompt Beijing to reconsider its zero-Covid strategy and property curbs," Nomura added.
"Nevertheless, we continue to expect no major policy changes on zero-Covid strategy and the property sector at least until March 2023."
The contraction in exports in October reflects both poor external demand and the supply disruptions due to coronavirus outbreaks, said Zhang Zhiwei, chief economist at Pinpoint Asset Management.
"What happened in the Foxconn factory in Zhengzhou is one example. I expect export growth to remain weak in the next few months as the global economy slows," he said.
On Sunday, Apple said that the coronavirus lockdown at the Foxconn plant in China's Zhengzhou, capital of Henan province, will affect production and shipments of iPhone 14 Pro and Pro Max lines for the coming holiday shopping season.
"I think there are early signs that the zero-Covid policy may be relaxed down the road, but the reopening will be a long and gradual process. The significant change of policies will likely happen next year rather than this year," added Zhang.
The 10 countries of the Association of Southeast Asian Nations (Asean) continued to be China's largest trade partner, followed by the European Union and the United States.
China's exports to Asean countries rose to US$48.9 billion in October, up by 20.3 per cent compared with a year earlier, while imports rose by 4.6 per cent to US$33.3 billion
But exports to the European Union declined by 9 per cent from a year earlier to US$44.1 billion in October, while exports to the US fell by 12.6 per cent to US$47 billion.
"China's export volumes dropped back sharply in October, due to a deterioration in global economic conditions and a reversal in pandemic-related demand. We expect exports to weaken further over the coming quarters as the global economy tips into a recession," said Zichun Huang and Julian Evans-Pritchard, China economists at Capital Economics.
The shipping rates of major routes have continued to tumble as global trade cools, with the Shanghai Containerised Freight Index having dropped by 70 per cent from the highest level in January, standing at 1579.21 on Friday at around the same level two years ago.
China's October imports, meanwhile, also declined by 0.7 per cent from a year earlier to US$213.22 billion, down from 0.3 per cent growth in September, and below expectations of a slight increase.
"Import volumes declined again last month after falling significantly over the past year, and they are likely to continue weakening given the challenging domestic outlook," said Huang and Evans-Pritchard.
China's total trade surplus was US$85.15 billion in October compared with US$84.75 billion in September.
Last week, data had already shown that both China's factory and services activity contracted in October, pointing to a "further loss of momentum" as coronavirus disruptions worsened and export orders remained under pressure.
The official manufacturing purchasing managers' index (PMI) fell to 49.2, down from
50.1 in September,
according to the National Bureau of Statistics.
Within the manufacturing PMI, the output component fell from 51.5 to 49.6 amid weakening demand, while the new orders index dropped from 49.8 to 48.1 and export orders remained weak at 47.6.