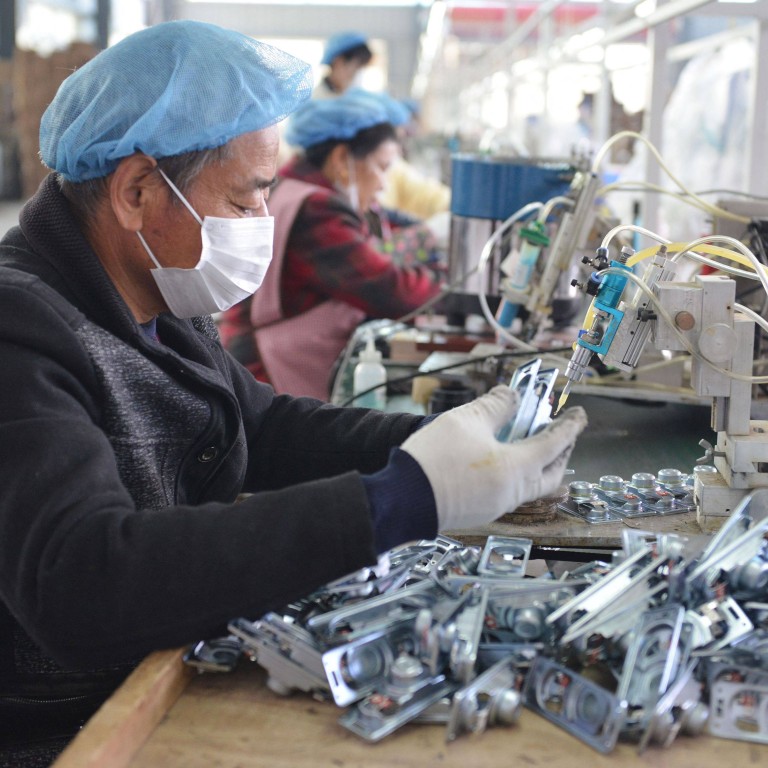 China's economy suffers 'further loss of momentum' as retail sales fall, 'gloomy' outlook amid zero-Covid
Industrial production rose by 5 per cent in October from a year earlier, but retail sales fell by 0.5 per cent last month
Fixed-asset investment rose by 5.8 per cent in the January-October period, while the surveyed jobless rate stood at 5.5 per cent last month
China's fragile economic recovery was disrupted in October as coronavirus lockdowns hit consumption and manufacturing, with uncertainties set to remain following the recent easing of some parts of the zero-Covid policy, analysts said.
Industrial production, a gauge of activity in the manufacturing, mining, and utilities sectors, matched expectations and rose by 5 per cent last month, year on year, the National Bureau of Statistics (NBS) confirmed on Tuesday.
"Retail sales fell sharply last month. It retreated into negative territory for the first time since the Shanghai lockdown," said Zichun Huang and Julian Evans-Pritchard, China economists at Capital Economics.
"This is due to intensified virus disruptions and infections picking up during the second half of October, with the number of cities with outbreaks rising towards levels last seen during the peak of the Omicron wave."
China recently eased some coronavirus containment measures, such as cutting quarantine stays for overseas arrivals, but it has offered no timetable for an exit plan from its zero-Covid policy.
But China officially logged more than 17,700 new coronavirus infections on Monday, with many major cities – including Guangzhou and Beijing – witnessing a surge in cases, leading to more restrictions and neighbourhood lockdowns.
"The October data points to a further loss of momentum, with retail sales dropping sharply amid worsening virus outbreaks," added Huang and Evans-Pritchard.
"November is shaping up to be even worse. With exports cooling, the property sector still in the doldrums and the zero-Covid policy likely to remain in place longer than many hope, the near-term outlook is gloomy."
Exports fell considerably short of expectations of continued growth and contracted by 0.3 per cent last month from a year earlier to US$298.37 billion, compared with
5.7 per cent expansion in September,
according to data released by China Customs last week.
Other data released on Tuesday showed that fixed-asset investment – a gauge of expenditure on items including infrastructure, property, machinery and equipment – rose by 5.8 per cent in the first 10 months of 2022, year on year, down slightly from a rise of 5.9 per cent from January-September.
The urban surveyed jobless rate stood at 5.5 per cent in October, unchanged from September, while the jobless rate for the 16-24 age group remained at an elevated level of 17.9 per cent in October, unchanged from September.
A 16-point plan to support the property sector, along with 20 measures to ease some of the country's stringent coronavirus rules – including slashing quarantine times for close contacts and overseas arrivals – have been unveiled since late last week.
"Economic activities slowed in October due to worsening Covid outbreaks and weak external demand. Retail sales growth turned negative again," said Zhang Zhiwei, president and chief economist at Pinpoint Asset Management.
"The economic pressure may have led to the change of policies in the past few days. High frequency indicators suggest economic activities are improving already this week, as policies relaxed."
Retail sales growth turned negative for the first time since dropping to minus 6.7 per cent in May was driven by a sharp 8.1 per cent drop in catering sales growth last month compared to a year earlier.
"Industrial production and fixed asset investment growth in October are in line with the consensus forecasts. But retail sales were weaker than expected and in contraction," said Iris Pang, chief economist for Greater China at ING.
"The recent easing of Covid measures could be a critical factor for retail sales to return to positive growth."
But despite Beijing's efforts to fine-tune its zero-Covid strategy, it will not reverse the downward pressure on economic growth, according to Lu Ting, chief China economist at Nomura.
"Covid cases could surge further in response to colder weather and the fine-tuning measures, which may elicit worse lockdowns," Lu said,
"Beijing has yet to find a more reliable solution to reboot housing demand, while the zero-Covid strategy continues to weigh on new home sales. Export growth may drop further on weaker global growth."