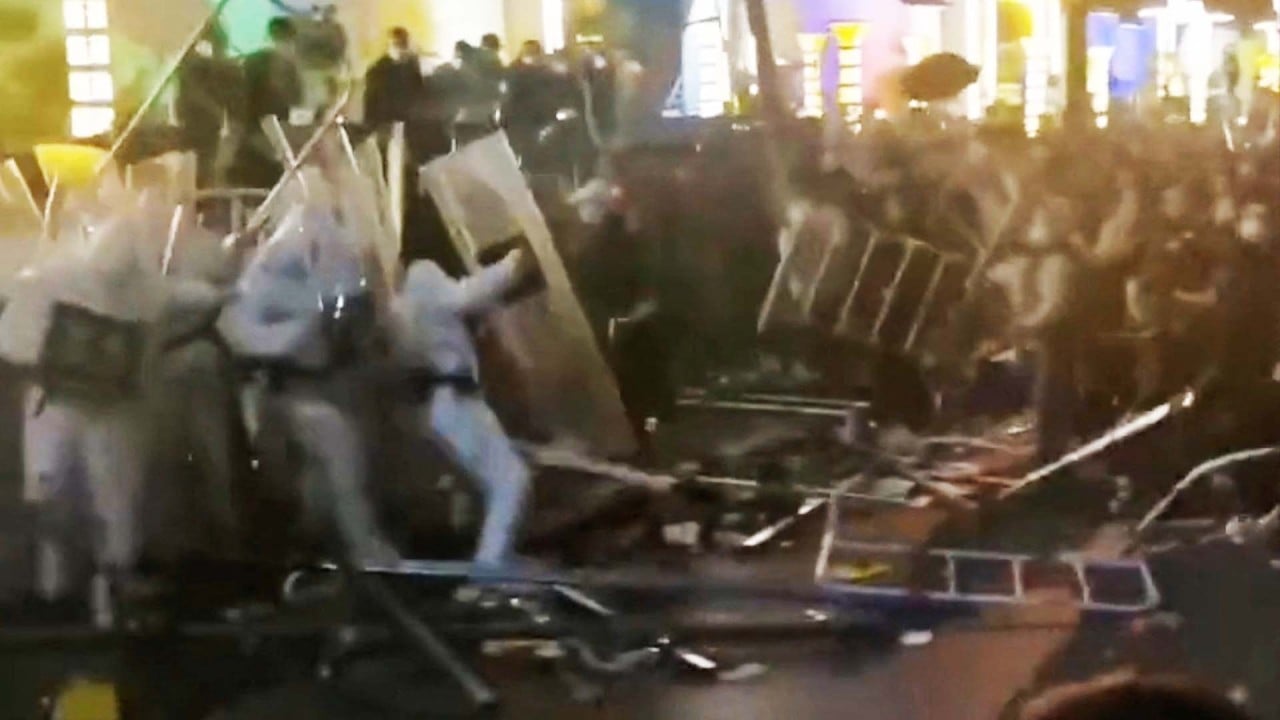 02:23
iPhone 14 delays expected after days of violent protests at Foxconn Zhengzhou factory
iPhone 14 delays expected after days of violent protests at Foxconn Zhengzhou factory
China's tumbling smartphone exports, Foxconn disruptions raise supply chain concerns as firms seek to 'avoid risks'
Henan province, home to the world's largest iPhone factory, assembled and exported 8.4 million smartphones in October, down by 1.7 million from the previous month
Recent production at the Zhengzhou factory has been disrupted since October, adding to concerns over supply chain relocation
Coronavirus-induced manufacturing disruptions in China, highlighted by smartphone exports from a major industrial region dropping sharply in October, have increased concerns over supply chain relocation amid an already bleak export outlook.
Henan province, which is home to Foxconn's mega iPhone factory in its capital city of Zhengzhou, assembled and exported 8.4 million smartphones in October, down by 16.9 per cent from 10.2 million in the previous month, according to Chinese customs data.
This comes despite Apple releasing the new iPhone 14 series in mid-September, while the decline is especially alarming amid an intensifying trend of manufacturers diversifying away from China to the likes of India and Vietnam, analysts said.
"Foxconn epitomises China," said Zhang Zhiwei, chief economist at Pinpoint Asset Management.
Orders from the United States were the most affected, with the number of shipments from Henan dropping by over 1 million, or nearly a fifth month-on-month, to 4.37 million, which pushed the export value down by more than US$609 million, customs data showed.
In the first 10 months of the year, Henan's exports totalled US$67.15 billion, half from nearly 60 million assembled smartphones – with more than 50 per cent bound for the US.
The Zhengzhou plant, which is operated by Foxconn Technology Group and can employ up to 350,000 workers at its peak, is a major driver for the local economy and is representative of China's export-oriented manufacturing industry, analysts said.
Foxconn's Zhengzhou branch, officially named Hong Fu Jin Precision Electronics (Zhengzhou), was the biggest exporter among all companies in China in 2019, according to the Statistical Society for Foreign Economic Relations and Trade of China.
"As the external demand will continue to decline next year, what can the policymakers do to mitigate more downside risks to exports, this is a big issue for next year," Zhang added.
"[Problems like this] are not going to be solved any time soon," said Alicia Garcia-Herrero, chief economist for Asia-Pacific at Natixis.
"So the plummeting of exports is going to continue, and for these companies, they need to find alternatives. It's not going to be quick, because nothing is quick, but it's going to be quicker than if there is no zero-Covid policy in China.
"So we will see massive investment in countries like Vietnam and India."
The local government will also face increased fiscal pressure amid the disruptions, according to Dan Wang, chief economist at Hang Seng Bank (China), as the Foxconn plant is also the biggest taxpayer in Henan.
The direct impact on China's economy might be negligible, but other suppliers to the Apple supply chain, especially in the upper stream or service providers, will also suffer from Foxconn's slowdown as their liquidity will be affected, Wang added.
"In the process of reopening, the disruptions to manufacturing will get worse before they get better," Wang said.
Exports of assembled smartphones from Jiangsu province, home to other Foxconn factories, jumped by 31 per cent in value in October compared to September, customs data showed.
Foxconn is also reportedly planning to quadruple the workforce at its iPhone factory in India over the next two years.