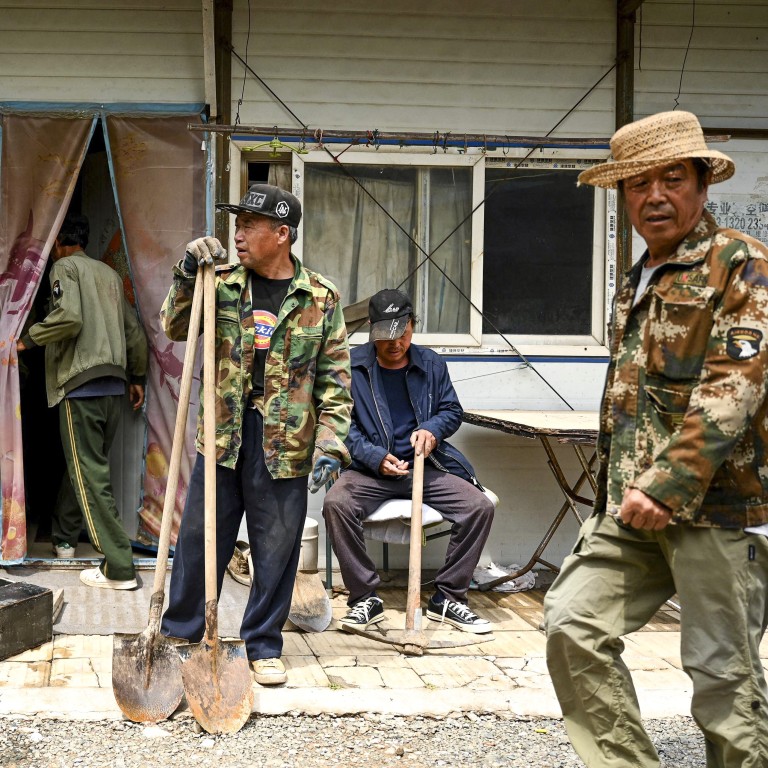 Explainer

|
How reliable is China's job data, and who is included in the unemployment rate?
Observers have long questioned China's unemployment data, saying it is too low and too stable, and therefore not an accurate snapshot of the job market
China's nearly 300 million rural migrant workers are only partly covered in job statistics, which do not reflect problems like underemployment either
As China's economy slows, stabilising employment has become a major focus for Beijing this year.
Employment data is being thrown about as a proxy for the economy's health. But just how reliable is it?
Observers have long questioned China's unemployment rate. It is often seen as too low and too stable, and therefore not an accurate snapshot of the job market.
Independent analysts are particularly critical of the fact it does not fully cover the country's nearly 300 million rural migrant workers, the most vulnerable group in the Chinese job market.
Does China's unemployment rate include migrant workers?
Partly. But to understand that we need to take a closer look at China's hukou, a household registration document all citizens must have that controls access to public services based on the place to which the holder belongs.
Under the system residents are broadly divided into two categories: urban and rural. Migrant workers have a rural hukou, but live and work in cities.
In the past, China released a quarterly urban registered jobless rate, which did not include migrant workers, and covered only those willing to submit tedious amounts of paperwork to be officially recorded as out of work.
In 2018, the government introduced the urban surveyed unemployment rate, which covers migrant workers in cities and people with urban household registration living in rural areas.
But it still does not include rural migrant workers who have returned to the countryside after losing or quitting their jobs in cities and towns.
"The official figures have underestimated the overall pressure on the
labour market
," Wang Dan, chief economist at Hang Seng Bank China, wrote in the Financial Timesearlier this year. "Under the strict Covid prevention policy, the urban service industry has been hit hard, and a large number of migrant workers have returned home."
Liu Shijin, an adviser to China's central bank, said last year there is no unified employment indicator for urban and rural areas as a whole, calling for a more "comprehensive, objective and timely" data set to help assess the situation.
Who is included in China's unemployment rate?
China's urban surveyed unemployment rate has hovered around 5.5 per cent for more than four years, though it hit 6.2 per cent in February 2020 and 6.1 per cent in April.
That it has changed only slightly amid enormous pressure on the economy from the coronavirus pandemic has triggered discussion about its reliability.
Officially, a person is considered employed as long as they have undertaken more than one hour of paid work in a week, including those who receive wages while on holiday or some other temporary stoppage.
Someone is unemployed if they do not have a job, but are actively looking for work and can start immediately, according to the National Bureau of Statistics (NBS).
Li Xiaochao, a former deputy director at the NBS, said in 2020 that most people who lost jobs during the pandemic were not actively looking for work or could not go to work due to restrictions, but that did not mean they were unemployed.
Though China's unemployment standards are in line with those of the International Labour Organization, job figures do not reflect problems like underemployment.
So how does China measure unemployment among migrant workers?
In February, China introduced a new monthly data set, the surveyed unemployment rate of "non-local agricultural household registration", which is focused primarily on migrant workers.
The jobless rate for that group was 6.6 per cent in April, above the 6.1 per cent recorded for urban dwellers when Shanghai and several major economic hubs were put under lockdown due to Omicron outbreaks.
By the end of June, some 181.24 million rural workers were employed in towns outside their household registration, the same level as a year earlier and slightly lower than the 182.48 million recorded at the end of the second quarter of 2019.
How are the number of newly created jobs calculated in China?
The number of newly created urban jobs is another indicator followed closely by Beijing. But in reality, the data series is not complete.
The figures do not record the number of positions that have been lost, so they do not show the net change in the number of jobs available at any one time, according to Cai Fang, a renowned Chinese demographer and adviser to the People's Bank of China.
Cai calculated that China lost 1.64 million jobs in 2019, and therefore there was a net increase of 10.22 million urban jobs that year. But official data showed 11.86 million new positions for 2019.
The number of lost jobs is likely to be "seriously underestimated", he said in a note published in September.
Why was unemployment data excluded from China's 2020 census?
According to China's 2010 census, more than 2.1 million people were "unemployed" and nearly 1.9 million were employed but "not yet working", accounting for 2.0 per cent and 1.8 per cent of the working-age population, respectively.
China's seventh census in 2020 did not disclose any of that data or provide a detailed break down employment statistics.
It did, however, give the total population of "employed" citizens, which was 65.6 million by the end of 2020, down 8.3 per cent from 71.5 million in the 2010 census.
The NBS did not reply to questions from the South China Morning Post asking why the information was not part of the census.
The absence of unemployment data in the latest census will hinder long-term analysis of China's unemployment situation, analysts say.