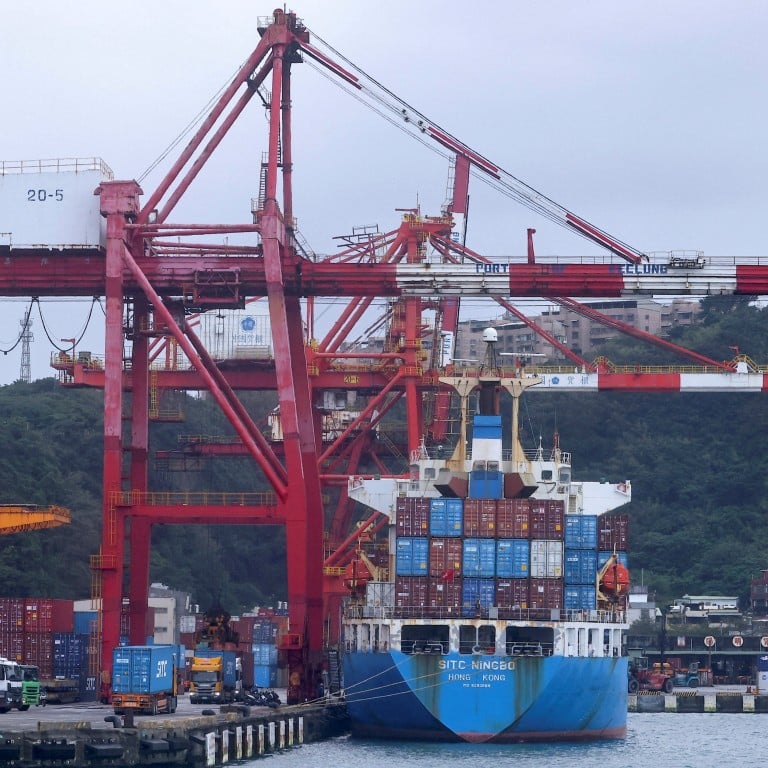 Taiwan's 'softening' economic outlook signals no quick end to setbacks in mainland China
Seven leading Taiwanese business indicators received a composite score of 95.63 in October, down almost 1 per cent from September
The index, which includes indicators for imports of semiconductor equipment, net hiring and export orders, is designed as an economic outlook for the next six months
Taiwan's economy has entered "a softening phase" after a group of business indicators released on Monday declined for a 12th straight month and signalled no quick end to disruptions in mainland China, the island's chief trading partner.
Seven leading indicators received a composite score of 95.63 in October, down almost 1 per cent from September, according to the National Development Commission.
The index, which includes indicators for imports of semiconductor equipment, net hiring, export orders, the stock market, building permits, money supply and manufacturing sector health, is designed as an economic outlook for the next six months.
"It likely means that the Taiwan economy is in a softening phase," said Tony Phoo, a Taipei-based economist with Standard Chartered Bank.
"By the look of things, the global economy is slowing and tech demand is further weakening."
Mainland China, the home of some 4,200 Taiwanese firms and the top investment destination for Taiwanese capital, is placing particular pressure on the island's roughly US$850 billion economy, economists said.
Taiwan's exports to mainland China reached US$103 billion in the first 10 months of 2022, down slightly compared to the same period a year earlier.
Direct investment from Taiwan to mainland China also fell by 3.2 per cent year on year to US$4.16 billion between January and October.
Orders of made-in-Taiwan exports
for mainland China and Hong Kong totalled US$10.5 billion last month, 26.7 per cent down year on year, Taiwan's Ministry of Economic Affairs said last week.
"Expect this to continue through the first half of 2023 as [mainland] China grapples with managing its manufacturing industries in the context of zero-Covid policy uncertainty," Moody's Analytics economists Steven Cochrane and Katrina Ell said on Monday.
Rising coronavirus infections have sparked new lockdowns and protests this month in China, which could further damage consumer spending and disrupt global supply chains.
Taiwanese firms depend on Chinese supply chains to assemble PCs and smartphones for global export, while some sell finished products into the giant mainland market.
"Taiwan's economic outlook is heavily influenced by its relationship with China," the Moody's Analytics economists added.
"If trade relations were to deteriorate for a sustained period, it would be detrimental to Taiwan's economic prospects."
Taiwan supplies some 60 per cent of the world's semiconductors, and imports of semiconductor equipment was the only leading indicator that rose in October, the commission said.
Semiconductor exports remained strong after growing by 19 per cent year on year in October due to a "continued backlogs" of global orders that had accumulated since last year until June, said Rajiv Biswas, Asia-Pacific chief economist with S&P Global Market Intelligence.
Taiwanese firms, though, are already planning to establish factories in the United States and Japan to allow "better leverage" of offshore technologies, the Moody's Analytics economists said.
Mainland China considers self-ruled Taiwan a breakaway province and has vowed to eventually unify the two sides, by force if needed, and the frictions can spill into the economy, with Chinese officials banning a series of imports in August when US House Speaker Nancy Pelosi visited Taipei.
Local election wins
for the mainland-friendly Kuomintang on Saturday could prompt Chinese officials to offer special economic favours for cities and counties controlled by the party, said Huang Kwei-bo, an associate professor of diplomacy at National Chengchi University in Taipei.
"China is an important source of final demand, so there is significant untapped potential for Taiwan if economic ties were to strengthen, including for service exports including tourism and merchandise trade," the Moody's Analytics economists added.
Taiwan's central government will probably try to bolster the economy in light of the leading indicators in the first quarter of next year, Phoo added.
He expects officials to halt interest rate increases, offer fiscal support for the economy and stop any increases in electricity and nationalised healthcare costs.