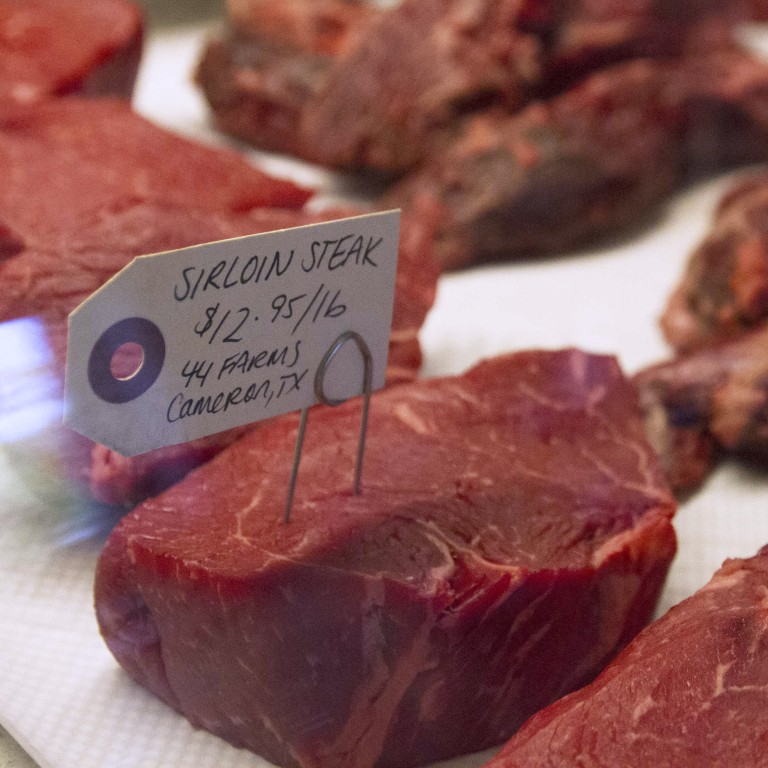 China becomes East Asia's second-largest market for US beef exports, region on course for record 2022 shipments
US beef exports to China and Hong Kong surpassed US$2 billion for the first time last year, with shipments reaching a record US$2.23 billion in the first 10 months of 2022
South Korea became the US' top beef market last year, with shipments to South Korea reaching US$2.32 billion at the end of October
China has become the second largest market in East Asia for beef exports from the United States this year, with overall shipments to the region on course to hit record levels due to a robust middle class and a developed e-commerce retail sector, according to the US Department of Agriculture.
US beef exports to China, including Hong Kong, reached a record high of US$2.23 billion in the first 10 months of 2022, up nearly a third from the previous year, data from the department showed.
Exports to mainland China and Hong Kong surpassed US$2 billion for the first time last year.
East Asia has long been the major market for the US beef exports, with shipments to Japan reaching US$2.02 billion at the end of October.
"US beef exports to East Asia in 2022 are again on record pace after a record year in 2021. Despite economic uncertainties due to the Covid-19 pandemic, continued global supply chain challenges, and a competitive global beef market, US beef exports to East Asia, both in value and volume, were outstanding in the first half of 2022," the US Department of Agriculture said in its International Agricultural Trade Report on Tuesday.
South Korea became the US' top beef market last year, with shipments set to be tariff free from 2026, while a safeguard duty will no longer apply starting in 2027. US beef shipments to South Korea reached US$2.32 billion at the end of October.
US beef exports to South Korea have the potential to reach US$2.8 billion by the end of the year, the report added, having hit US$2.4 billion last year.
"East Asia's relatively robust middle class has supported the demand for high-quality beef, and a developed e-commerce retail sector has provided flexible avenues for suppliers to promote beef products during the pandemic," the report added.
"Despite surging food prices in recent months, higher-volume shipments indicate a continued demand for beef products and that East Asia's relatively stable middle class with high disposable household income has been willing to absorb the rising costs."
US suppliers face competition in China from frozen boneless beef imports from Brazil, Argentina and Uruguay, with South America accounting for more than two thirds of the Chinese market, the statement added.
It also noted strong growth in the fresh or chilled beef market, which primarily supports China's growing hotel, restaurant and institutional sector, with Australia and New Zealand remaining top suppliers due to their proximity and free trade agreements.
According to China's General Administration of Customs, China's imports of fresh or chilled beef from the US rose from US$12.56 million in 2019 to US$195 million in 2021.
China's customs data also showed beef imports from Brazil, Argentina and Uruguay in the first 11 months of 2022 reached US$6.82 billion, US$2.5 billion and US$1.73 billion, respectively, compared to US$1.59 billion from the US.
Despite the tension between China and the US, agricultural products have remained resilient as a bright spot for the trade between the two countries.
As part of the
two-year phase-one trade deal,
which expired in December 2021, China's agriculture purchases reached 83 per cent of the total commitment, according to the Peterson Institute for International Economics (PIIE).
This was despite PIIE referring to the
overall deal as a "failure"
after China "bought none" of the additional US$200 billion of US exports it had promised. According to the PIIE report in February, China bought only 57 per cent of the US exports it had committed to purchase under the agreement.
Over the past five years, US exports of agricultural products to China have generally remained on an upwards trend despite the impact of the trade war in 2018 and 2019.
Last year, beef and beef products ranked as the sixth most exported US agricultural product to China by value at US$1.59 billion with soybeans top at US$14.12 billion.
Global inflation this year has contributed to the increase in food prices among East Asian countries, with the cost of food in China having risen year-on-year since April, according to the National Bureau of Statistics.
"From a policy perspective, how economies combat inflationary pressure will have an impact on East Asia's demand for beef imports," the US Department of Agriculture report said.
"Recent policies, such as the temporary reduction in beef import tariffs in Taiwan and duty-free beef imports in South Korea (100,000 metric tonnes), which go through the end of 2022, show how policies to address rising food prices can support market access opportunities for US exporters."