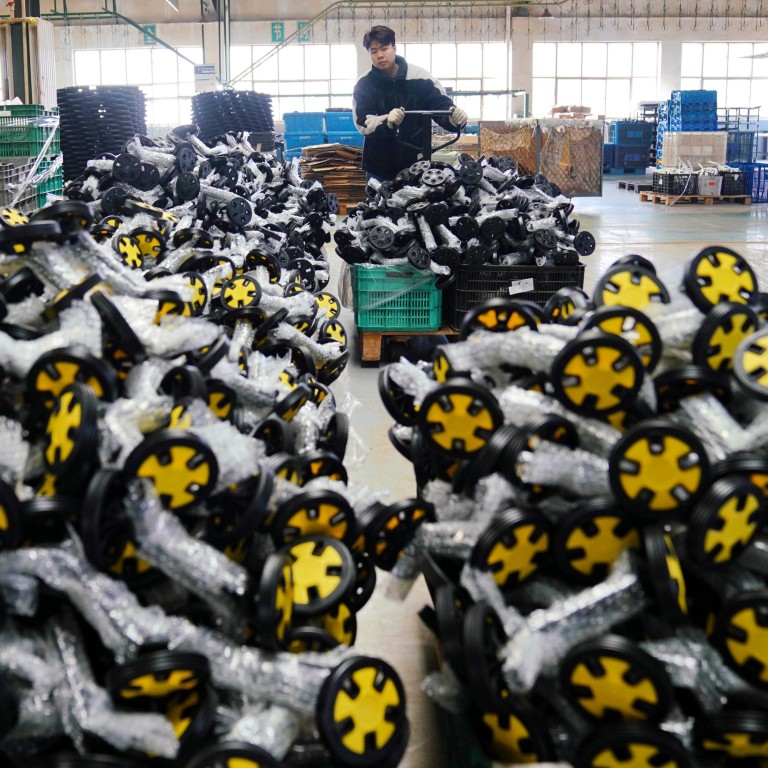 China's factories see activity slump to lowest level in almost 3 years as Covid-19 batters economy
Official manufacturing purchasing managers' index slides to 47 in December
56.3 per cent of producers have noted big impact from the pandemic on their operations
China's manufacturing activity contracted sharply in December to the worst level in nearly three years as an avalanche of Covid-19 infections battered the economy, with analysts warning of further risks.
The official manufacturing purchasing managers' index (PMI) slid to 47 in December from
48 in November
. It was the lowest since a reading of 35.7 in February 2020, early in the coronavirus pandemic, according to data released by the National Bureau of Statistics on Saturday.
Major subindices gauging production, new orders and deliveries dipped further below the 50 mark that separates growth from contraction, indicating persistent weakness in demand and the overall business climate.
"The pandemic has led to big disruptions to both the supply and demand sides of enterprises, staff attendance and logistics," Zhao Qinghe, a senior economist at the bureau, said.
Zhao said 56.3 per cent of the producers surveyed noted a big impact from the pandemic on their operations, compared with 40.8 per cent in November, while companies also reported labour shortages.
China's
abrupt pivot away
from hard-line zero-Covid controls early this month was widely welcomed by the business community and economists, who predict a quick recovery next year.
China is set to miss its economic growth target of
"around 5.5 per cent"
this year and is expected to unveil more supportive measures to boost growth to at least 5 per cent in 2023.
But the rapid nationwide spread of the Omicron variant of Covid-19 in the absence of a measured exit strategy has strained the medical system and further disrupted production and business operations in the short term.
Liu Yuanchun, president of the Shanghai University of Finance and Economics, said the economy would be affected by the uncertainties of the pandemic next year after the policy shift and external headwinds.
"China, given its population, may face more complicated situations of Covid waves than other countries after reopening," Liu told a finance forum on Friday.
"Whether the US and Europe will have another recession? Whether the recession will appear in the form of a hard landing? It is highly uncertain. The conflict between Russia and Ukraine is deteriorating. Will it lead to essential changes to geopolitics? There are many uncertainties."
Economists also warned that the beleaguered property sector and mounting local government debt were likely to weigh on the domestic market.
The pandemic also took a toll on services, with the official services PMI dropping to 41.6 in December from 46.7 in November.
The bureau however did note a recovery in the previously contracting airline transport sector – following the relaxation of the Covid policy and with the approach of next month's
Lunar New Year holiday
– with the index gauging the sector bouncing to 60.
The bureau did not disclose the number for November.