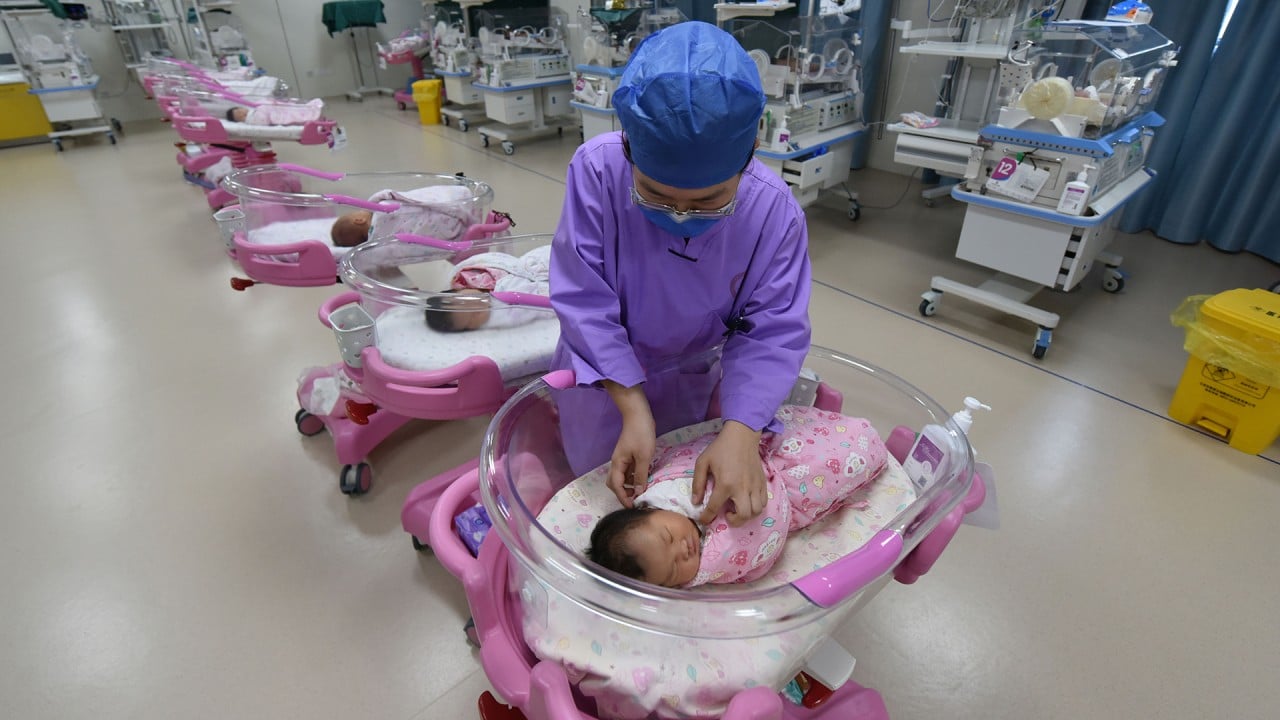 03:18
China reports first population decline in 6 decades, with birth rate at record low in 2022
China reports first population decline in 6 decades, with birth rate at record low in 2022
China population: 2022 marks first decline in 60 years
Mainland China's overall population fell to 1.4118 billion last year, as the growth rate hit negative 0.6 per thousand people
Official results show how China's demographic crisis continues to deepen, while illustrating how widespread shifts to pronatalist policies are not producing the desired results
China's population has declined for the first time in six decades, with the national birth rate for 2022 falling to a record low and the nation's deepening demographic crisis threatening far-reaching implications for economic growth.
Deaths outnumbered births in China as its overall population plummeted by 850,000 people – to 1.4118 billion in 2022, down from
1.4126 billion a year earlier
, the National Bureau of Statistics (NBS) said on Tuesday.
Mothers in China had 9.56 million babies last year, a 9.98 per cent drop from 10.62 million in 2021.
The national birth rate fell to a record low of 6.77 births for every 1,000 people in 2022, down from 7.52 in 2021, marking the lowest rate since records began in 1949.
The national death rate was 7.37 per thousand last year, putting the national growth rate at negative 0.6 per thousand people.
China's population includes 31 provinces, autonomous regions and municipalities, as well as servicemen, but excludes foreigners. It does not include Hong Kong, Macau or Taiwan.
"China's population declined the first time since 1961," noted Zhang Zhiwei, chief economist at Pinpoint Asset Management. "The population will likely trend down from here in the coming years. This is very important, with implications for potential growth and domestic demand."
High child-rearing costs, the new generation's shifting ideologies on family and marriages, as well as the slowing economic growth amid China's draconian coronavirus policies, were all blamed for catalysing the population decline.
In 2021, China eased birth restrictions to allow couples to have three children, entitling them to childcare and other benefits. And having more babies was not to be effectively punished.
Policies also shifted to pronatalism. Local governments responded by launching a variety of measures to boost birth rates, including doling out cash awards, offering housing and education discounts, giving more parental days off, better social security benefits, and other perks.
The UN also expects China's population to drop to 1.313 billion by 2050 and fall below 800 million by 2100.
The demographic crisis arising from so few newborns, coupled with a rapidly ageing population, will undoubtedly have wide-ranging economic implications.
As the number of new births fall, China's ageing crisis is deepening – China had 280.04 million people aged over 60 at the end of 2022, up from 267.36 million people or 18.9 per cent of the population at the end of 2021.
Last year, 209.78 million people were aged 65 and over, up from 200 million in 2021. The 2022 total accounted for 14.85 per cent of the population, up from 14.16 per cent in 2021.
China's working-age population – those between 16 and 59 years old – stood at 875.56 million at the end of 2022, representing 62 per cent of the population, down from 62.5 per cent a year earlier.
In the past, China's economic development was driven by a high proportion of working-age citizens. This "demographic dividend" refers to economic growth resulting from a change in the age structure of a nation's population.
But in the future, China will be grappling with shrinking workforce, decreased spending power, and a more strained pension system, according to demographers and economists.
"China cannot rely on the demographic dividend as a structural driver for economic growth," Zhang said. "Going forward, demographics will be a headwind. Economic growth will have to depend more on productivity growth, which is driven by government policies."
Without proper change, the ageing population will have a long-term effect on economic growth, Chinese economist Ren Zeping said on his official WeChat blog in August.
"The pension gap will increase; and as the total labour supply continues to decrease, labour costs will go up, and some manufacturing industries have begun and will continue offshoring to Southeast Asia, India and other regions," he said.
Last month, at the tone-setting central economic work conference, policymakers highlighted the nation's demographic crisis as one of the major economic matters to pay attention to.