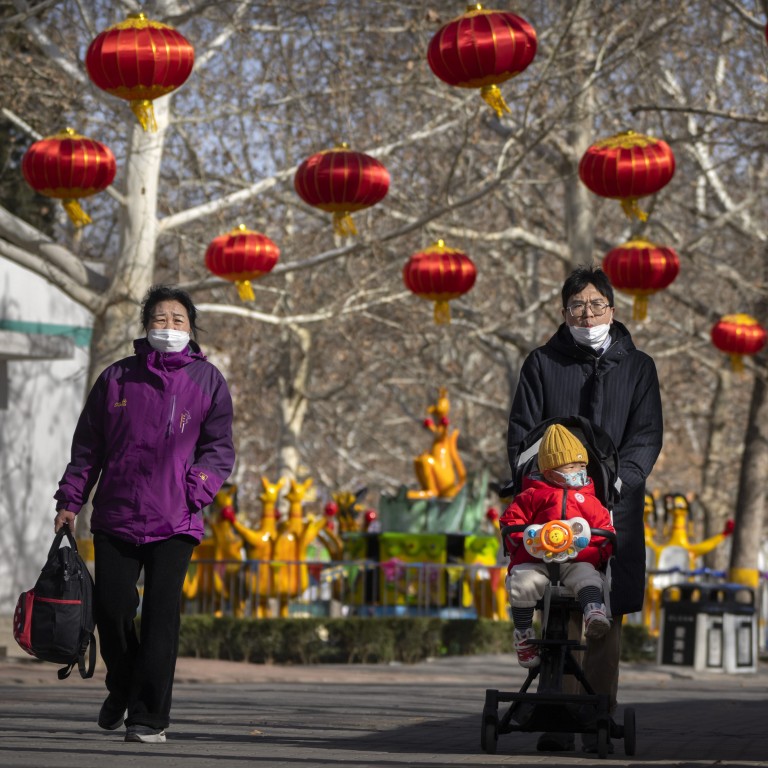 Global Impact: after years of telling people to only have one child, China's population finally declines, deepening demographic crisis
Global Impact is a weekly curated newsletter featuring a news topic originating in China with a significant macro impact for our newsreaders around the world
In this edition, we look at the news that China's population dropped by 850,000 people last year and what, if anything, Beijing can do
Last year, China's population declined for the first time in six decades, with the national birth rate falling to a record low, and the nation's deepening demographic crisis threatening far-reaching implications for economic growth.
Mothers in China had 9.56 million babies last year, a 9.98 per cent drop from 10.62 million in 2021, meaning that the national birth rate fell to a record low of 6.77 births for every 1,000 people in 2022, down from 7.52 in 2021.
The last time that deaths outnumbered births in China was 1961, when the nation was still reeling from Mao Zedong's Great Leap Forward as tens of millions of people died of starvation during the Great Famine that swept through the country from 1958-61.
And therein lies the major problem - how can China convince people to do this for the good of the nation?
Couples having a third child or more in Shenzhen will be eligible for a total cash allowance of 19,000 yuan (US$2,800) until the child turns three years old. Payments for having a first and second child will be 7,500 and 11,000 yuan, respectively.
Thus, if a couple has three children, they could receive US$5,500 by the time the third child turns three, averaging US$1,850 per child over the three years. For me in Hong Kong, that would mean just a couple of months of private education, if even that.
The number of people getting married for the first time dropped to 11.6 million last year, almost 700,000 down from the previous year. This was well below the peak of 23.9 million in 2013.
China long managed to stop people from having too many children, as it was worried about overpopulation. But now, when it is faced with a decline, it can't quite seem to stem the tide.
60 second catch-up
Deep Dives
'Getting married is like going to hell': why more young Chinese are falling out of love with tying the knot
A report about the drop in marriage rates started trending over the Lunar New Year holiday, a time many people visit their families

Social media users said they were put off by the high costs of marriage and increasing difficulty of getting divorced
Young Chinese say real estate isn't the nest egg it was once all cracked up to be
China's older generation invested considerable savings in property, buying up homes and flats that would hopefully appreciate over the years, but times are changing

While Chinese leaders still consider real estate to be a pillar of the nation's economy, investor confidence appears to be waning among members of Generation Z
Patrick Lu, 32, a lawyer in the southern metropolis of Guangzhou, is disinterested in investing in housing, unlike his parents who own a couple of two-bedroom apartments in the city.
China population: new births to fall to a third of India's by 2050 without 'powerful fertility support'
As China's workforce continues to shrink, labour costs will keep rising and some manufacturing industries will look to offshore, demographers say

By 2050, the median age in China will be 50, while it will be 42.3 years old in the United States and 37.5 in India, says YuWa Population Research Institute
Without effective fertility support policies, newborns in China will fall to one third of India by 2050 and drop to a quarter by the end of the century, demographers say, amid concerns about far-reaching economic implications and disappearing labour dividends for the world's No 2 economy.
"Looking at the long-term trends, due to the low fertility rate and the continuous decline in the number of women of childbearing age, the number of new births will remain in a period of rapid decline," said Beijing-based YuWa Population Research Institute in a report on Thursday.
What can China do with India set to become world's most populous nation?
Official data confirming China's population is in decline has set off renewed debate about the economic implications

China must respond by shifting its development model to focus on technology upgrading and fostering talent, experts say
China's declining population will not necessarily lead to an economic slump, though more must be done to respond to the country's falling birth rates and take advantage of the changing demographic structure, experts say.
China unveils new plan for wider robot use from manufacturing to agriculture, as population shrinks
Beijing wants to accelerate the application of robotics in manufacturing, agriculture, logistics, energy, healthcare, education and elderly services

The blueprint came after China registered more deaths than births last year, marking the first time that the country's population had dropped since the 1960s
China has published a new action plan laying out 10 industries where it wants to use more robots, as the country rushes to automate sectors from manufacturing to agriculture after recording its first population decline in six decades.
China population: 7 takeaways from 2022 figures
China's population fell by 850,000 to 1.4118 billion in 2022 as mothers had 9.56 million babies last year, compared with 10.41 million total deaths

China's national birth rate fell to a record low of 6.77 births for every 1,000 people in 2022, down from 7.52 in 2021
This represented the first decline in China's population since 1961.
Global Impact is a fortnightly curated newsletter featuring a news topic originating in China with a significant macro impact for our newsreaders around the world.