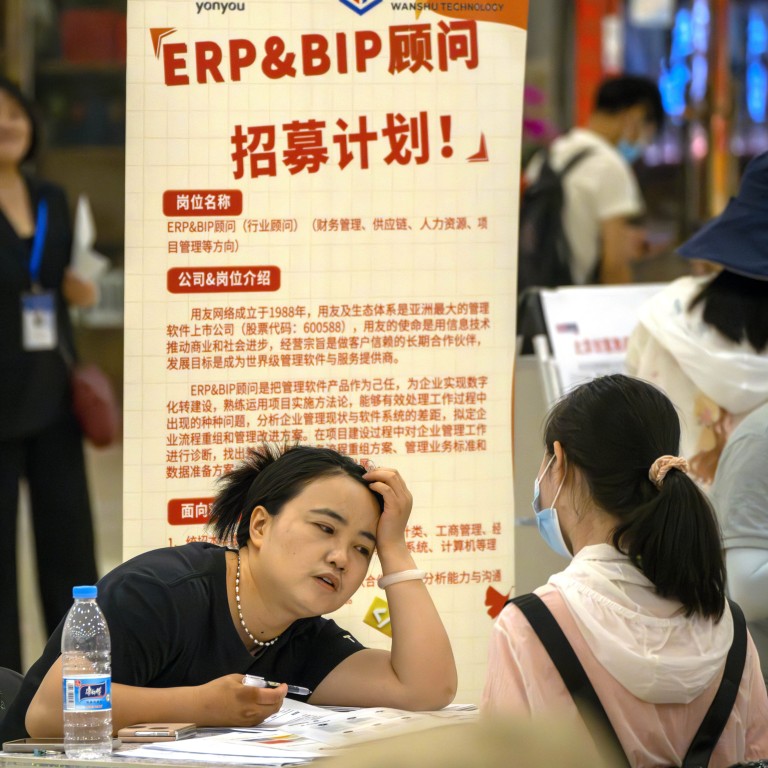 Explainer
China's mixed bag: 4 takeaways from August as economic data tells complex tale
Some indicators rise, including retail sales and industrial production, showing potential for improvement in coming months
Worsening metrics for property, private sector investment cast doubt on faster recovery absent policy intervention
The National Bureau of Statistics (NBS) released its economic data for August on Friday, showing both bright spots and weak links in China's growth trajectory. Experts said Beijing may introduce more policies to spur activity in the coming months, but a strong recovery is still unlikely.
1. Retail sales, production on the rise
China's retail sales rose by 4.6 per cent in August, year on year, up from the 2.5 per cent seen in July.
The total value of industrial production grew by 4.5 per cent in August, accelerating from a rise of 3.7 per cent in the previous month.
The consumer price index increased by 0.1 per cent in August from a year earlier, returning from negative territory after a fall of 0.3 per cent in July.
New bank loans bounced back to 1.36 trillion yuan (US$187 billion) in August, compared with 345.9 billion yuan in July and 1.25 trillion yuan the year before.
"Multiple indicators show China's growth momentum stabilised or improved in August after the sharp deterioration in [the second quarter], suggesting that the worst of the latest deflationary shock to the economy is now past," said the Gavekal Dragonomics think tank, in a report.
Goldman Sachs said the data came in above market expectations, indicating a gradual improvement amid an ongoing easing in policies.
2. Property investment on the decline
Investment in the property sector fell by 8.8 per cent in the first eight months of the year, compared with 8.5 per cent over the first seven months.
In August, housing prices fell in 66 out of 70 cities covered by the NBS, the highest proportion since September 2014.
Overall fixed-asset investments rose by 3.2 per cent in the January-August period, year on year, compared with a 3.4 per cent rise in the first seven months.
Year-to-date investments from the private sector were down 0.7 per cent through August, worse than the 0.5 per cent decline through July.
"China's economy has started to improve from a depressed level. But given the
lack of animal spirit
in the private sector, policy remains the only game in town," said Larry Hu, chief China economist at Macquarie Capital.
"The strategy of piecemeal stimulus might eventually add up, but it also makes the road to recovery a bumpy one."
3. Urban jobless rate ticks downward
The overall surveyed urban jobless rate fell to 5.2 per cent in August, down from 5.3 per cent in July.
"From this year's research and data, youth employment improved significantly in August, which indicates that the effects of employment policies are gradually [becoming] visible," NBS spokesman Fu Linghui said on Friday.
4. 'Strong recovery is still unlikely'
While China's growth momentum is only likely to see modest improvements in the coming months, the worst-case scenario of a substantial property-sector decline is becoming less likely, according to Gavekal Dragonomics.
"Infrastructure investment growth is likely to accelerate some in the coming months, as local governments spend the proceeds of
special-purpose bonds
issued last month," he said. "However, a strong recovery is still unlikely … Although policy changes have got more aggressive, the overall framework remains conservative, and the government is not pursuing a major stimulus."
Capital Economics said China may introduce additional monetary easing over the rest of the year, with more support for the housing market and measures to keep the fiscal stance supportive.