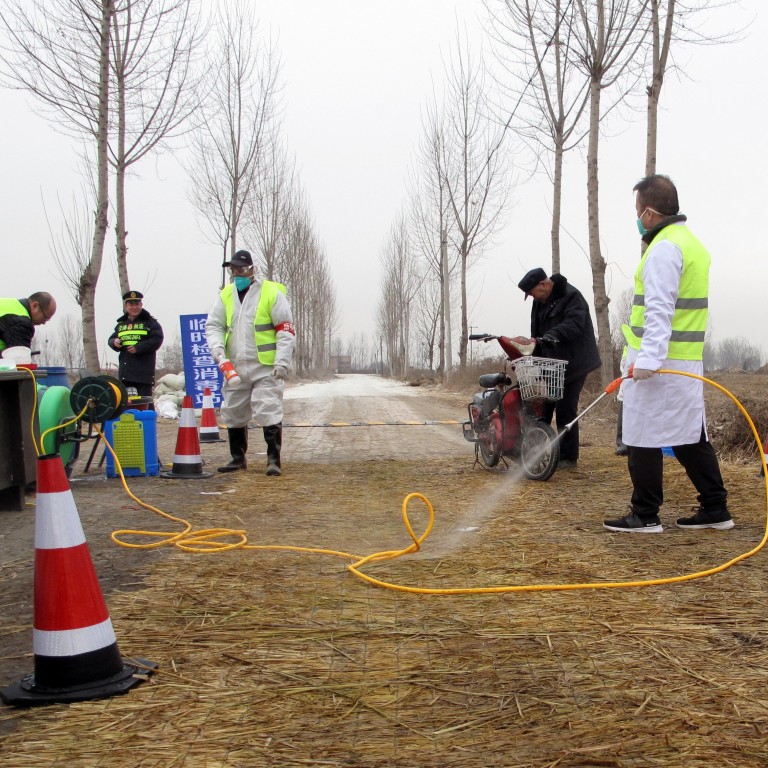 China's African swine fever outbreak and US trade war combine to create perfect storm for Chinese economy
Beijing placed 50-70 per cent tariffs on US pork imports to punish farm states that support US President Donald Trump
But with African swine fever threatening 200 million pigs, the biggest consumer of pork in the world is facing a shortage as demand and prices rise
When China levied additional tariffs on pork from the United States last year, Zhu Mengzhou, a manager of an imported food distributor in Guangzhou, was one of many traders who stopped buying it.
"Unless the tariffs are adjusted, the cost is too high for us," Zhu said.
Even as an outbreak of African swine fever threatens to decimate China's most important meat market, Zhu cannot afford to resume US purchases due to two rounds of trade war tariffs which added a total of 50 per cent to import duties.
For some US pork products, Chinese buyers have to pay duties up to 70 per cent just to get them past customs.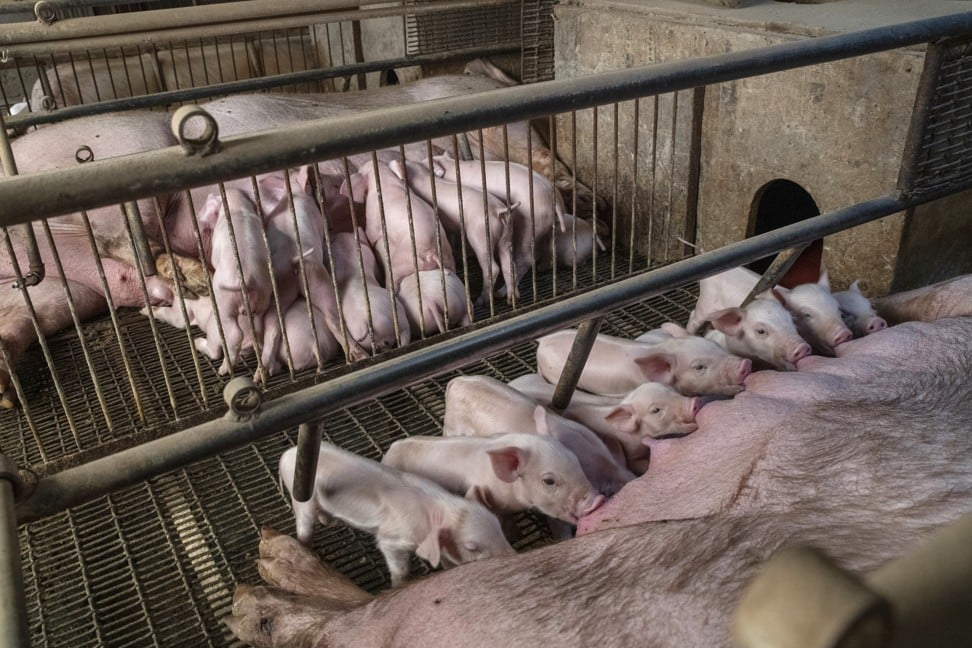 Zhu and many other pork traders in China – as well as the US – are watching anxiously as negotiators from both sides iron out the finer points of a deal to end the trade war, potentially scaling back pork tariffs in the process.
China is desperately struggling to fill a market gap that could see as many as 200 million pigs lost to disease or slaughter, according to a worst-case scenario study from Rabobank, with African swine fever ripping through all 31 of its autonomous regions and provinces, from Tibet in the west to the tropical island of Hainan in the south, within just nine months.
The desperation is in stark contrast to years gone by. In 2017, China – by far the biggest producer and consumer of pork in the world – imported only 2 per cent of its total pork.
The outbreak arguably could not have happened at a worse time as the trade war and African swine fever epidemic have combined to exacerbate two of the biggest crises facing China's economy.
African swine fever has caused the most severe disruption to China's pork industry in a decade, trimming 20 per cent of the national supply and driving up prices, while the trade war is acting as a drag on exports and manufacturing.
Given the need for China to import pork, expectations were high that pork tariffs would be at the top of the list of those to be removed in a trade deal. However, soybeans have threatened to further complicate the issue.
China is under huge pressure from US negotiators to purchase more American soybeans, a key crop for many of the farmers US President Donald Trump hopes will help him win re-election in 2020.
In China, soybeans are mostly crushed to produce oil as well as soybean meal – a high-protein feed for livestock, including pigs; but falling pig numbers could reduce China's need for the crop.
"The sharp decline in its pig population and its resultant lower demand for soybeans could constrain China's ability to substantially increase soybean imports from the US, a key requirement of the US negotiators in the ongoing US-China talks," HSBC said in a research report.
If China's pork production drops by 30 per cent, soybean demand could fall by as much as 4.2 per cent, according to HSBC.
So keen is Trump to safeguard the rural vote, he reportedly requested that China shift its tariffs from agricultural products to other goods, as he bids to maintain his strong support in the farming heartland of the Midwest ahead of the 2020 election.
A knock-on effect suggested by HSBC's analysts is that if China is unable to sanction the purchase of more soybeans, it may need to hasten the removal of pork tariffs to appease US pig farmers, who wish to sell to China.
"Instead, China may agree to reduce or remove its additional duties on US pork if the [African swine fever] crisis leads to a sustained pork shortage," they wrote, in a report released this week.
Watch: 20,000 pigs culled amid African swine fever outbreak (August 2018)
It is impossible to overstate the importance of pork to China's culinary culture, with an Organisation for Economic Co-operation and Development report from 2018 estimating that 60 per cent of all the meat consumed in China was pork.
By 2026, the average Chinese person will eat 55kg of pork a year, a 10 per cent increase on current estimates, or one "porker" pig for each of its 1.4 billion people – porker being the breed of pig commonly butchered to make pork chops.
If pork becomes unavailable, or too expensive, it could create the kind of domestic unrest Beijing is desperate to avoid.
Since the virus first appeared last August, China has ordered the destruction of more than 1 million pigs, while other farmers rushed their livestock to market last year to avoid losing them to the illness.
The virus, which does not affect humans, is untreatable and fatal to pigs and wild boar.
Pork production in China is forecast to decline by 10 per cent in 2019, creating a surging demand for imports, Lindsay Kuberka, an economist at the US Department of Agriculture's (USDA) Foreign Agricultural Service said in report last month.
As a result, pork imports are expected to reach a record high of 2.2 million tonnes this year, a 41 per cent increase from last year, according to the USDA.
The cutback in production has already sent prices in China, soaring with piglet prices up 60 per cent in rural markets since the beginning of the year and HSBC saying that pork prices could rise by as much as 30 per cent year-on-year in 2019.
In April, a Chinese agriculture ministry official warned that the outbreak could push prices up by as much as a 70 per cent.
"As pork supply diminishes, national pork prices are expected to rise and further suppress pork demand," Kuberka added.
US pork exporters are looking on expectantly, with Joel Haggard, a Hong Kong-based senior vice-president for the US Meat Export Federation, saying that the tariffs will determine how much a role the US can play in filling China's shortage.
"We cannot charge more for our pork items than other [countries]. We have a handicap under the current punitive duties of 50 per cent," he said.
Currently, the US is the fifth-largest supplier of pork to China, after Germany, Spain, Canada and Brazil, although should the tariffs be removed, US exporters will hope to increase their supply to China.
 "Our costs of production are low, our prices are competitive, but only if we have duties equal to our competitors," Haggard added.
Despite the tariffs, some purchases of US pork have resumed, a sign of how desperate China is for imports.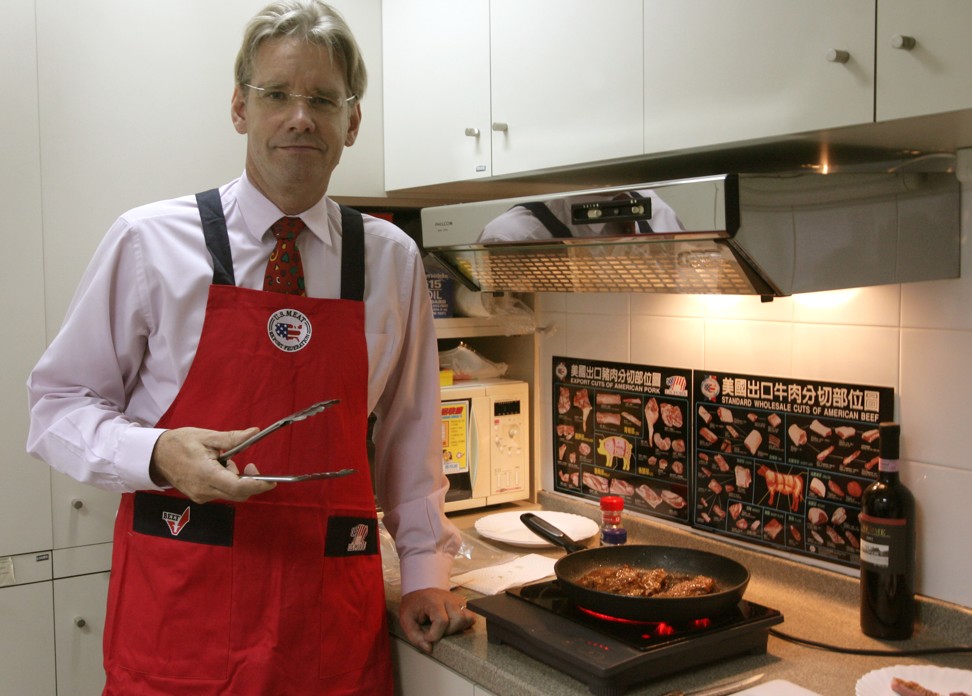 The US sold 101,200 tonnes of pork to China at the start of April, or nearly 20 times the 5,200 tonnes sold over the corresponding time frame last year, according to data released by the USDA.
That made China the largest buyer of US pork in the first two weeks of April, exceeding the purchases of the traditional largest buyers, Mexico and South Korea.
Sales of 77,700 tonnes in the first week of April were previously the biggest to China since USDA records began in 2013.
"The China-US trade talks and the rise of pork prices are highly likely to make China increase pork purchases from the US," Zhang Yidong, an analyst at brokerage firm Industrial Securities, wrote in a recent note.
China's meat importing industry is already noticing a swift uptick in business as African swine fever continues to ravage pig farms.
A unit head at Qingdao New Ocean Line, which transports frozen meat imports, said the volume of the company's pork business is growing rapidly.
"Orders [for imported meat] have increased significantly since the second half of last year," said the unit head, who only gave his surname as Li, without giving a specific growth rate.
"Pork accounts for the main portion of the increase."
A sales manager at Hebei Senyi International Trade Corporation, a meat trading company south of Beijing, confirmed that while the price of imported frozen pork had risen sharply in 2019 it shows that the market is expecting a shortage later this year.
"Since domestic supplies are continuing to slump, companies might have to turn to overseas sources of supply," said the manager, who only gave her surname as Zhao.
"A new price increase for imported pork might come as soon as late May."
Hua Xiaowei and Sun Jinqi, analysts at the brokerage firm CSC Financial, expect that China might lose 102 million tonnes of pork production this year, based on the current pace of the decline in the domestic pig population.
This far exceeds total global pork exports of 8.5 million tonnes last year.
"[That means] even if China increased pork imports from the entire world this year, the country is far from fully filling the supply gap," they said.
One official at a Chinese state-owned pork trading company, who declined to be identified, said the sheer size of Chinese pork demand is just too big for any other country to fill.
"For instance, the whole [pork] output of Denmark is just about equal to that of a single county in China," the official said.
Nations other than the US will also hope to capitalise on China's misfortune. The European Union provided 63 per cent of China's pork imports last year, according to the USDA, while the share of Brazil's pork exports going to China increased from 4 per cent in 2017 to 13 per cent in 2018.
Canada is another strong player, accounting for 14 per cent of China's imports in 2018, USDA figures showed. However, China suspended pork imports from two Canadian companies this week, Reuters reported.
China's General Administration of Customs posted a notice on April 30 announcing a suspension of imports from Canadian meat producers Olymel LP and Drummond Export.
No reason was given, but trading relations have been strained since the detention of Huawei chief financial officer Meng Wanzhou in Vancouver in December last year.
This article appeared in the South China Morning Post print edition as: Trade war, disease put pork on ropes