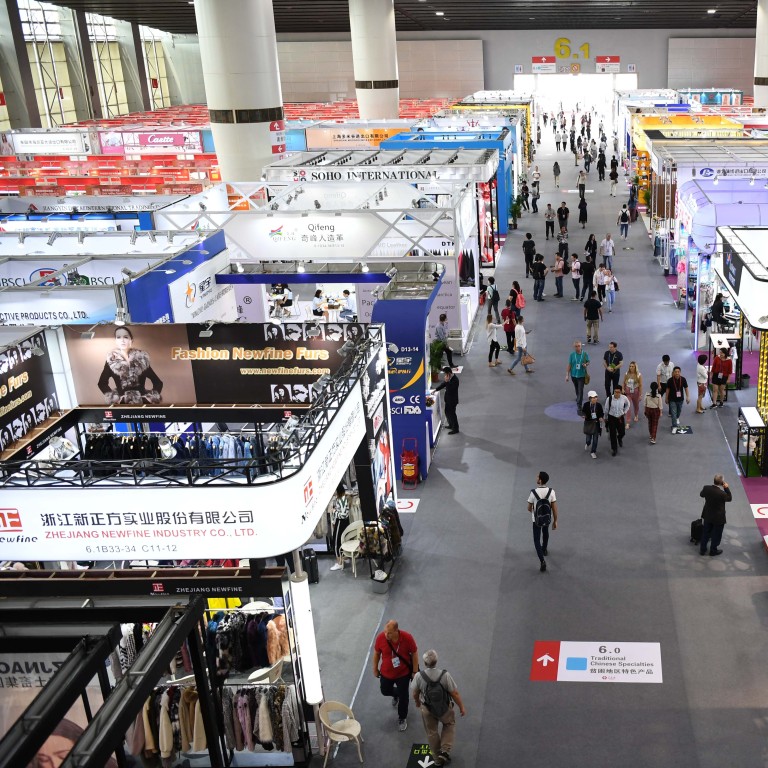 China's Canton Fair sees drop in orders and visitors as US trade war bites
Export orders totalled US$29.6 billion, down 1.1 per cent from the same period last year and a 0.9 per cent decline from the previous fair in November
Competition from belt and road country exhibitors grows for Chinese exporters
Export orders and the number of buyers at China's largest trade fair both dropped during the spring session, Canton Fair organisers said on Sunday at the end of the three-week gathering.
Chinese exporters were unhappy at the fall in the number of deals, activity dented by the trade war with the United States. However, their foreign rivals cheered new orders, thanks in part to demand from countries taking part in the Belt and Road Initiative.
Export orders booked at the fair's spring session totalled 199.52 billion yuan (US$29.6 billion), down 1.1 per cent from the same period last year and a 0.9 per cent decline from the previous fair in November. The number of buyers attending the fair fell 3.88 per cent from a year earlier to 195,454, organisers said.
Activity at the Canton Fair, in the heart of the Pearl River Delta export manufacturing hub, is a gauge of the health of the Chinese economy and foreign trade conditions.
Stronger orders from belt and road countries did not offset lower demand from developed countries. The fair attracted 88,009 buyers from countries and regions taking part in the massive China-led infrastructure scheme, a modest increase of 0.5 per cent from last April. Visitors from those countries ordered US$10.63 billion of Chinese exports, accounting for 35.8 per cent of the fair's total orders.
Mid-sized and small mainland exporters – makers of home appliances, mechanical tools and home textiles – reported sharp declines in trade with overseas buyers, especially those from Europe and the US. In addition, they complained of unexpectedly fierce competition from foreign exhibitors from belt and road countries, suggesting a further negative impact on Chinese exporters in future as competition from these countries increases.
Chen Fanghong, sales manager at Xinyun Quartz, said her company's overseas orders dropped about 20 per cent compared with the November fair.
"We have been attending the Canton Fair for many years. The business this year was the worst [we have experienced]," she said. "Orders from the US are completely gone because of tariffs while orders from Europe, Asia and South America all decreased."
David Huang, sales director of Xingfa Aluminium, also reported declining interest in his firm's products.
"We're trying to make deals with potential buyers that we talked to during the fair. But I don't know when we will get an order!" Huang said.
A fabric exporter from Zhejiang said there were about a third fewer clients at the fair this time.
"It's the first time we have seen so many buyers just come in and ask about the price and then show no interest and leave. They did not even want to bargain," the exporter said.
But manufacturers from countries along the Belt and Road Initiative routes were pleased with the good deals they were able to book at the fair.
At the fair's importer exhibition, 650 overseas manufacturers displayed their products and brands to buyers from around the world. Over 60 per cent of those exhibitors were from countries along the belt and road routes, including Turkey, Brazil, Egypt, India, Nepal, Malaysia and Thailand. They displayed manufacturing products from home appliances, home textiles, fabric, mechanical tools to motor oil, the same products that Chinese exporters sold at the fair.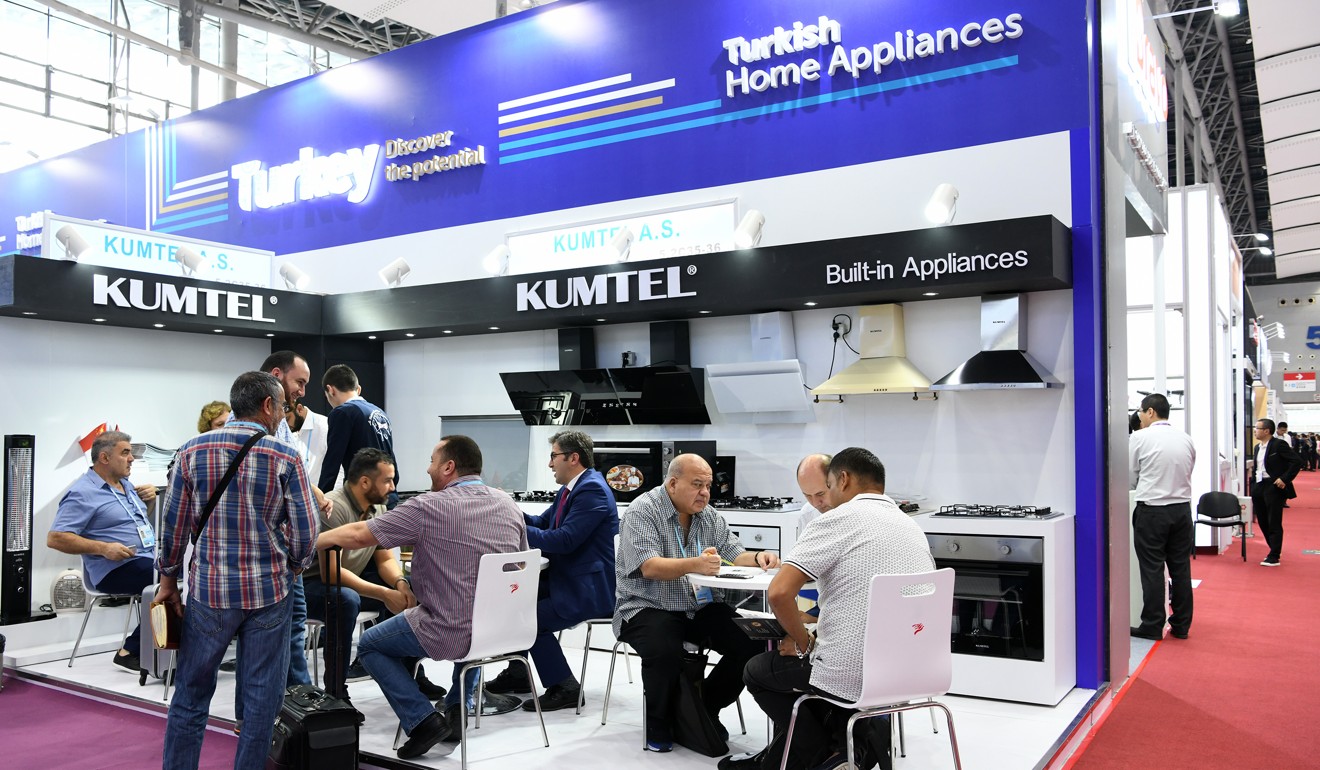 "It's our first time at the fair, and it was very helpful to our business," said Naveen Surana, founder of Navkar Home, a carpet and home textiles producer from Bikaner in India.
"I got US$80,000 worth of orders from a single client from the US, as well as other orders from other countries.
"Definitely, we are going to attend the fair this November, and more exhibitions in China. It's a useful way for us to win overseas orders."
Several Chinese exporters said the gap between Chinese products and these manufactured in Pakistan, Vietnam and India had narrowed in both price and quality, but producers in those countries were not affected by the US trade tariffs, giving them a huge advantage.
"We will strive to create an international public platform for all countries to expand exports to China and open up global markets, so that overseas enterprises can share the development opportunities between China and the world," Canton Fair spokesman Xu Bing said on Sunday.
He said the fair would aim to promote the growth of imports and global trade, citing exhibitors from Britain, Malaysia and Indonesia as successful examples.
"They not only opened up the Chinese market at the fair, but also found global customers from France and New Zealand, Egypt, Sri Lanka, the United Arab Emirates and other countries," Xu said.