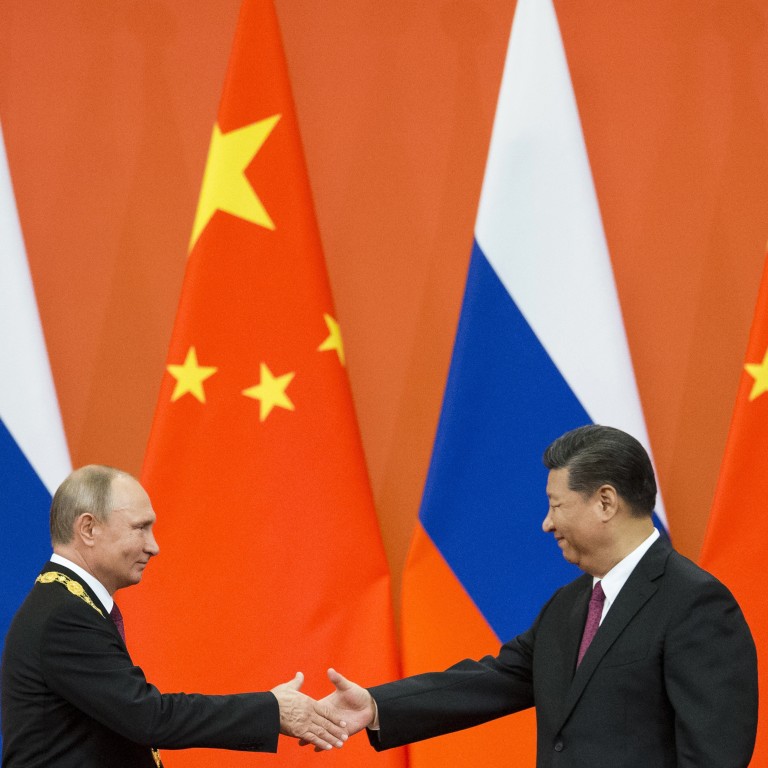 China, Russia urged to continue efforts to defang US-dollar sanctions weapon
Beijing and Moscow are seeking to forge closer economic ties in the face of Trump administration's escalating pressure on China and continued sanctions on Russia
Chinese President Xi Jinping set to meet Russian counterpart Vladimir Putin on Wednesday on the eve of the St Petersburg International Economic Forum
China and Russia should avoid using US dollars in financial translations to minimise Washington's ability to bully other countries into following its rules with the threat of sanctions, according to a top adviser to Russian President Vladimir Putin.
The two nations have been keen to cut their dependence on the US dollar for some time, and continue to talk about establishing a new system for direct yuan-rouble settlements despite multiple delays.
"The US is the most powerful economy in the world. If we want to avoid dollar hegemony, the first thing we need to do is to avoid using dollars, because the foundation of the US economy is based on the dollar reserves owned by other countries and this has given it the ability and confidence to press other countries to play by its rules," said economist Sergey Glaziev.
"US influence would eventually be weakened if we do so."
The dependence of the Russian economy on the US dollar was illustrated by three failed attempts this week during the St Petersburg International Economic Forum to exchange Chinese yuan for Russian roubles. Three major Russian banks refused to process the transaction, saying they would only sell roubles for US dollars.
Beijing and Moscow are seeking to forge closer economic ties in the face of Trump administration's escalating pressure on China and continued sanctions on Russia.
Chinese President Xi Jinping
is expected to meet Russian counterpart Putin in Moscow on Wednesday and then head to Russia's second largest city for the annual economic forum on Thursday.
In one of the latest escalation of the year-long trade conflict between China and the US, Washington cited national security reasons for putting
Huawei
on a blacklist that effectively banned US or foreign companies dealing in US patented equipment from supplying China's largest telecommunication equipment manufacturer.
Last week, China countered the move by creating its own
"unreliable entity list"
for those firms whose actions hurt Chinese companies for non-economic reasons.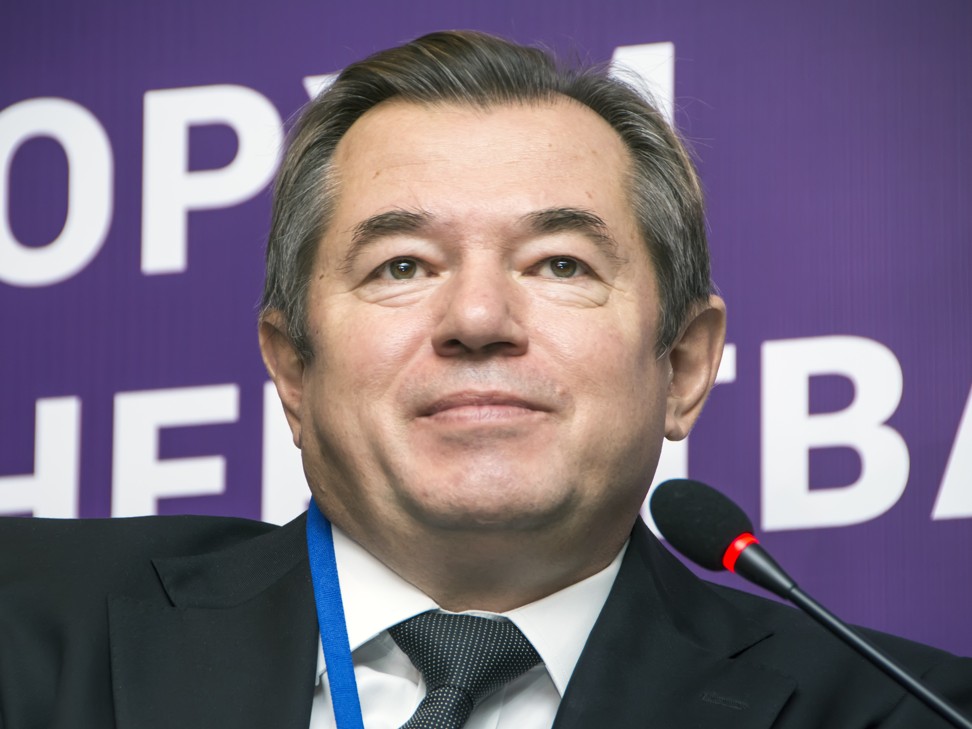 "China, with deep concerns over US sanctions, has been very careful when cooperating with Russia," said Glaziev. "Russia is concerned about the sanctions, too, but because of the existing tough sanctions."
China and Russia, who have already agreed to deepen cooperation under both the Beijing-led Belt and Road Initiative and the Moscow-led Eurasian Economic Union, should use more local currencies, while stock exchanges in China and Russia also should use the yuan where possible, said Glaziev.
"The renminbi should be used as a major currency [in trades between] China and Russia," he said.
Glaziev's comments were echoed by Zhou Li, a former director at the International Liaison Department of the Central Committee of the Chinese Communist Party.
Zhou, a former diplomat in Moscow, said the two former cold war allies should unite to counter US sanctions in the face of escalating hostility with Washington.
Cooperation would include a common assessment of the risks to China-Russia relations resulting from the US "long-arm" jurisdiction policy of using sanctions to force compliance with US rules, said Zhou.
The two countries could establish a non-dollar settlement system for energy trades, he added. Russia is now the largest crude oil supplier to China and will soon become its largest gas supplier when the Power of Siberia pipeline starts to deliver gas from Russia's far east to China later this year.
"In some sensitive areas, the two countries should expand settlement in local currencies to cut off the long-term restrictions on our financial investment from dollar hegemony," he said, adding that the two countries should also speed up negotiations on establishing a settlement system for non-cash trades to increase financial independence.
In 2014, China and Russia signed 38 energy, trade and finance deals and a currency swap worth 150 billion yuan (US$22 billion). Russia was seeking trade links with China after its forceful annexation of Crimea prompted sanctions from the US and the European Union.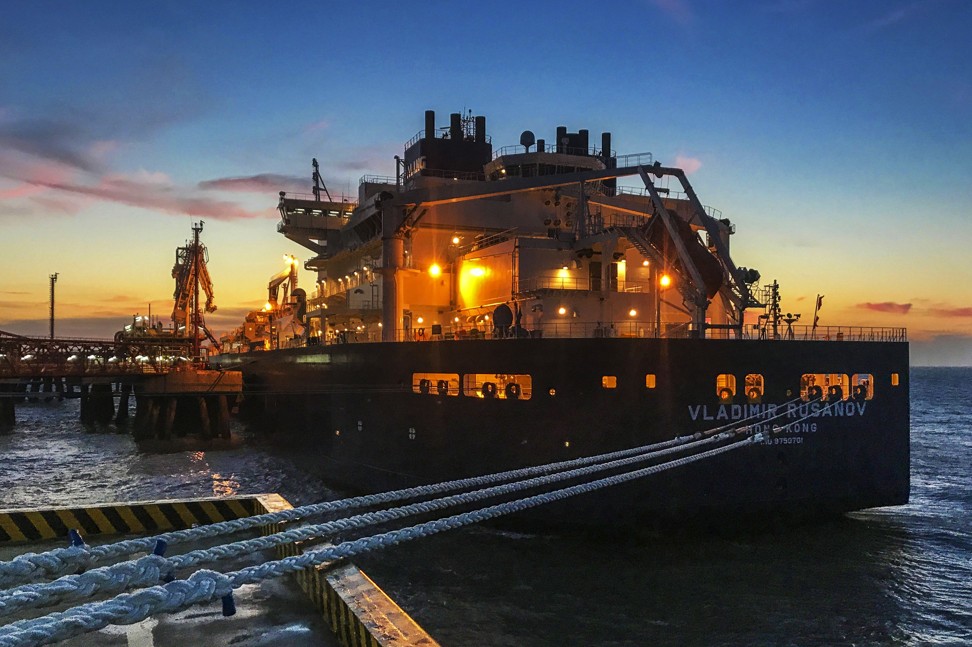 The Central Bank of Russia also dumped US$101 billion from its foreign exchange reserves last year in its biggest-ever shift away from US dollar-denominated assets, moving into euros, yuan and yen. Analysts said the move meant Russia now holds about a quarter of the global yuan reserves, reflecting its political preference for China to play a bigger role as a trade investment partner in the future.
Currently 70 per cent to 90 per cent of China-Russia trade is still conducted in US dollars, with the role of the yuan used in only 2 per cent of Russia's external transactions.
Reflecting just how complex it is to develop an alternative to the US dollar, Russia shelved a deal with Beijing to boost direct rouble-yuan operations at the end of last year. The two countries had been in talks to launch a new cross-border system to improve direct payments of trade invoices, and for the use of China's UnionPay credit card in Russia and Russia's Mir card in China.
Chinese investment is also falling in even the most promising areas such as the energy sector in Russia as China has slowed down its efforts to internationalise its currency because of concerns about capital outflows amid a slowing economy.
This article appeared in the South China Morning Post print edition as: Russia and China 'should dump dollar to curb US'