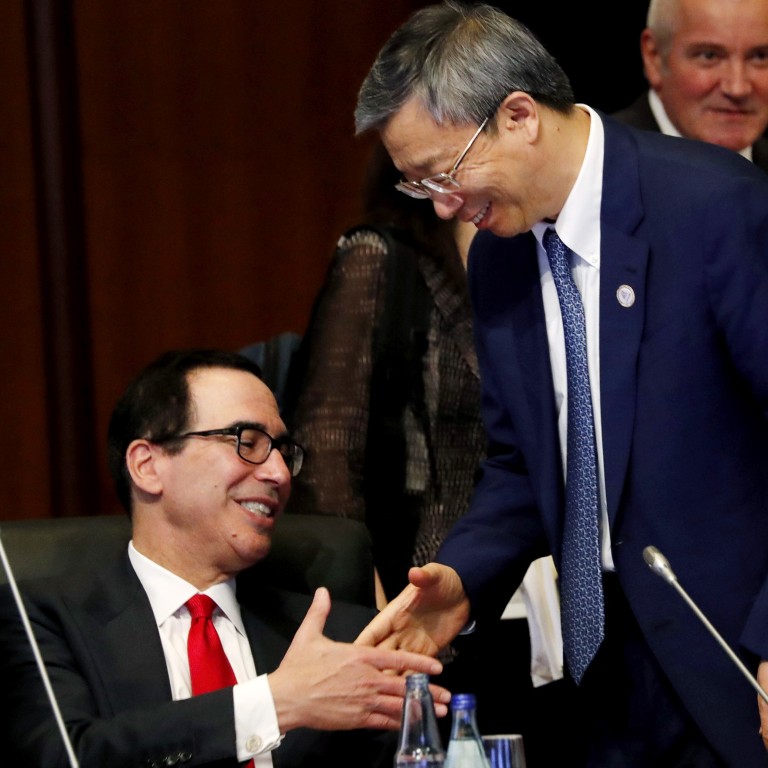 China's exports rise in May but US trade war will still hurt in the long run, analysts warn
Exports unexpectedly rose 1.1 per cent in May against an expected drop of 3.9 per cent, although imports fell 8.5 per cent
US President Donald Trump increased tariffs on US$200 billion of Chinese imports from 10 per cent to 25 per cent on May 10
Chinese exports rebounded slightly in May as companies front-loaded their shipments to beat last month's US tariff increase, but analysts warned that the damage from the move by US President Donald Trump could soon pose a severe challenge to the world's second largest economy.
Goods sold overseas rose 1.1 per cent in May from a year earlier, confounding market expectations of 3.9 per cent drop and improving from the
2.7 per cent fall a month earlier.
Imports, however, fell 8.5 per cent following a rise of 4 per cent a month earlier due to a plunge in shipments from the United States and also weakening domestic demand.
"The rise [in overall Chinese exports] last month was largely due to front-loading and that's not sustainable. The downward trend will continue in the coming months," said Larry Hu, chief China economist of Macquarie Capital. "The government may have to consider larger stimulus in the second half of this year, potentially the fourth quarter, when its impact on the economy will show up."
The US tariff increase from 10 per cent to 25 per cent on US$200 billion of Chinese imports took effect May 10, meaning exporters had to fill orders early in the month to take advantage of the lower rate.
US-bound shipments dropped to US$37.7 billion in May, 3.7 per cent below the level of a year earlier, but well below the 13 per cent decline in April, according to a South China Morning Post calculation based on data released by the General Administration of Customs. Imports from the US declined 26.8 per cent from a year earlier to US$10.8 billion.
For the first five months of 2019, total exports to the US, which was the top destination before the trade war, plunged 8.4 per cent to US$160 billion, while imports dropped 29.6 per cent to US$49.6 billion.
Exports to other major destinations such as the European Union, Japan and Southeast Asian countries have not yet be able to offset the loss of trade with the US in the first five months of the year. Exports to the European Union rose 8 per cent, with exports to Association of Southeast Asian Nations (Asean) up by 6.8 per cent, although exports to Japan dropped 1.8 per cent.
"The existing tariffs imposed on the US and China's imports will not be lifted any time soon," said Louis Kuijs, chief Asia economist of Oxford Economics. "The chance of further deterioration of bilateral relations has increased, with both sides planning further restrictions targeting each other's companies."
British investment bank Barclays slashed China's growth estimate to 6.0 per cent in 2019 and 5.5 per cent in 2018 as its new baseline officially moved to the escalation scenario where all the Chinese exports to the US would be subject to a 25 per cent tariff.
"The pain of tariffs would likely be more visibly felt entering the third quarter," said Barclays' China economist Chang Jian, who forecast an 8 per cent fall of exports this year against a 10 per cent expansion in 2018.
US President Trump threatened to impose a tariff of up to 25 per cent on the US$300 billion of Chinese imports that have escaped sanctions so far, with procedures to enact that threat already underway. Trump said he would decide whether to impose the additional tariffs in early July after his expected meeting with Chinese President Xi Jinping at the G20 leaders summit in Japan at the end of June.
US Treasury Secretary Steven Mnuchin
said on Sunday in an interview with CNBC Television while in Japan for the G20 financial policymakers meeting that Trump would be "perfectly happy" to impose the additional tariffs if China did not wish to resume negotiations.
The prospects of US sanctions on a new list of Chinese products, including popular electronics like smartphones, raises the prospect of increased shipments in June, which could again boost the export total.
Since the trade talks broke down in early May, both sides have taken the opportunity to
blame the other
for the lack of progress. All eyes are now on the potential meeting between Xi and Trump to see if the two leaders can agree on a breakthrough as they did at their previous meeting in December following the G20 leaders summit in Buenos Aires, Argentina.
Speaking at the St Petersburg International Economic Forum on Friday, President Xi said he believed disengagement with the US would be dangerous.
"There are some trade frictions between us and the US, but China and the US are closely intertwined, and we are each other's biggest investor and trade partner," he said.
Domestically, the
Chinese government
is attempting to boost consumption to offset the fall in exports, which accounted for around one fifth of the economic growth in the first quarter, and so stabilise employment. Moves to date have been modestly successful, but given the prospect of more US tariffs, further easing is likely, analysts said.
"We have plenty of room in interest rates, we have plenty of room in the required reserve ratio rate, as well as in the fiscal and monetary policy toolkit," said Yi Gang, governor of the People's Bank of China, in an interview with Bloomberg last week.
Chinese leaders have targeted economic growth of 6.0 to 6.5 per cent this year, with growth in the
first quarter of 2019
stabilising at 6.4 per cent.
This article appeared in the South China Morning Post print edition as: Exports get a boost as shipments sent early to beat tariffs