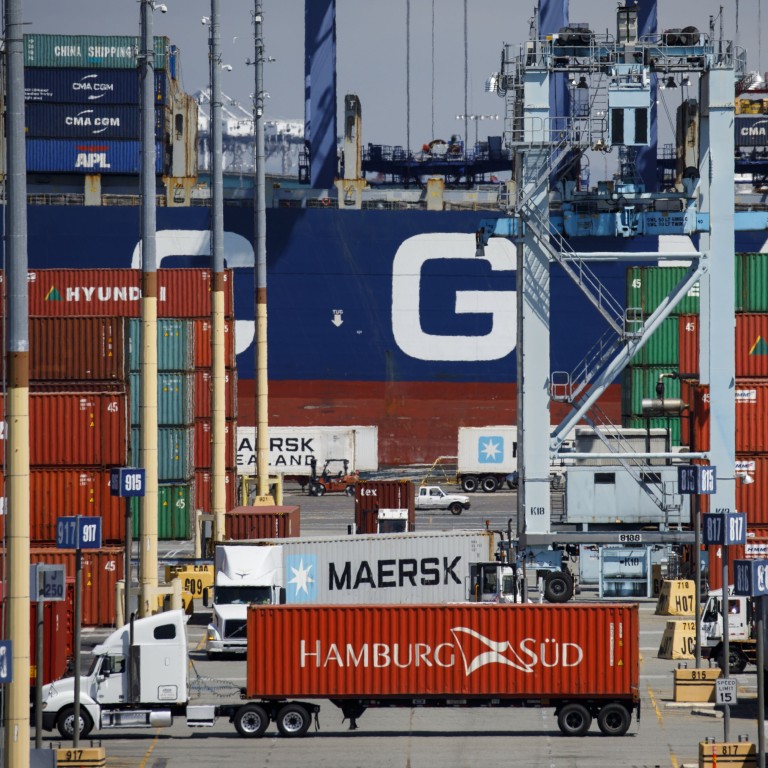 How the US-China trade war is redrawing the rules and structures of global logistics
Import traffic at America's busiest port, the Port of Long Beach in California, dropped in May, suggesting minimal front-loading to beat possible tariff increase on June 1
Companies have not been able to make early purchases due to capacity issues in US warehouses and stocked inventories from previous front-loading
Towards the end of 2018, before an American tariff increase on US$200 billion of Chinese goods that was expected to take place on January 1, "floating finishing factories" started popping up off the US West Coast, on which Chinese workers would frantically assemble goods on container ships at sea to get them through customs in time to beat the increased tariffs.
As it turned out, the tariff increase was postponed after a meeting between US President Donald Trump and his Chinese counterpart Xi Jinping at the G20 summit in Buenos Aires in December, but the front-loading of orders still led to a huge surge in shipments, leaving port and logistics operators stretched to their limits.
"I don't know about chaos, but it was extremely busy," said Don Snyder, acting managing director of commercial operations at the Port of Long Beach in California. "At pretty much all the ports in North America, things like truck capacity and the ability to have the [truck trailer] chassis that go underneath the [shipping] containers, the ability to return empty containers back to the port, were under pressure – there were a lot of challenges there."
The tariffs on US$200 billion of goods eventually increased on any shipment made after May 10, while this week in Washington public hearings took place on Trump's proposal to levy a new round of tariffs on nearly all Chinese imports that have so far avoided them.
Trump and Xi
are due to meet at the G20 in Osaka, Japan next week, with many predicting that the planned tariff of up to 25 per cent on US$300 billion of Chinese goods could be postponed to allow for more trade negotiations to take place.
There are many parallels with the situation six months ago, apart from the fact that when Trump announced plans to implement additional tariffs in May, the expected surge in orders to beat the tariff did not take place.
"You would expect that there would be some panic out there among the exporters, particularly those whose goods were not included in previous tariff lists, but that does not seem to be materialising, at least at the Western ports," said Jock O'Connell, an international trade adviser at Beacon Economics. "And I suspect it has a lot to do with the fact that excessive inventories were brought in during the last quarter of 2018."
Instead, aggregate inbound loaded container volumes were down 5.3 per cent along the West Coast in May, O'Connell said. At the Port of Long Beach, America's busiest port, inbound container trade was down 19.5 per cent in May. At the adjacent Port of Los Angeles, import volume was up by 5.5 per cent, but the aggregate trend of both ports, which sit side-by-side, was a clear downturn.
"Things have dropped off a little," added Snyder from the Port of Long Beach. "It seems like everyone made their advanced purchasing before the beginning of the year to try and beat what was the January 1 deadline for higher tariffs. And then, there were still quite a bit of product still flying through [US West Coast ports] up through Chinese New Year [in mid-February]."
The previous bouts of front-loading have meant that retailers' inventories are already stocked with goods. Warehouses along the West Coast are at capacity, meaning that even if companies wanted to front-load their stocks, their logistics providers would struggle to support them.
Furthermore, the relatively short time between the collapse in US-China trade talks and the increase in US tariffs on June 1 meant that there was little room to manoeuvre for many buyers. Even goods which have yet to be tariffed, but which may be as soon as July, are jostling for shipping and storage space with other goods, since the "terrain of warehouse and distribution facilities, especially close to the ports, is dominated by third-party logistic firms", O'Connell said.
"So rather than seeing lots of warehouses that are dedicated to a specific retailing outlet like Macy's or Home Depot, you're more likely to be finding that the goods are being stored in these third-party logistics centres" that rent out space to the first firms to meet their terms," he said.
Richard Ying is the president of Speedier Logistics, a third-party logistics provider for companies importing garments and textiles from China to the US. He has a warehouse in Los Angeles that is "completely full." He also said he has seen a "substantial slowdown" in US-China freight traffic because of the capacity issues on both sides.
"There is nothing we can do about warehousing capacity," Speedier said. "Every production line works according to a schedule. Even if you want it right away, the factory cannot produce the stuff. The factory has a schedule, meaning if they usually put out 100 pairs of pants a day, they cannot do 200 pairs, they just cannot."
Companies will, therefore, pass on the cost of the tariff to the consumer, Speedier said, since there are few ways to avoid paying it.
"Business has slowed now, even though it was supposed to pick up around now. We were supposed to be slow in the New Year, but it is down about 20 per cent at the moment and there is nothing I can do," he said.
Both buyers and retailers have been warning in recent months that just such a scenario could occur, since most consumer products have yet to be subject to tariffs, but could be if the new tariffs are implemented as soon as July should Trump and Xi not reach a deal in Osaka.
"The combination of increased domestic production costs created by tariffs on raw materials and end-products, and the inability of our members to find sufficient manufacturing capacity outside of China will result in either consumers paying higher prices or [our] members ceding market share to foreign competition," said Bill Sells, senior vice-president of government affairs at the Sports and Fitness Industry Association in written testimony presented this week at the US Trade Representative's hearings in an appeal against the proposed new tariffs.
About 320 officials from US manufacturers, retailers and other companies and trade groups were set to appear this week at the US International Trade Commission before panels of officials from the Office of US Trade Representative and other agencies, with most arguing Trump should not take their products.
"The payment of additional duties will push Blue Sky into default on its agreed upon bank covenants for cash flow and profitability," read a written submission from calendar company Blue Sky the Colour of Imagination. "The impact of an additional 25 per cent duty on the company's profitability will be detrimental to its stakeholders, employees, retailers and consumers."
With the trade war redrawing the rules and structures of global trade, logistics companies may have to get used to a new environment. Many in the industry now discuss the "regionalisation" of the supply chain, whereby companies manufacture in a number of different locations close to their consumer markets to avoid disruption.
"In this case you would see shipping volumes drop. If companies are producing in Mexico for the US market, you would clearly be looking at trucking as an alternative, depending on where [in America] it is going," said John Evans, managing director of Tractus Asia, a company that helps businesses moving out of China find new production locations.
This article appeared in the South China Morning Post print edition as: Full warehouses at US west coast ports in downturn