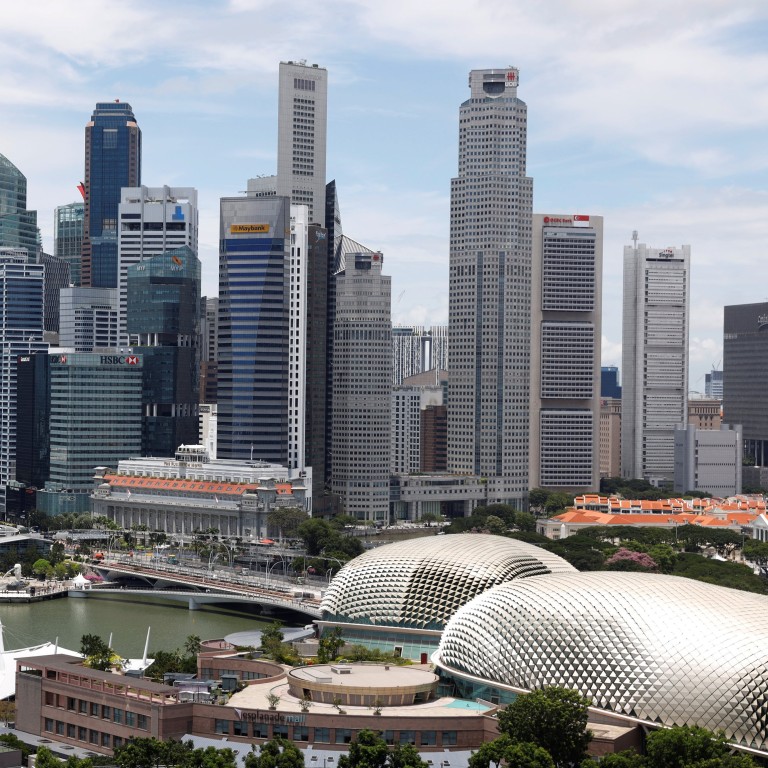 Singapore economy tipped for recession as US-China trade war slams imports, exports, manufacturing
Second quarter growth in the city state confirmed at minus 3.3 per cent on a quarterly basis, down from 3.8 per cent growth in the first quarter of 2019
'With everything that we are seeing, it is quite possible that there will be a recession in the third quarter of the year,' said Coface economist Carlos Casanova
Singapore's economy has been tipped to enter recession in the third quarter of 2019 as the fallout from the US-China trade war continues to rock the Southeast Asian nation after second quarter growth was confirmed at minus 3.3 per cent.
The gross domestic product (GDP) figure released on Tuesday was a huge decline on the 3.8 per cent growth in the first three months of 2019, and the worst reported quarterly growth for seven years.
On a year-on-year basis, the economy grew at just 0.1 per cent, down from 1.1 per cent in the first three months, marking the slowest rate of growth since the global financial crisis in 2008.
The worst performing sectors were manufacturing, which contracted by 3.1 per cent, and wholesale and retail trade, which fell 3.2 per cent.
"Singapore is a bellwether for the global trade slowdown," said Carlos Casanova, Asia-Pacific economist at insurance company Coface. "With everything that we are seeing, it is quite possible that there will be a recession in the third quarter of the year."
Singapore's Ministry of Trade and Industry (MTI) said the downturn was "partly due to the escalation in the US-China trade conflict in recent months".
China's economy
reported its lowest growth on record in the second quarter, 6.2 per cent, in parallel with Singapore's slump.
"This could severely dent global business and consumer confidence, with adverse implications on global trade and global economic growth," MTI's statement said.
"Second, a steeper-than-expected slowdown of the Chinese economy could be precipitated by additional tariffs imposed by the US. This could in turn lead to a sharp fall in Chinese import demand and negatively affect the region's growth."
Should Singapore's quarterly growth remain negative in the third quarter of the year, it would mean the city state has entered a technical recession – a scenario which other data suggests is looking increasingly likely. Singapore is described as "the canary in the coal mine" for the Asian and global economies. It is heavily trade-dependent, second only to Luxembourg in trade-to-GDP terms, and is usually seen as a leading indicator for how other nations are likely to perform.
"The key markets are slowing, China is not going to import as much and there are disruptions in the supply chain for electronics in particular that will lead to weaker demand. We are just discussing the tariffs, but then on top of everything, there's a downturn in the global electronics supercycle with very weak semiconductor prices. The industry is waiting for the next wave of technology to pull demand up," added Casanova.
"We are going to continue to see a contraction in manufacturing in Singapore as a result of weaker performance in those two key industries for the season. So we do see it being an overall drag and that leading to a technical recession in quarter three."
Singapore's imports and exports are also both in free-fall, with
June's
exports

suffering their worst decline for six years, falling by 17.3 per cent.
Non-oil exports from Singapore to China dropped 15.8 per cent last month, while those to Hong Kong fell 38.2 per cent – with many of the goods bound for Hong Kong eventually finding their way to mainland China.
July's trade data will be released on Friday, with consensus forecasts signalling a near 10 per cent drop in exports.
Singapore's business confidence index, meanwhile, a gauge of the sentiment in Southeast Asia's financial hub, shrunk by 11 per cent in July, while the purchasing managers' index, a gauge of how manufacturers feel about their outlook, has been in contraction for the past three months. Industrial production fell by 6.9 per cent in July – the fourth successive decline and the biggest drop since 2016 – confirming that the slowdown is becoming entrenched.
In light of the confirmed data, Singapore drastically downgraded its growth forecasts for the year, with MTI now predicting growth of the "midpoint of the forecast range" of between 0.0 and 1.0 per cent. This is a dramatic cut from the earlier annual forecast of between 1.5 per cent and 2.5 per cent.
In July, the International Monetary Fund cut its 2019 growth forecast for Singapore to 2 per cent from 2.3 per cent.
This article appeared in the South China Morning Post print edition as: Singapore tipped to enter recession in the third quarter