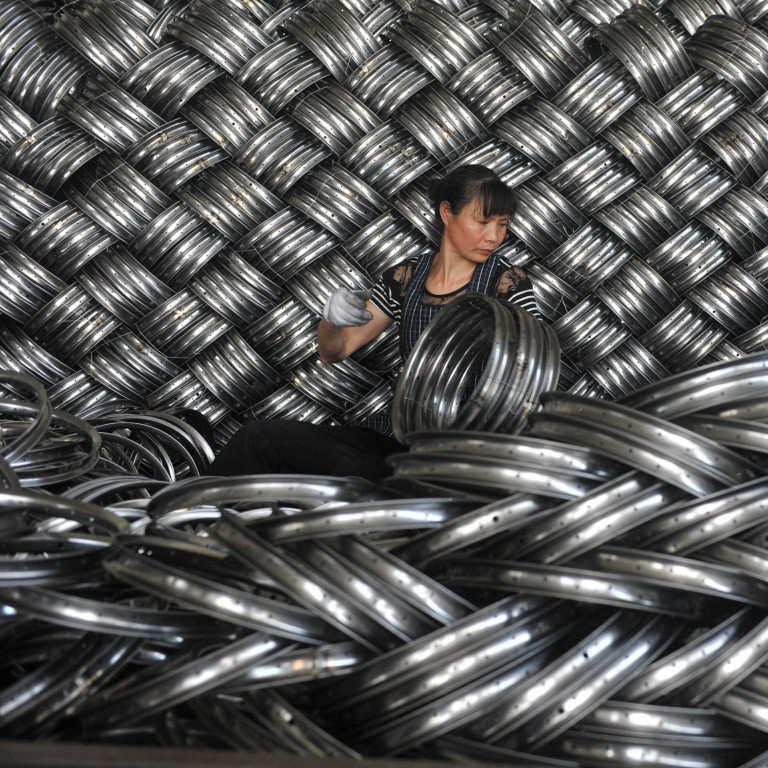 China 'smoothing' of economic data is distorting global growth and policy responses, study says
China's growth rate varied by only 0.8 percentage points over the last 16 quarters, much lower volatility than any other economy in the world, Rhodium Group says
This has led to distortions in global economic growth estimates, since projections of economic health hamper the progress of China's domestic reform
China's official economic data over the past four years has been "too smooth to be realistic", given the significant volatility in key industries over the same period, according to a new study by Rhodium Group, a US-based economic research house.
A new report claims that this unrealistic data has led to distortions in global economic growth estimates, which in turn has affected economic policy decision-making throughout the world, with China paying the highest price.
Beijing has always prioritised stability and since the start of the trade war with the United States in July 2018, has chosen policy responses to strengthen employment and investment.
However, while steady growth projections may assuage the ruling Communist Party and the general Chinese public, elsewhere in the world they generate concerns over China's rise and over the progress of domestic reform, the report says.
"There is significant cost to its data smoothing for China itself, which I think is completely under appreciated, based on the expectation that projecting stability is a significant impediment to reform," said Logan Wright, head of Rhodium Group's China markets research.
"It's obvious that if there's not much broken then there does not need to be stronger structural reforms to fix this. That just keeps some of the imbalances growing over time and eventually creates problems where reforms become costlier and costlier."
Wright advised China to accept
more volatility
in its short-term economic outlook if it "wants to change external perceptions".
Rhodium Group's own indicator, a weighted average of 103 official Chinese industrial output statistics, showed significant volatility in industrial output between 2015 and 2018. For example, it showed just 0 to 1 per cent industrial output growth in the summer of 2015 but 10 to 11 per cent growth in the first quarter of 2017, a dramatic swing that was not reflected in official economic growth data.
The Chinese economy grew an annual 6.9 percent in the third quarter of 2015, and it recorded 6.8 per cent in the first quarter of 2017 despite the volatility in industrial production.
Rhodium's indicator showed that mid-2018, industrial output growth fell between 6 and 7 per cent as Beijing tried to curb excess debt. This ended up cutting
corporate credit
, and as a result investment in industry and output.
Gross domestic output (GDP) growth, however, showed little variation, it was 6.4 per cent year-on-year in the last quarter of 2018, compared to 6.5 per cent in the third quarter and 6.7 per cent in the second quarter.
Chinese authorities at the time acknowledged greater volatility in economic conditions. "But this begs the question of what actual data was driving those assessments, and how accurate those data series were," the report said.
Over the past sixteen quarters, China's headline GDP growth has only varied by 0.8 percentage point in total, within the range of 6.2 per cent and 7 per cent.
Chinese industrial sector accounted for 40.7 per cent of the value of China's GDP in 2018, while services accounted for 52.2 per cent. The remainder came agriculture, according the National Bureau of Statistics.
The service sector is considered the most volatile component of China's GDP, while agriculture carries relatively little weight. Therefore, the report argued that China's actual economic growth reflected a much more cyclical pattern than official data suggested.
"Given that most raw Chinese industrial output data slowed sharply in 2015 and again in 2018, it is far more likely that data smoothing was conducted to overstate China's GDP growth over the past four years rather than to understate it. The extent of that overstatement is vitally important to the global economy, given that China is the second-largest economy in the world," the report said.
According to the International Monetary Fund, China accounted for around 39 per cent of global GDP growth and two-thirds of emerging market growth between 2010 and 2018.
Over that same period, China's official economic growth figure was almost equivalent to that of all advanced economies combined, Rhodium said.
Confusion over the reality of China's
economic cycles
could, therefore, distort global growth and hamper economic policymaking such as whether to make interest rate cuts, particularly in emerging markets and countries dependent on trade with China, the report said.
"We've never seen an economy [like this], at least in the last 50 years," Wright said. "But China is a significant outlier in terms of how smooth the data is."
"We have our proprietary method that we use for doing analysis, but the point is any representative series of all China's industrial output data would probably show a similar degree of cyclicality, whether you use ours or someone else's."
The accuracy of China's economic data has regularly been questioned. Local governments have gone to extraordinary lengths to manipulate raw data to obscure the real picture of their economic health.