Trade
Get more with myNEWS
A personalised news feed of stories that matter to you
Learn more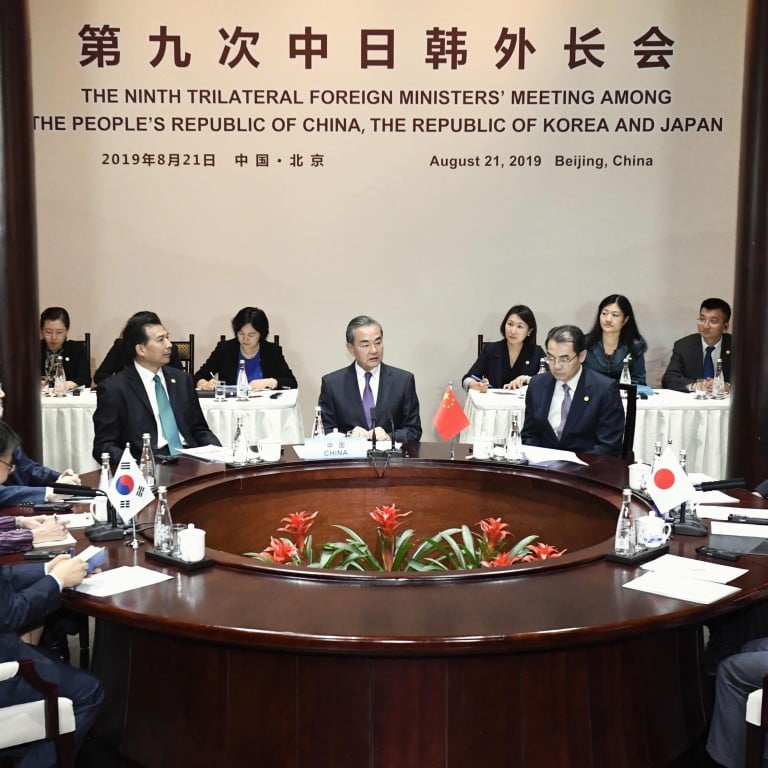 South Korea's economy facing 'perfect storm' as Japan trade dispute continues and exports plunge
South Korea's exports for the first 20 days of August fell 13 per cent from a year earlier, pointing to a ninth successive monthly decline
Semiconductor sales fell 30 per cent, while exports to China fell 20 per cent, suggesting joint headwinds of global electronics slowdown and US-China trade war
As the foreign ministers of China, Japan and South Korea gathered for trilateral talks in Beijing on Wednesday to improve relations, a stark reminder came of the perilous situation South Korea's economy is in.
Exports for the first 20 days of August fell 13 per cent from a year earlier, signalling a ninth successive monthly decline. Within the headline figure, two numbers illustrate the "perfect storm" facing the country: sales of semiconductors – one of its most valuable exports – fell 30 per cent, while exports to China – its largest trading partner – fell 20 per cent.
Both an exporting and electronics powerhouse, South Korea's economy is disproportionately exposed to the US-China trade war and the associated technology war, as well as the slowdown in semiconductor demand stemming from the end to the electronics supercycle.
That South Korea has become embroiled in a trade dispute with neighbouring Japan adds more pressure at an already crucial time, and with Wednesday's talks ending without any resolution, it created further woes on this heavily trade-dependent nation.
On Thursday, the situation with Japan escalated again, when South Korea announced that it would scrap a military intelligence sharing pact with its neighbour, adding further concern that the trade dispute would ratchet up another level.
While the material impact of the Japan trade dispute has been limited to date, the choice to restrict exports of chemical ingredients – fluorinated polyamides used in production of smartphones, photoresists used in semiconductors and hydrogen fluoride also used in semiconductors – showed that Tokyo has targeted a highly sensitive part of the South Korean economy with precision.
In 2018, semiconductor sales accounted for 92 per cent of South Korea's export growth, a figure which led Rory Green, China and North Asia economist at research firm TS Lombard, to describe it as "more akin to an oil exporter than a tech hub".
"It is a terrible time for them to be involved in a trade dispute. Semiconductor prices have halved since last year, and that is hitting Korean exports very hard," said Green. "Even though export volumes are still OK, the price of semiconductors mean that even without the Japan dispute and the US-China trade war, it's hard for Korean exports to turn positive this year."
Within South Korea, Japan's protectionist turn has been compared to the pressure tactics of US President Donald Trump, who announced that he would scrap the US-Korea Free Trade Agreement in April 2017, only to sign a largely-unchanged revision in September 2018.
Experts say Trump's use of trade tariffs to extract political concessions from South Korea, a move also tested on the European Union, Mexico and China, have emboldened Tokyo to weaponise its trade policy.
Japan has been enraged by a South Korean court's order that Japanese firms must compensate wartime victims of forced labour, a legacy of Japan's colonisation of South Korea, when it thought a previous compensation treaty had settled the issue.
"Japan is copying from the US playbook in the trade war with China," said June Park, a political economy specialist at George Mason University Korea in Incheon. "This may have been a difficult scenario to imagine in the past when international trade rules were intact, but through the trade war we have witnessed unilateral pressures imposed on countries regardless of the global order on trade."
A South Korean trade official in Seoul, speaking under the condition of anonymity due to the sensitivity of the situation, said that "Japan's retaliatory measure is disrupting the global value chain, and damaging the world economy".
South Korea have tried to take the sting out of the backlash against Japan in recent weeks, mindful of the economic conditions facing the country, with another diplomatic source saying that Seoul does not want to see further escalation and that both sides "must act rationally" – however this was before Thursday's decision to withdraw from the intelligence-sharing arrangement.
There has been a notable toning down of the South Korean consumer boycott, which saw consumers spurn Japanese goods from sushi to J-pop to Doraemon – a Japanese manga series much loved in South Korea.
Seoul's Jung-gu district office withdrew its plan to hang banners reading "No. Boycott Japan" on lamp posts across major streets, while on Wednesday, Takashi Shiraishi, a representative of a progressive Japanese civic group, met with the mayor of Seoul, saying that Korean and Japanese citizens should avoid "anti-Japan or anti-Korea" rhetoric. Instead, both sides should work together "under the 'anti-Abe' sentiment and demand the Abe administration face the history as it is", he said.
At a press conference in Beijing on Wednesday, Jun Saito, deputy press secretary within Japan's Ministry of Foreign Affairs, said that the dispute should not be "used as an excuse" to discontinue talks on a trilateral trade agreement involving China.
This suggested that Tokyo is also keen to contain the wider impact of the trade dispute, which caused five US technology industry groups, including the Semiconductor Industry Association, to write a joint letter to the South Korean and Japanese trade ministers in July calling for a de-escalation of tensions.
Meanwhile, in a bid to wean itself off Japan's technology supply, South Korea became the first Asian nation to sign a free trade deal with Israel on Wednesday, bringing better access to its hi-tech materials. South Korea and Israel are the world's two highest spenders on research and development as a portion of gross domestic product.