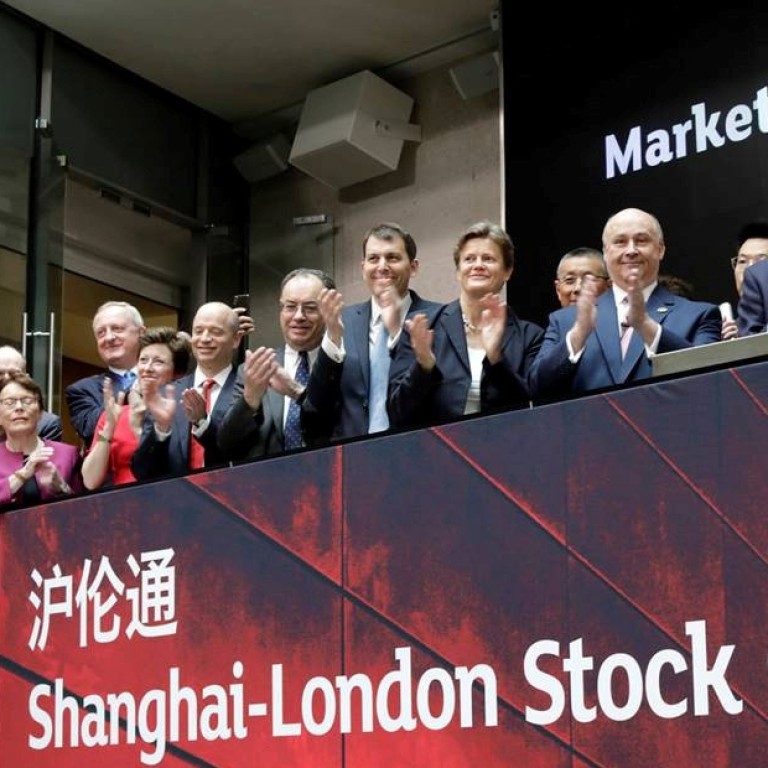 Chinese companies turned off from British stock market connect by Brexit uncertainty
London-Shanghai Stock Connect programme has started slowly with only one Chinese firm listed in London and no British firms listed in Shanghai
Chinese companies fear double taxation at a time when Beijing is trying to ramp up efforts to increase capital inflows to boost investment and stabilise growth
Economic uncertainty caused by Britain's protracted efforts to leave the European Union are curbing interest from Chinese firms to list through the London-Shanghai Stock Connect programme, hindering efforts to tie the two financial markets together, analysts said.
Beijing is attempting to ramp up efforts to increase capital inflows to boost investment and also help stabilise growth as the escalating trade war with the United States puts increasing downward pressure on the economy.
But after British Prime Minister Boris Johnson lost a series of key votes this week, the uncertainly over Britain's political situation and economic outlook is making Chinese firms think twice about using the cross-border mechanism that allows Shanghai-listed companies to raise new funds on the London stock market. British companies can, in turn, broaden their investor base by selling existing shares in Shanghai.
"Brexit is making the UK's economic situation unstable and unpredictable," said Matthew Wong, tax partner at global accountancy firm PwC. "It probably isn't the right time to list in London now."
The current British government sees cooperation with Beijing and new opportunities in Asia as critical for the its economic outlook after Brexit, while China is trying to open up its domestic capital markets to offer foreign companies an attractive trading environment in a bid to increase foreign investment and financing.
British imports from China were worth US$63.38 billion in 2018, up from US$55 billion in 2017, while exports from Britain to China rose from US$27 billion to US$27.7 during the same period, meaning trade between the two countries reached a record high last year.
The Shanghai-London link officially launched in June after a similar stock connect scheme involving the mainland Chinese stock markets and Hong Kong started in 2014.
Barclays Bank, China International Capital Corporation (UK), CLSA (UK), Haitong International (UK), Huatai Securities, ICBC Standard Bank and JP Morgan Securities have all been approved to participate in the London-Shanghai Stock Connect programme by the Shanghai Stock Exchange.
But only Chinese brokerage Huatai Securities has issued its global depository receipts on the London Stock Exchange, while no British companies have issued China depository receipts on the Shanghai Stock Exchange.
Depository receipts are negotiable certificates issued by banks that represent ownership of a given number of a company's shares that can be listed and traded independently from the underlying shares.
Wong from PwC said that unlike the Shanghai-Hong Kong Stock Connect programme, which allows foreign investors to buy mainland stocks using Hong Kong as an intermediary and allows Chinese investors to buy foreign stocks in the same way, Beijing has not yet issued guidelines on how it would treat income derived by investors in the London-Shanghai scheme. This uncertainty on the risk of double-taxation on their capital gains has deterred investors' appetite for the scheme.
At the same time, worries continue that a no-deal Brexit could lead to unsettled arrangements on border controls between Britain and the European Union, as well as higher tariffs on British exports, causing customs and administrative hurdles that could lead to shortages of food and medicines in Britain, and put further pressure on its economy.
A no-deal Brexit means that Britain would leave the European Union on October 31 with no agreements in place about what the relationship between itself and the trading bloc will be like in future.
That situation would "create substantial disruption for businesses, workers, farmers and regulators", said a group of the world's leading business federations, coordinated by the US Chamber of Commerce, who have this week been left "gravely concerned".
Labour Party leader Jeremy Corbyn has said he would agree to hold an early election once a no-deal Brexit bill has been passed into law, eliminating the possibility of Britain's exit from the European Union without a deal by the current October 31 deadline.
That could happen on Monday, although the leader of the opposition has not said if he agrees with Johnson's plan to hold the election on October 15.
"If Boris Johnson wins the election and unwinds everything that the parliament's done, then you would see a hard [no deal] Brexit," said Jeffrey Halley, senior market analyst for Asia-Pacific at online broker Oanda.
"But there could be an even bigger capital flight out of the UK if there was an election and the very left Labour Party led by Jeremy Corbyn wins."
Investors regard Corbyn as a bigger threat to their finances and the country's broader economic prospects than Brexit, as he is in favour of ramping up inheritance taxes, income taxes, stamp duty and capital gains taxes while cutting back on areas such as pensions tax relief.
Manu Bhaskaran, CEO of Centennial Asia Advisors, is more optimistic about Britain's political situation given that it is not a huge continent-sized economy like the United States, China, Russia, or India, so it is unlikely to be able to survive without the rest of the world and become too inward looking.
"[Pro-Brexit people] know that London cannot thrive as a global city without being open to foreign talent," Bhaskaran said. "The UK [needs to continue] to be an open economy, reliant on external trade in goods and services as well as on foreign investment."
Brexit fears have taken their toll on the British exchange rate, making it cheaper for foreigners to invest. The pound fell to a three-year low of US$1.1959 on Wednesday before bouncing back to US$1.224 during Asian trading on Thursday.
Britain is the dominant offshore foreign exchange centre for the Chinese yuan, accounting for 41.98 per cent in July, followed by Hong Kong at 26.4 per cent and the US at 6.62 per cent, according to financial messaging service provider Swift.