Japan
Get more with myNEWS
A personalised news feed of stories that matter to you
Learn more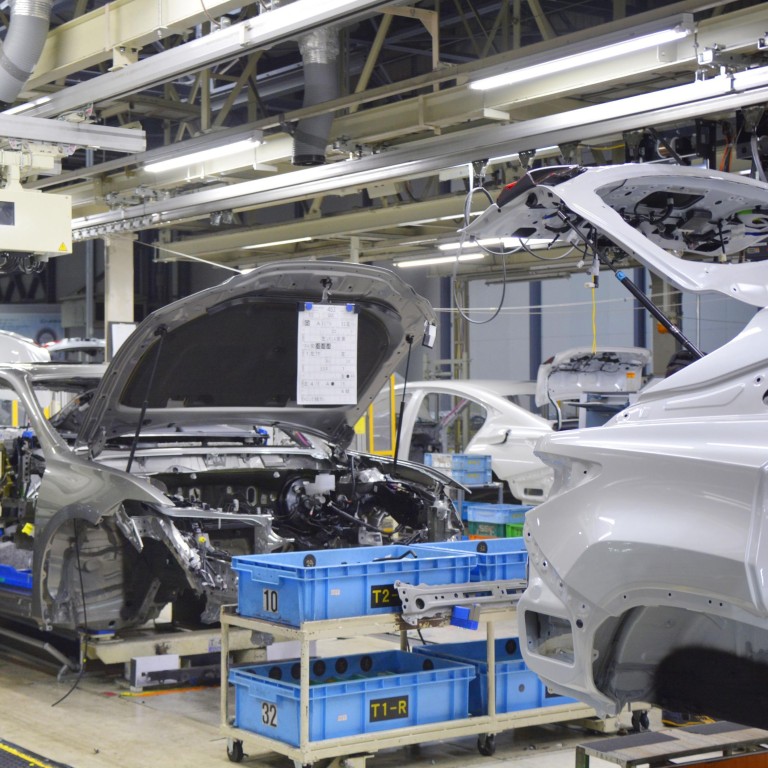 US, Japan working towards signing trade deal but critics say Donald Trump's offer violates WTO rules
Japanese Prime Minister Shinzo Abe and his American counterpart will meet at the United Nations General Assembly in New York on Wednesday
Japan is set to cut duties on US farm products, but it is unclear if the US will guarantee not to impose punitive import duty on Japanese car imports
Japanese Prime Minister Shinzo Abe and US President Donald Trump aim to sign a bilateral trade deal by the end of the month, but critics have said Tokyo is not gaining enough from the limited pact, which they charge violates World Trade Organisation rules.
Officials are still working on the specific details of the "broad" agreement reached last month between Abe and Trump, with the key for Japan a reassurance that the United States will not impose punitive import tariffs on Japanese cars which account for a third of its trade with the US.
It is unclear whether Abe will receive that assurance from Trump when the two meet at the United Nations General Assembly in New York on Wednesday.
"We don't have an agreement until we hammer out the details on goods and digital trade," a Cabinet Office official said on Tuesday. "At this moment, all we can say is the two sides have agreed on which way we are going."
Logistically, it would make sense for the two leaders to sign an accord while they are both in New York, but the Japanese government has never confirmed that the signing would happen on Wednesday, as reported by news media, the official stressed.
Asked if there is a possibility that the two sides will not meet the mutually set September 30 deadline, he added, "At this point, we don't know."
For the time being, Japan is counting on a previous promise from Trump regarding car sanctions, with Foreign Minister Toshimitsu Motegi, Japan's top trade negotiator, saying last week that the US had promised not to raise the current 2.5 per cent tariff while trade negotiations are continuing.
The deal that Abe and Trump could still sign on Wednesday does not cover all issues in the trade relationship, with talks on the thornier aspects, including car trade, expected to continue. If Trump keeps his previous promise, the ongoing talks will shield Japan from new car import tariffs.
Last year, Washington pushed Tokyo into negotiating a bilateral trade accord after Trump withdrew the US from the Trans-Pacific Partnership (TPP). Japan remained in the pact with 10 other countries and signed a new free trade deal with the European Union that took effect earlier this year.
Trump has threatened for several years to impose duties on imported cars from Europe and Japan after a US Commerce Department investigation found they posed a threat to national security. A provision of a 1962 US trade law, known as Section 232, allows the president to restrict imports that threaten "to impair the national security."
This could allow Trump to raise the tariff on imported vehicles to 25 per cent, matching the current rate applied to pickup trucks, which could severely damage Japanese car sales in the US.
Foreign Minister Motegi said Abe and Trump confirmed about a year ago, when they released a joint statement on trade, that the US would not levy an additional duty on Japanese car imports, but he added that "we will confirm the Section 232 issue when we complete the Japan-US trade agreement."
Japanese officials declined to comment on specific items to be included in the partial agreement that they hope can be signed this week, but press reports said Tokyo will lower tariffs on imports of US farm products, including beef, pork, rice and wine, to the levels similar to what are stipulated in the revised TPP accord. This has been renamed the Comprehensive and Progressive Agreement for Trans-Pacific Partnership (CPTPP), signed by the 11 member countries, including Australia, Canada and Mexico.
For example, under the CPTPP, Japan would gradually lower its tariff on beef imports from 38.5 per cent to 9 per cent in 16 years, while abolishing duty on wine imports in six to eight years. The Asahi newspaper reported that Japan agreed to allow imports of 242,000 tonnes of US beef under a lowered tariff rate of 25.8 per cent applied to CPTPP members in the next financial year starting in April.
But the US is not meeting Japan's request for phasing out of the current car duty, as agreed to by former president Barack Obama's administration under the original TPP.
Oppositions lawmakers in Japan are criticising the lack of information on the US trade deal from the Abe government, with some calling the pact a "defeat". Trump administration officials are, meanwhile, taking credit for the opening up of the Japanese farm sector ahead of the presidential and congressional elections in November 2020.
Chubu University professor Masahiko Hosokawa, a former trade ministry official, has pointed out that a reported US plan to phase out import duties on imports of some car parts and most other industrial goods from Japan in a partial trade deal without abolishing its tariffs on cars themselves would also be a violation of WTO rules because the trade body requires cuts on imports from a certain country to be applied to all the goods.
Of Japanese exports to the US, about 30 per cent are cars, 20 per cent car parts and 50 per cent other industrial goods, which means that if cars are excluded, tariff cuts would apply to only 60 to 70 per cent of bilateral trade, he wrote in the Nikkei Business magazine recently.
During the final stage of the bilateral talks, Tokyo proposed including wording in an appendix to the deal that paves the way for Washington to remove the car tariff in the future, Japanese news agency Jiji Press reported on Monday, quoting unnamed sources.
Tokyo made the proposal out of concern that the planned trade agreement would violate WTO rules requiring high levels of trade liberalisation if the US car tariff was maintained, Jiji said, adding that the The Office of the US Trade Representative is also aware of the need to avoid the situation in which the trade agreement violates the rules of the Geneva-based intergovernmental organisation.
"There is no winner or loser in the trade talks," said Mitsubishi UFJ Research and Consulting economist Shinichiro Kobayashi. "Japan is relieved that it defended the farm sector by limiting the degree of tariff cuts to the TPP agreement level, while the US will be catching up with other farm product exporters like Australia and Canada."
The bilateral agreement would provide the Japanese car industry some breathing room, but there is no guarantee that Trump will not use the issue in future trade talks.
If the US increases its tariffs on imported Japanese cars to 25 per cent, economists estimate it would trim 1 trillion yen (US$9.3 billion) off Japanese exports, which means it could cut 0.2 per cent off Japan's 500 trillion yen (US$4.7 trillion) gross domestic product. The immediate impact may not appear huge, but given the importance of the car industry and its many subcontractors to the economy, lower exports could slash Japanese industrial production, employment and wages.
Japanese analysts said Trump may not be pushing for further concessions from Japan at this point as he faces more urgent issues, such as the prolonged trade dispute with China, tough trade talks with the European Union and growing tensions with Iran after the attack on Saudi Arabian oil production facilities.
Even after signing a trade deal with the US, Japan's slowing economy faces downside risks, caused partly by the
US-China trade war,
economists warned. Washington plans to raise an existing 25 per cent tariff on some Chinese products to 30 per cent on October 15, and has threatened to impose new tariffs on Chinese goods, ranging from footwear to smartphones on December 15.
The direct impact of the US sanctions on China would be felt by leading Japanese firms with factories in China, including video game maker Nintendo and casual clothing retailer Uniqlo, according to economist Kobayashi.
"Indirectly, Japanese manufacturers of parts used in goods made in China and exported to the US would be hit and slower economic growth in China and the US will have a negative impact on Japan's economy," he added.