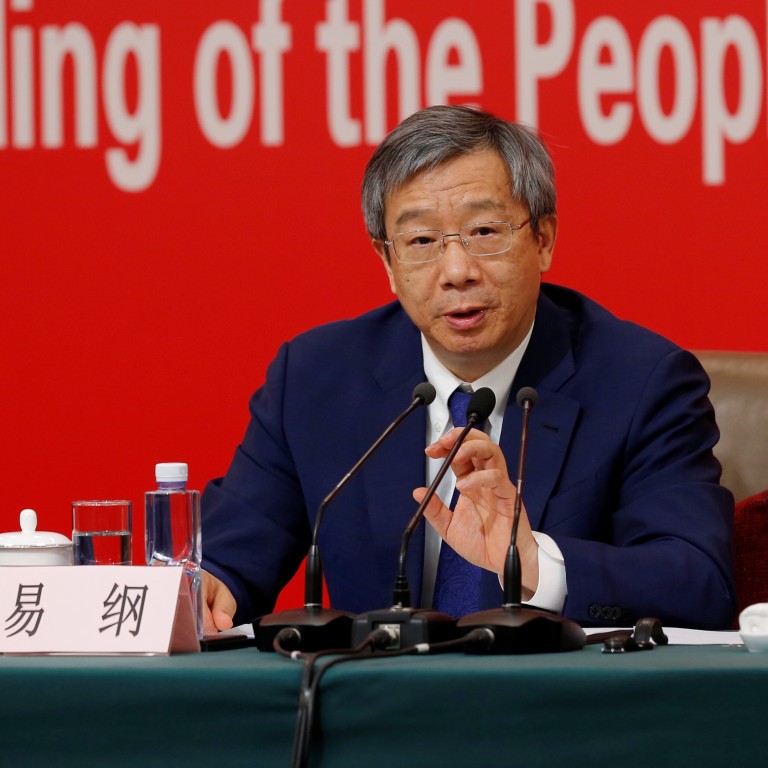 China has 'no timetable' for launch of its digital currency, says central bank governor
People's Bank of China head Yi Gang says a series of regulatory issues need to be addressed before Beijing can issue sovereign digital currency
China is the first major economy to explore launching its own digital currency
China does not have a timetable for the launch of its new digital currency, its central bank governor said on Tuesday, saying more work was needed to address a series of regulatory issues.
The People's Bank of China (PBOC) said last month the sovereign digital currency was "almost ready", with some media speculating it could be launched as soon as November 11 to coincide with the Singles' Day online shopping festival.
But PBOC governor Yi Gang poured cold water on prospects of an imminent launch on Tuesday, saying the central bank did not "have a timetable".
The development of a digital coin requires further "research, testing, trials, assessments and risk prevention", Yi said at a press conference in Beijing.
"In particular, if the [sovereign] digital currency involves cross-border use, it will involve a series of regulatory issues regarding anti-money-laundering, anti-terrorism financing, anti-tax evasion as well as know-your-client protocols."
China is the first major economy to explore launching its own digital currency and established a PBOC-backed research institute to study the field in 2016.
Despite notching up dozens of patents over the past five years, China's central bank disclosed little about the technology or design underpinning its coin until Facebook announced plans to launch a new digital currency named Libra in June, a move that sent shock waves through central banks and financial institutions the world over.
Mu Changchun, the PBOC official who oversees research into digital currency, said last month China's proposed digital token would have same legitimacy as yuan banknotes and, in time, replace them to a large extent.
The coin would be tightly controlled by the government rather than built on "pure blockchain" technology, a decentralised system that underlies cryptocurrencies like bitcoin and does not require administration from a central authority.
The PBOC plans to make the coins available through four state-owned banks, as well as online payment platforms operated by tech giants Tencent, China UnionPay and Ant Financial, a unit of Alibaba, which owns the South China Morning Post.
It would primarily be used for online retail transactions, officials said, but many analysts say Beijing's goal is to accelerate the yuan's use internationally and counter the challenge from cryptocurrencies like bitcoin.
"It would help promote yuan internationalisation for cross-border payments," said Alicia Garcia-Herrero, Natixis' chief economist for Asia-Pacific region.
Beijing's plan to make the yuan a major international currency has stalled in recent years, with its share of international payments falling and use in currency transactions rising only slightly.
In response, China is banking on a digital version of the yuan to boost its use internationally.
State-run newspaper China Daily has reported "closed-loop testing" of the digital currency has already begun to simulate payment scenarios with "some commercial and non-government institutions."
The PBOC started a pilot research and development project for the digital currency in Shenzhen, which was later expanded to include Hong Kong, the main yuan offshore trading centre.
Beijing has goals to make Shenzhen, a hi-tech hub home to Huawei and Tencent, a model global city in the coming decades.
China already has a well-developed mobile payment system through Alibaba's Alipay and Tencent's WeChat Pay that would be natural conduits for a digital currency.
In addition, China UnionPay, the country's largest credit card company, has been testing the feasibility of the sovereign digital currency on its platforms for retail purchases, corporate banking and cross-border financial payments, the company's director Chai Hongfeng said last week.
Shen Jianguang, deputy head of the Moganshan Research Institute and a former economist at the European Central Bank, said China was well positioned to be a world leader in digital currency.
"The digital currency will be an area where [China] can overtake others," he told a forum on Friday.
Shen said although China's intention was to compete with other cryptocurrencies and central banks, international promotion of the yuan through a digital currency would not change the country's long-standing concerns over excess capital outflows.
Facebook's Libra - a "stablecoin" cryptocurrency whose value is tied to a basket of currencies to limit price volatility - could pose a big test for the digital yuan's use internationally, since China maintains strict capital controls and now bans domestic internet access to both Google and Facebook.
Beijing has long been suspicious that Libra would extend the US dollar's dominance in international payments.
US dollar assets would make up 50 per cent of weighting in the basket of currencies used to underpin Libra's value, compared to 18 per cent for the euro, 14 per cent for the Japanese yen, 11 per cent for the British pound and seven per cent for the Singapore dollar, according to a report in the German magazine Der Spiegel this week. The Chinese yuan would not be included.
In addition, American businesses account for a majority of the 28 founding members of the Libra Association, the consortium that will back the cryptocurrency.
This article appeared in the South China Morning Post print edition as: Central bank lacks timetable to launch its digital currency