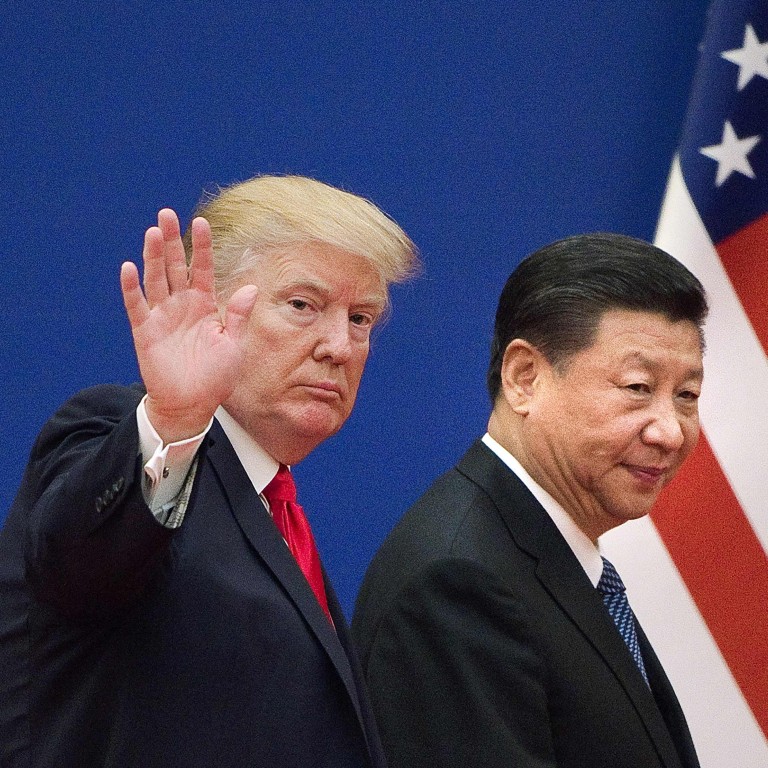 Donald Trump's trade war is 'holding gun to the head' of US economy, US-China experts say
Panel of US-China experts in Washington have said US President Donald Trump's trade war has failed to fundamentally change China's behaviour
Melanie Hart, from the Centre for American Progress, said that Xi Jinping's authoritarian rule is contributing to China's economic slowdown
US President Donald Trump's trade policy towards China is "holding a gun to the head" of the American economy, according to a panel of experts in Washington.
The
US-China trade war
is now in its 17th month, but Trump's anxiety to make a "phase one deal" after previously saying that he would accept nothing short of a grand deal, shows the policy has failed, said speakers at the National Committee on US-China Relations' China Town Hall on Monday night, United States time.
Ely Ratner, who was deputy national security adviser to former vice-president Joe Biden, said this was "a paltry deal that achieves almost nothing", and marked "the end of a stage of US economic policy that has basically failed and that needs to be transitioned away from".
Melanie Hart, director of China Policy at the Centre for American Progress, said the deal was "just undoing the damage that has been done" by US tariffs on China and the subsequent retaliation from Beijing, which has hit the American agricultural economy.
"The stories that I'm hearing from family farms are absolutely atrocious and unacceptable. The costs are real and those costs have become unbearable. And to address that, I am quite sure that the Trump administration will get whatever it needs to do to get some kind of deal to say there's a deal and to reduce some of the real costs that are being borne by American families," Hart said.
At the outset of the now prolonged negotiations between the US and China, many had hoped that Trump's tariffs would force China to adopt structural change to its economy, including eliminating state subsidies – or at least making the process more transparent – and ending forced technology transfer and intellectual property theft.
Few of these structural issues are set to be addressed in a phase one deal, which has instead left negotiators haggling over the level of
agricultural purchases
China should commit to.
Ratner, now deputy director of the Asia-Pacific Security Programme at the Centre for a New American Security (CNAS), said that the tariffs have failed to change China's behaviour in any fundamental way and that the US should base its policy around "the China that is, not the China that we're hoping for".
"We're going to be a lot better off focusing on ourselves and building coalitions, rather than what the Trump administration has done with its tariffs, saying 'We're going to try to raise tariffs until you change the way you are fundamentally'. We've tried that in a lot of different ways, it has not worked," he said.
Early in the negotiating period, Trump cosied up to his counterpart President Xi Jinping, whom he described regularly as a "great friend" and "great leader". Xi, for his part, seemed willing to discuss a broader deal. Yasheng Huang, professor of global economics and management at the MIT Sloan Centre, spoke of the Chinese tendency to "worship successful businesspeople" as being the guiding principal behind engagement with Trump, whom they preferred over his former presidential rival Hillary Clinton, who they viewed as a "hawkish ideologue".
"They do not trust President Trump. I think at the beginning there was indication that they probably want to do a deal. At that point, the demands from the US were probably more manageable than they have become," Huang said. "They did not really know him or understand him. This is very Chinese thinking, they thought he was a businessman, and we can always trust businessmen, he wants to do a deal."
However, the panel was also scathing in its criticism of China's leadership, suggesting that Xi's turn to authoritarianism is contributing to
China's economic downturn
.
Hart said that China is "hitting the end of their economic growth miracle that has been steaming on since the 1980s" and that as a middle-income country, more "complicated, knowledge-driven" growth is required.
"It requires the kind of innovation incentives that the US does very well, but it's hard for China to do well in an authoritarian, information control, market control system," Hart said. "It is a very dangerous part of China's development. When they began to switch the growth pattern, they started having a lot more political concerns at home – they have more dissenting voices in the system."
This has led to a "recipe for paranoia" with the ruling Communist Party determined to nail down any potential "grey rhino" or "black swan" that could threaten economic growth. But this approach is an impediment to growth, in and of itself, Hart said.
"They're worried that risk could emerge in any part of the economy or society, because they're at such a weak moment. And I think what's unfortunate for China is that this lockdown authoritarianism makes it much harder to achieve their end goal of moving up into this higher level of growth. It does not work in the short term. It keeps people out of the streets, but economically, private sector sentiment and investment is tanking," Hart added.
Fixed asset investment in China grew by 5.2 per cent in October, the lowest growth on record, data published by the National Bureau of Statistics last Thursday showed. Other metrics have also been slowing, including industrial production growth, imports and exports.
Huang argued that Xi's pursuit of state-led growth at the expense of the private sector, which contributes 70 per cent of China's gross domestic product, is a sign that international engagement with the world's second largest economy was working, since it meant the "ruling elite" felt threatened. For this reason, he encouraged the Trump administration to back away from its aggressive trade policy.
"Economically speaking, the country was actually being pushed by private sector involvement by technology, by a rising middle class toward more democracy … and the party did not like that," Huang said. "The danger is undermining single party control. When you have a rising middle class, you have consumer class who makes decisions on their own, rather than upon some sort of edict from the government, it's loosening the control by the communist elite."