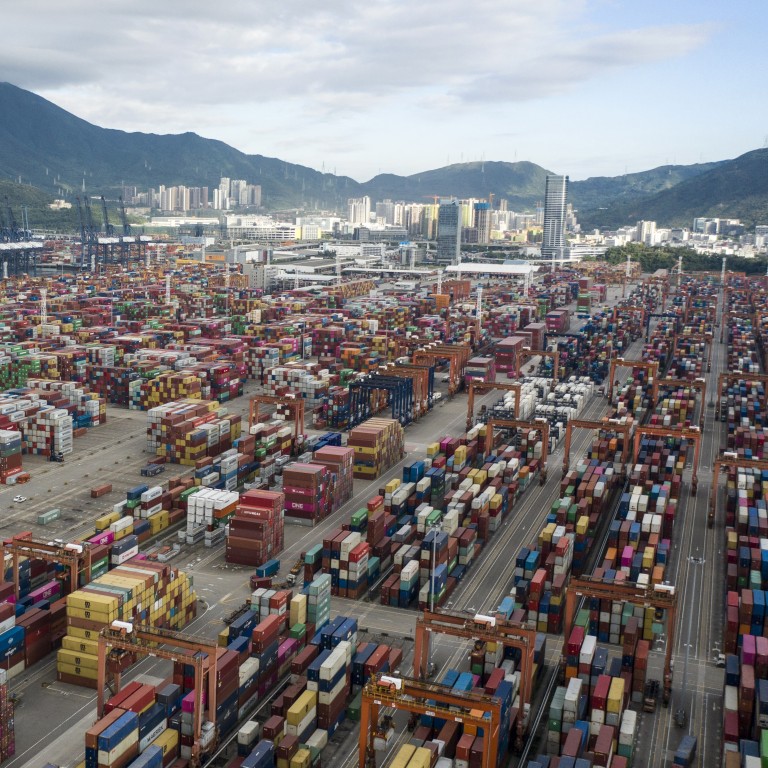 China's export growth lost steam in 2019 amid US trade war, decelerating sharply to 0.5 per cent
China's exports rose only 0.5 per cent in US dollar terms in 2019, a sharp deceleration from a rise of 9.9 per cent in 2018, according to data released on Tuesday
In December, China's exports grew by 7.6 per cent, up from minus 1.3 per cent in November. Imports rose 16.3 per cent in December, up from 0.3 per cent in November
China's export growth decelerated sharply to 0.5 per cent in 2019 in US dollar terms from a rise of 9.9 per cent in 2018 amid the trade war with the United States, according to data released on Tuesday.
Zou Zhiwu, a deputy minister at the General Administration of Customs, confirmed the slowdown at a press conference after China had initially only released its 2019 trade figures only in yuan terms.
Imports, meanwhile, fell by 2.8 per cent in 2019 in in US dollar terms.
In yuan terms, China's exports expanded by 5 per cent in 2019, while imports expanded 1.6 per cent.
In US dollar terms, China's exports grew by 7.6 per cent in December, up from minus 1.3 per cent
in November.
Imports rose 16.3 per cent in December, up from 0.3 per cent in November, with both figures well above analysts' expectations.
Zou added that that the sharp rebound in imports in the last month of 2019 was pushed up by China's renewed purchases of US pork and soybeans after China issued tariff waivers to purchase such US products in early December.
China's trade balance in 2019 reached 2.92 trillion yuan (US$423 billion), a rise of 25.4 per cent from 2018, in yuan terms.
"While headline trade growth surged in December, this is more a reflection of base effects and price effects than of current strength," said Julian Evans-Pritchard, senior China Economist at Capital Economics, commenting on the yuan figures.
China's imports from the US plunged 20.9 per cent in 2019 from a year earlier.
This means that Beijing would have to more than double its imports to meet US demands for US$200 billion in additional purchases of American goods and services over the next two years.
A combined US$165 billion pledged purchase of manufactured goods, energy and farm products would translate to a steep rise in China's US imports. Even if half of the promised purchases are made in 2020, China's imports from US would surge by 67 per cent from 2019.
This article appeared in the South China Morning Post print edition as: Mainland export growth slowed sharply last year