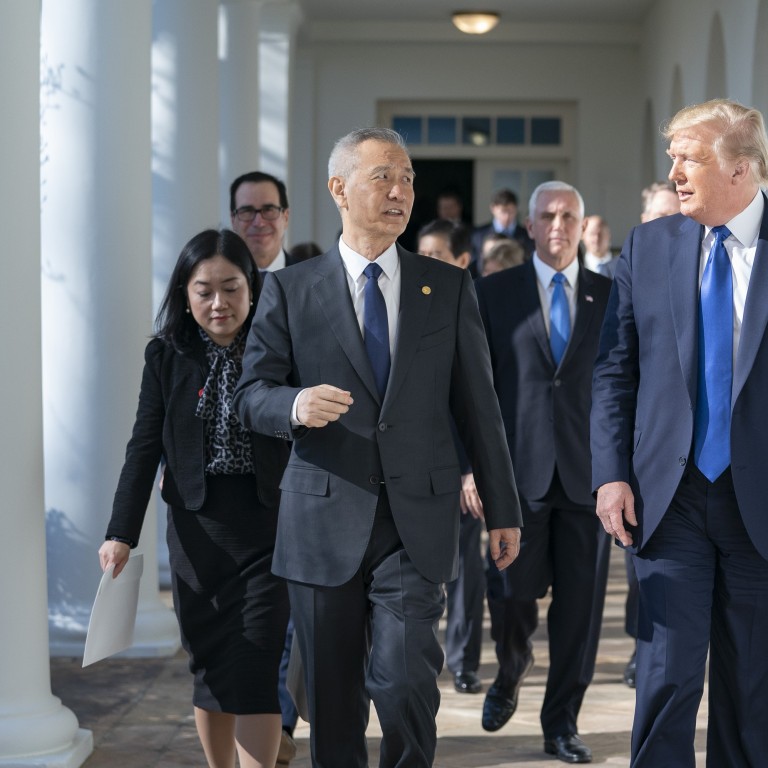 China phase one deal with US will allow chance for domestic reform, despite short-term sting
China's long-awaited phase one trade deal with the United States could hurt certain domestic industries and harm economic growth in the short term
But Vice-Premier Liu He says it offers China a chance to push ahead with necessary reforms
China's phase one trade deal with the United States could generate short-term pain for the economy, but help it in the long run by creating a stable trading environment and introducing competition to its increasingly rigid state-led development model, officials and analysts said.
The
long-awaited trade deal
, which requires that China significantly boost purchases of US products and improve intellectual property protection, put the brakes on an 18-month trade war that has disrupted global supply chains and shaken markets.
Vice-Premier Liu He said the phase one deal, which included an agreement to purchase an additional US$200 billion American goods and services, offered China a chance to push ahead with "reform and development needs".
"The deal has created favourable conditions for all market participants to engage in fair competition and break monopolies," Liu was quoted as saying at the White House by Chinese magazine Caixin.
Liu said China's growth was likely above 6 per cent last year and Beijing had noticed improvements in some economic indicators, including industrial output and profit, over the past two months.
China's national economic data for 2019 will be released on Friday, and recent figures released by major cities have provided some indication of how much the trade war has hit local economies over the past year.
The government of the southern Guangdong province said this week overall trade fell 0.3 per cent in 2019 from a year earlier by value, prompting officials to forego setting a specific trade target for 2020 and lower its overall growth target to 6 per cent.
Shanghai, a port city in eastern China, did not disclose trade figures in a recent government work report and also anchored its growth at around 6 per cent.
An immediate effect of the trade deal could be increased investor confidence.
"Since the start of 2020 market sentiment has turned for the better. The manufacturing PMI (purchasing managers' index) suggests a moderate recovery in China's manufacturing sector, trade growth surged in December, new home sales have stabilised and developers have rushed to issue bonds again," Nomura economists led by Lu Ting said in a note.
China's manufacturing
fixed asset investment growth would remain low at around 1 per cent this year – as opposed to estimated 2.7 per cent last year – further lowering gross domestic product growth by about 0.2 percentage points, Lu said.
At the same time, a surge in purchases of US goods could knock out certain domestic suppliers and negatively impact China's growth.
Hua Changchun, chief economist from Guotai Junan Securities, estimated the additional purchase of goods from the US could drag down China's growth by 0.1 percentage point.
A large portion of the text in the trade deal addresses demands that China increase of imports from the US. Over the next two years, China is expected to add US$200 billion worth of US goods and services – from manufactured products to financial services – to its existing shopping basket from 2017.
"In general, the agreed terms [in the phase on deal] are largely in line with market expectations," Zhou Hao, an emerging market economist from Commerzbank, wrote in a note. "The short-term focus would be how China can fulfil this huge 'shopping list' without reducing too many imports from other trade partners."
The deal's effect on China would not be pronounced as it did not seek to alter the US and Chinese economies fundamentally, said Hannah Anderson, global markets strategist from JP Morgan Asset Management.
"Tariffs remain extremely high – the US tariff rate cut included in the agreement only reduces the average tariffs on Chinese imports to 19.3 per cent (from 3.1 per cent before this trade war started). And the key issues in the US-China economic relationship remain unaddressed," Anderson said in an email.