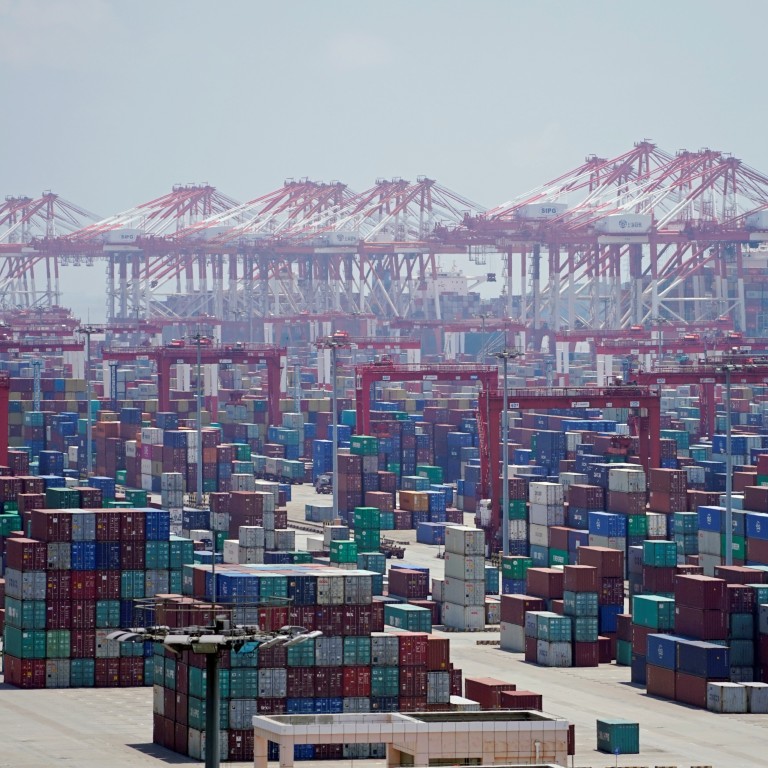 Coronavirus: global logistics show glimmer of recovery, but Chinese exporters still struggling with delays
Logistics networks have been thrown into disarray by the Covid-19 pandemic, leaving Chinese exporters struggling to get their products overseas
Airports in Hong Kong, Shanghai and Beijing have suffered the largest declines in cargo capacity throughout Asia, according to Kuwait-based Agility Logistics
For Charlie So, the brand director of a Hong Kong-based company selling engine care products to 42 countries, pulling back from filling international orders while the coronavirus pandemic upends global supply chains seems like the rational thing to do.
His employer, Super Resurs, is struggling to reach customers in a timely manner due to
worldwide lockdowns
and limited cargo space in aeroplanes and container ships.
"We'd rather not deliver internationally as customers wouldn't have any idea when their package will arrive," he said.
"No international orders is of course a big hit, but there's still a lot of other things we can work on."
Super Resurs ships goods via Hongkong Post's e-Express for international delivery, but over the past three weeks close to all routes the company uses have been suspended amid a rush of flight cancellations.
Surface mail, which is transported by land and sea, is the only alternative, but an average 30-day delivery time is untenable for the company, So said.
Across the globe,
logistics networks
have been thrown into disarray by the Covid-19 pandemic, which has grounded aeroplanes, docked cargo ships and thrown up unprecedented barriers to population movement.
While air cargo capacity has shown signs of improvement after weeks of disruptions, in the first week of April it was still 35 per cent below the same period in 2019 and down by double-digits across all trade lanes, according to consultancy Seabury.
Airports in Hong Kong, Shanghai and Beijing have suffered the largest declines in cargo capacity throughout Asia, according to Kuwait-based Agility Logistics.
China is the world's second largest air freight market and relies on aeroplanes to deliver key exports, including consumer products and computer electronics to countries such as the United States.
But with barely any passenger jets – which carry an estimated half of the world's air cargo – flying out of China, cargo capacity has been severely curtailed.
"Outbound air freight capacity is under tremendous pressure among all mainland China export markets as production resumes and passenger flight cancellations are sustained," Agility Logistics said in a recent note on their website.
"A trend of ocean-to-air conversions exacerbates pressure on capacity outbound China. However, more freighters are entering the market."
Luya You, an aviation analyst at Bank of Communications International, said that while China's domestic air cargo traffic might improve in the second quarter, major international routes are less certain because of restrictions in both China and other countries.
"We do know from Air China, for example, that they plan to revamp a large amount of widebody and narrow body planes to carry only cargo instead of cargo plus passengers to meet demand," said You.
"Most airlines have Civil Aviation Administration of China approval and support at this point to turn passenger planes into pure freighters on short notice, so this may help with capacity in the near term.
"Freight rates, however, are likely to stay high, as capacity will nonetheless remain far below normal levels."
By comparison, shipping by sea is considerably cheaper and less likely to face delays, but the industry is still battling with logistical problems in some overseas markets such as Europe.
Container traffic at
China's biggest ports fell
for two weeks in a row in early April after a drop in overseas orders hit the nation's exports, according to the China Ports and Harbours Association.
The domestic shipping industry has almost recovered as the outbreak has moderated in China in recent weeks, said Richard Chan, deputy general manager at China Merchant Group Port (South China) Operation Centre.
But stay-at-home restrictions to reduce Covid-19 transmission in many European countries have slashed trucking capacity for both sea freight and air freight deliveries, he said.
"Some of the orders have been postponed, some have been cancelled [from overseas] especially for non-essential items," said Chan, adding that some container operators were still assessing export volumes and freight rates before resuming full service.
"Even if there is a surge in demand for essential products the factories won't be able to produce as much to compensate for the weaker demand in secondary or tertiary products."
With billions of people asked to stay at home to prevent the spread of the virus,
online demand
for essentials such as baby and pet care products, electronic goods and home office equipment has spiked, according to Sibiao Chen, chief operating officer at SellerMotor, a cross-border e-commerce analytics company that advises Chinese vendors selling in the US.
But logistics disruptions are making it harder for Chinese companies to capitalise on any potential gains.
"The shut down has increased demand for both domestic and international shipping, while the pandemic has lowered logistics capacity at the same time," said Chen.
"Warehouse workers are sick, international flights reduced. As a result, we are seeing a one to two day delay in shipping for essential products on Amazon and two to three week delay in non-essential products."