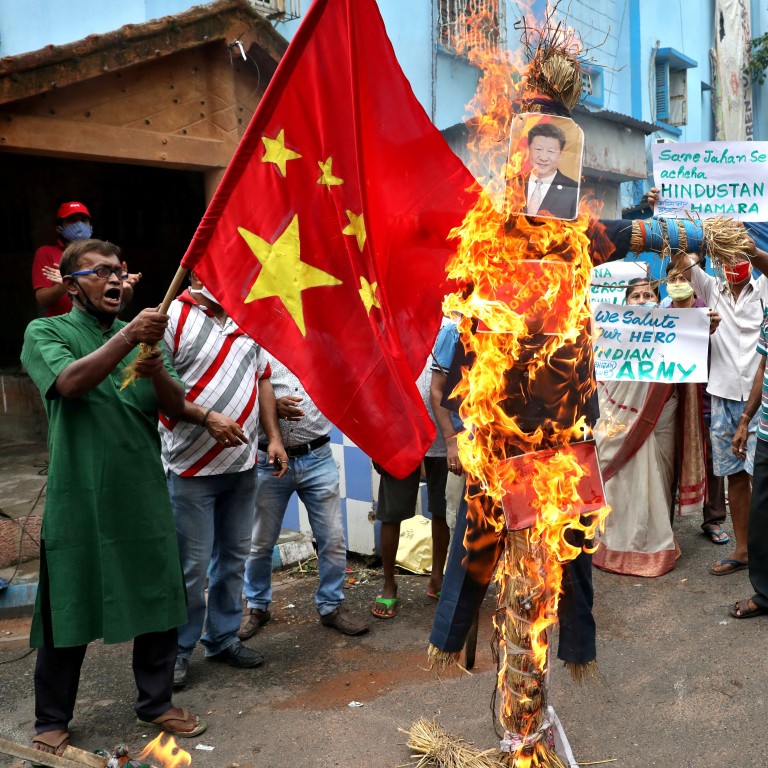 India-China border dispute: tensions likely to increase scrutiny of Chinese investment, analysts say
Trade groups in India are urging boycotts of Chinese-made products and reviews of Chinese investment following a deadly clash between troops
But China-India trade and investment is still relatively small, so analysts say it is unlikely to have major impact on China's economy
Restrictions on Chinese trade and investment in India are expected to increase following a
deadly clash
between troops along their shared border on Monday, analysts said.
Local trade groups and officials in India are urging boycotts of Chinese-made products and new reviews of Chinese investment following the major escalation of a weeks-long standoff between the two countries in the western Himalayas.
However, the size of Chinese trade and investment in the country is still relatively small, so the expected reduction will not have a major impact on the Chinese economy, analysts said.
Hostility towards Chinese investment in India was on the rise even before Monday's confrontation.
In April, New Delhi tightened its foreign investment law, a move widely seen as
targeting China
. The new law requires firms from neighbouring countries - specifically China, Pakistan, Bangladesh, Myanmar, Bhutan, Nepal, and Afghanistan - that want to invest in Indian companies to first get government approval.
The Brookings Institute, a Washington-based think tank, estimated that Chinese companies' total investment in India reached more than US$26 billion as of March this year. But the escalation in anti-China sentiment in India caused by the recent skirmish would deter further Chinese investment in the country, perhaps significantly, analysts said.
"Foreign direct investment (FDI) from China has been dealt with suspicion in the last several months. I think it will definitely be increasingly difficult because of anti-China sentiment, even in the bureaucracy," said Nikhil Narendran, partner in Trilegal, a law firm based in Bangalore.
"Of course the government will also be more sceptical in looking at money coming through the FDI route. It will also have a direct and indirect impact on companies selling Chinese products, like mobile phones."
India's smartphone market is dominated by Chinese companies such as Xiaomi and Vivo, both of which have invested significantly in the subcontinent to maintain their leads in the market.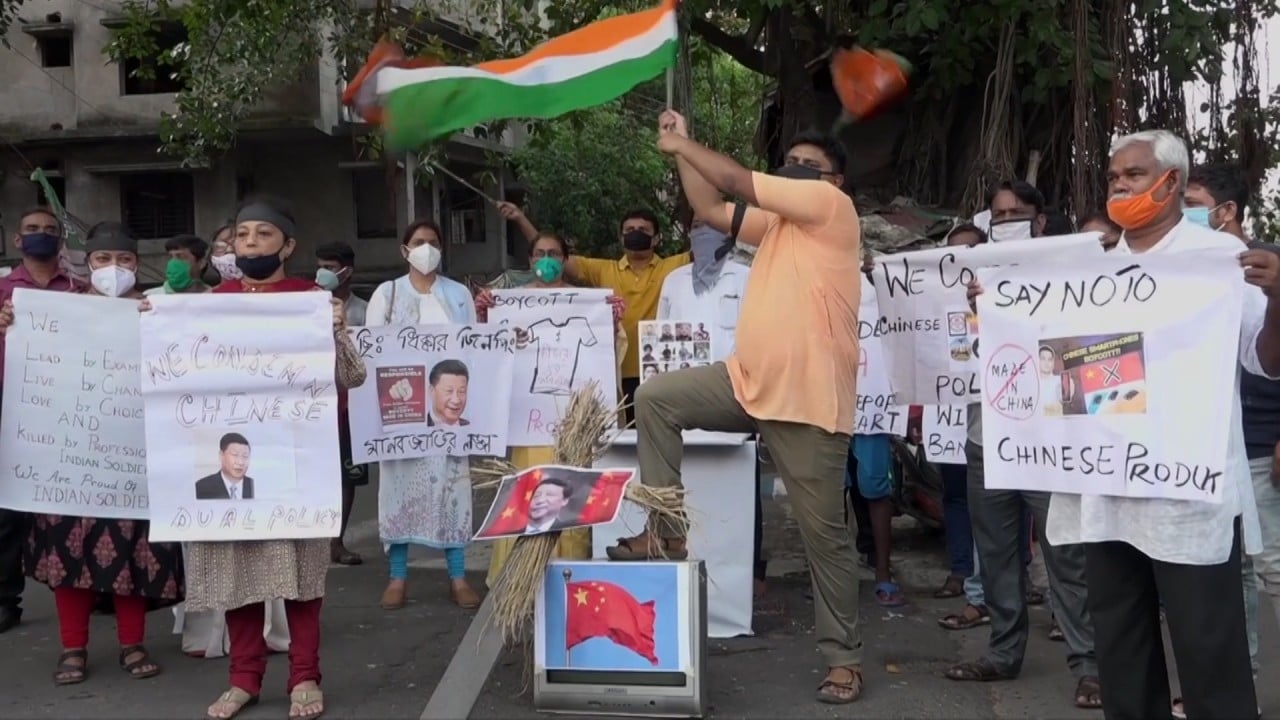 01:58
Indians call for boycott of Chinese goods after deadly border clash with China
Indians call for boycott of Chinese goods after deadly border clash with China
The Confederation of All India Traders (CAIT) on Wednesday released a list of more than 500 Chinese products it said should be boycotted, according to India's Business Today. The list included consumer goods, consumer durables, toys, furnishing fabrics, textiles, builder hardware, footwear, apparel and kitchen items.
"We have raised some very important issues with the government today, including cancellation of the Delhi-Meerut RRTS project. It should be given to an Indian company instead of the Chinese firm," said CAIT secretary general Praveen Khandelwal, referring to the semi-high speed rail corridor connecting the cities of Delhi, Ghaziabad and Meerut.
The state-owned Shanghai Tunnel Engineering won the construction contract last Friday, just days before the clash.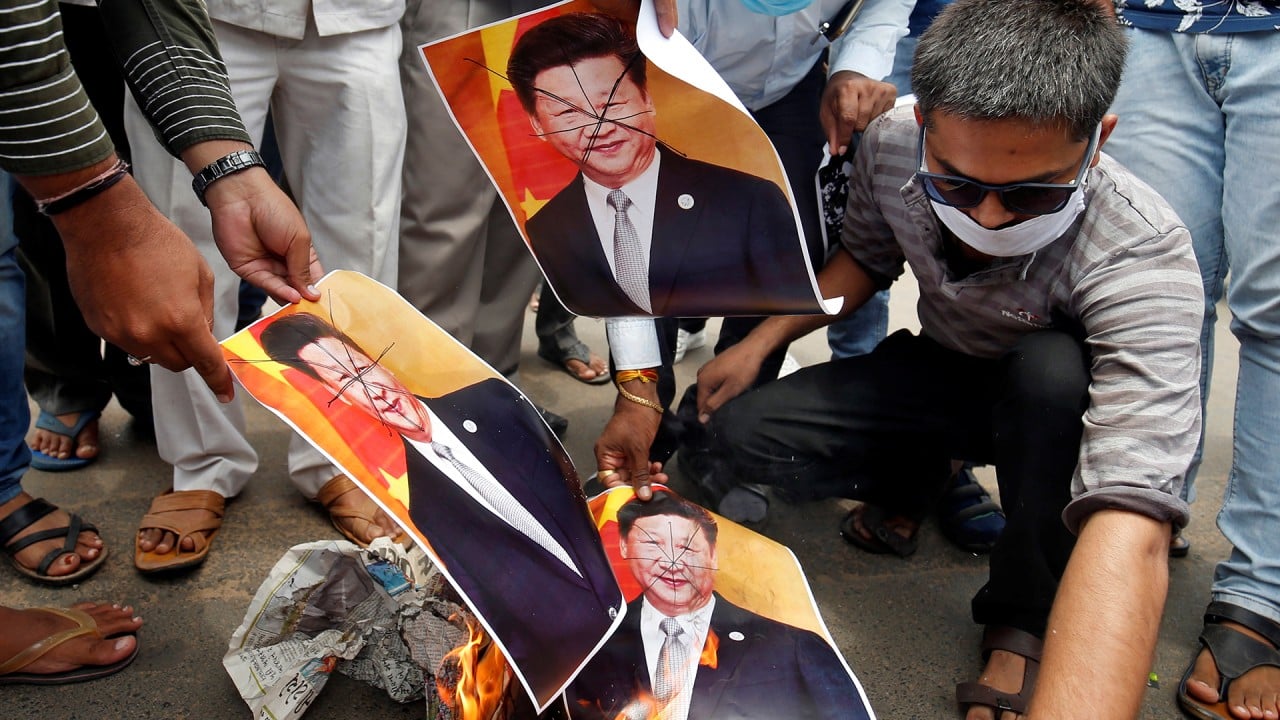 05:02
Indians burn effigies of Chinese President Xi Jinping over deadly border clash
Indians burn effigies of Chinese President Xi Jinping over deadly border clash
"The government should look closely at Chinese funding in various Indian startups such as Paytm and BigBasket," Khandelwal continues, adding the trade body had recently raised the issue of the People's Bank of China (PBOC) raising its stake in the country's largest non-banking mortgage provider HDFC.
Gopalaswami Parthasarathy, a veteran diplomat, said on Monday that India must review and reduce its current economic dependence on China given recent threats from Beijing.
"The most crucial, strategic sector that China makes huge money [from] in India is electronics," wrote Parthasarathy in an article published in BusinessLine.
Reuters reported on Thursday that India planned to impose higher trade barriers and raise import duties on around 300 products from China and elsewhere, citing unidentified sources.
"We are not targeting any country, but this is one of the ways to reduce a trade deficit that is lopsided with countries like China," an unnamed official was quoted as saying.
Bilateral trade
between China and India was worth US$88 billion in the fiscal year ending March 2019, with a trade deficit of US$53.5 billion in China's favour, the widest India has with any country.
Between April 2019 and February 2020, the latest data available, India's trade deficit with China stood at US$46.8 billion.
Despite growing trade and investment between China and India over the years, the proportion of bilateral trade is still relatively small in terms of China's US$14 trillion economy.
Louis Kuijs, head of Asia Economics at Oxford Economics, said increased tension between India and China would have some economic repercussions for both countries in terms of trade.
"I am not sure if India has substantial leverage over China. But I would expect China to lose at least as much from the rupture as India," he said.
FDI, however, was not a big driver of India's economy, according to Shilan Shah, senior India economist at Capital Economics.
"India is, at the moment at least, pretty insignificant to China economically so from China's perspective this is really about geopolitics and the long-run alignment and relationship between the two countries," Shah said.
Narendran, from Trilegal, believes trade may still play a part in reducing tensions between the two neighbours as both economies have been hit hard by the coronavirus pandemic.
"It's going to work both ways in my opinion. Both economies were affected by the Covid crisis and the last thing you want is a further impact on trade. I think it's going to be a very critical point at the negotiation table right now," said Narendran.
Additional reporting by Reuters
This article appeared in the South China Morning Post print edition as: More restrictions likely on trade after deadly clash