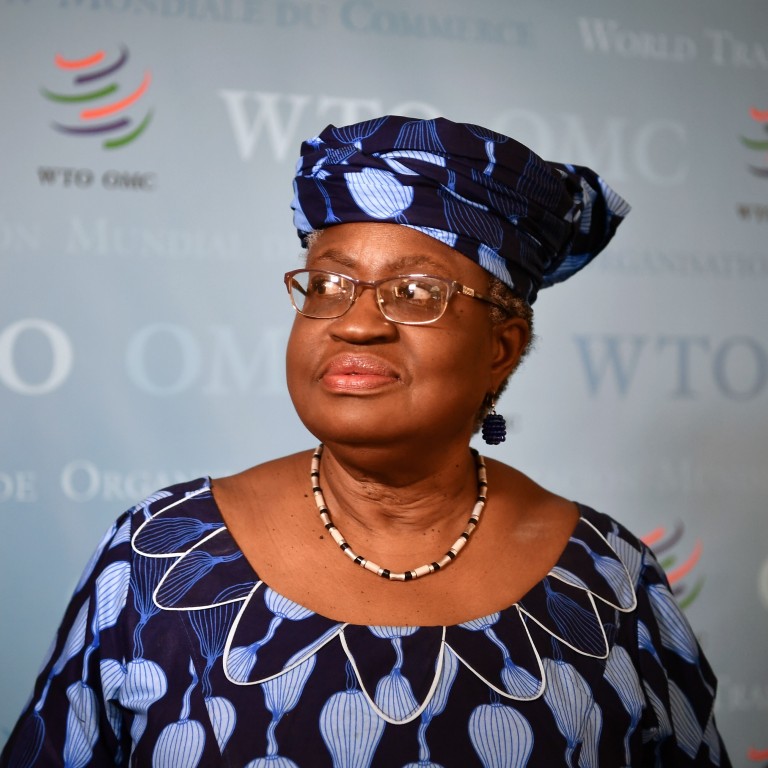 Exclusive
Ngozi Okonjo-Iweala: fair trade of coronavirus vaccine should top WTO agenda, says Nigerian candidate
Former Nigerian finance minister Ngozi Okonjo-Iweala pitches herself as an 'unusual director general' to break the status quo at the World Trade Organisation
Skilled in diplomacy but perceived to have less trade experience than rivals, the ex-World Bank official says WTO's issues 'will not be solved by more of the same'
Ngozi Okonjo-Iweala vows that the World Trade Organisation (WTO) will ensure future coronavirus vaccines and medical supplies are traded and allocated fairly, should she become the next director general of the Geneva-based body.
Pitching herself as a reformer willing to reverse the WTO's stagnation, the Nigerian candidate said the pandemic should be "used as an opportunity to put down markers – to solve a problem that the world is confronting right now".
"How do we get these vaccines in a way that poorer countries are not standing behind, but that they can be accessed based on some allocation criteria, but that also speaks to trade and the rules? Because at the end of the day, moving vaccines is also trading them," said Okonjo-Iweala, a development economist by training, a former Nigerian finance minister, and current chair of the board of vaccine alliance group Gavi.
"Ninety countries also have export restrictions right now – medical supplies and equipment, even on food – because of fear of what Covid will bring. How does the WTO respond to that? Are countries responding to the rules that it has in this respect," she asked, insisting that this, along with negotiations over fisheries and e-commerce rules, can be quick wins for an institution now often dismissed as a talking shop.
Data compiled by economist Simon Evenett at the University of St Gallen in Switzerland showed, that as of August 7, there had been 551 trade restrictions implemented at national levels on "sensitive goods" such as vital foodstuffs and medical supplies. For medical supplies alone, there were 414 restrictions in place.
"
Mask diplomacy
" issues have helped add to tensions between the United States, China and the European Union, while
The Wall Street Journal
reported on Tuesday that Beijing was seeking to offer preferential access to vaccines to Brazil, Indonesia, Pakistan, Russia and the Philippines, suggesting "a willingness by China to blur humanitarian and foreign-policy objectives that include garnering support from countries on Chinese territorial claims in the South China Sea".
Progress along these lines, the candidate said, would help stop the rot at the WTO, a club of 164 members that is designed to set global trading rules but has not produced any major international accord since abandoning its "Doha Round" of negotiations in 2015. Okonjo-Iweala is one of eight candidates in the race to succeed
Robert Azevedo, who is stepping down
this month, one year ahead of schedule.
However, speaking with the South China Morning Post from her base in Washington, Okonjo-Iweala moved to manage expectations on what could be achieved in the short-term. China's industrial subsidies are high on the agenda for the US, EU and Japan, while Europe's agricultural subsidies anger many developing countries.
"I think that the subsidies issue is one of the most challenging and one of the most divisive, and I think they will need much more work. Whereas I see quickly some victories in things like Covid-19 that can make the WTO look good, and whereas I even see it in the dispute settlement system. Believe it or not, in subsidies, it's fraught," she said, adding that all of these thorny issues should be on the table, with no red lines, if progress is to be made.
The candidate preferred to steer clear of politics and focus instead on her track record of diplomacy, development and reform, which has seen her spend 25 years at the World Bank, join the board of the China-led Asian Infrastructure Investment Bank, take corporate board membership at Twitter and Standard Chartered Bank, along with positions at a dizzying roster of non-profit organisations.
"I come with a résumé that shows I've done reform. I've actually written two books about it. And those reforms were bold – they were courageous, if you allow me to say so. In one case, my mother was kidnapped, and I still went and kept going when we were doing reforms on corruption," she said, referring to the abduction of her 82-year-old mother in 2012, who was released after five days in captivity and a huge manhunt.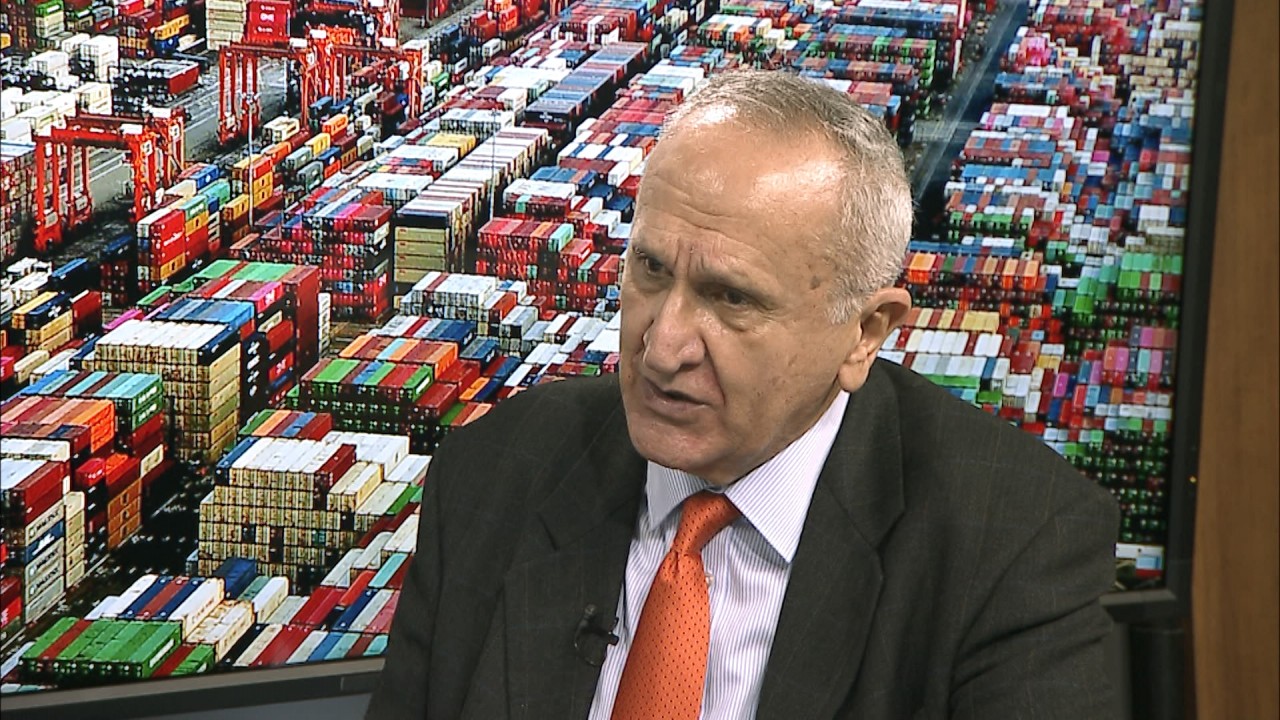 11:17
WTO nominee vows to bring US and China to negotiating table
WTO nominee vows to bring US and China to negotiating table
Heading off the widely held view among trading circles that the one thing her résumé lacks is actual trade policy experience, she said "the challenges I see now will not be solved by the status quo. It will not be solved by more of the same. It will not be solved by business as usual. It has to be an unusual director general that is coming".
On the
US-China trade war
, Okonjo-Iweala said only that the WTO could help "rebuild trust" by focusing on the issues that both sides are already at the negotiating table on. This includes ongoing negotiations on fisheries subsidies – success in which would show that "the WTO can actually get all members to deliver something positive", before focusing on meatier issues.
She also would not weigh in on whether Hong Kong should bring a WTO suit against the US, over the Trump administration's removal of the city's autonomous status and directive that goods made in Hong Kong must be
labelled "Made in China"
if they are to be shipped to the US.
"I think we must be careful to extricate the WTO from being involved in those political issues and focus on the mandate," she said, declining to comment on Hong Kong-specific issues. "We look at the rules. If the WTO rules apply to the issue being brought, then any member has a right to bring that issue. But if it is overtly a political issue, then I think the WTO should focus on its mandate and stay away from it and not become embroiled because it already has enough issues to tackle without that."
Okonjo-Iweala said she has been "horrified" in recent years to hear the WTO roundly dismissed as "dysfunctional" and "paralysed", saying that in her days at the World Bank the trade body was regarded with the "utmost respect as a top multilateral agency".
"What are the words you hear about the WTO? Now, 'this function is paralysed', or 'it doesn't do anything relevant'. One radio host asked me: 'Why are you even applying for this job at an organisation which is irrelevant?' And I was really taken aback," she said.
But the success of her candidacy may boil down to how much reform the WTO's members can stomach, and how much they trust someone who is widely respected in diplomatic circles but unknown in the trade field. As it stands, most pundits view the WTO leadership contest as a two-horse race between the high-profile Okonjo-Iweala and the vastly experienced Kenyan candidate Amina Mohamed, viewed as a trade insider.
One former WTO staffer said that "letting an outsider take the helm would be an outright admission of failure by the Geneva trade gang – I doubt that they would do that, while Amina is one of them".
"If they elect [Okonjo-Iweala] they will be admitting that they failed. It would show that the establishment, including the trade ministers, have not been able to achieve anything. I don't think this would happen, even though she is very professional and capable," the former staffer added.
This article appeared in the South China Morning Post print edition as: Candidate vows fair action on vaccines