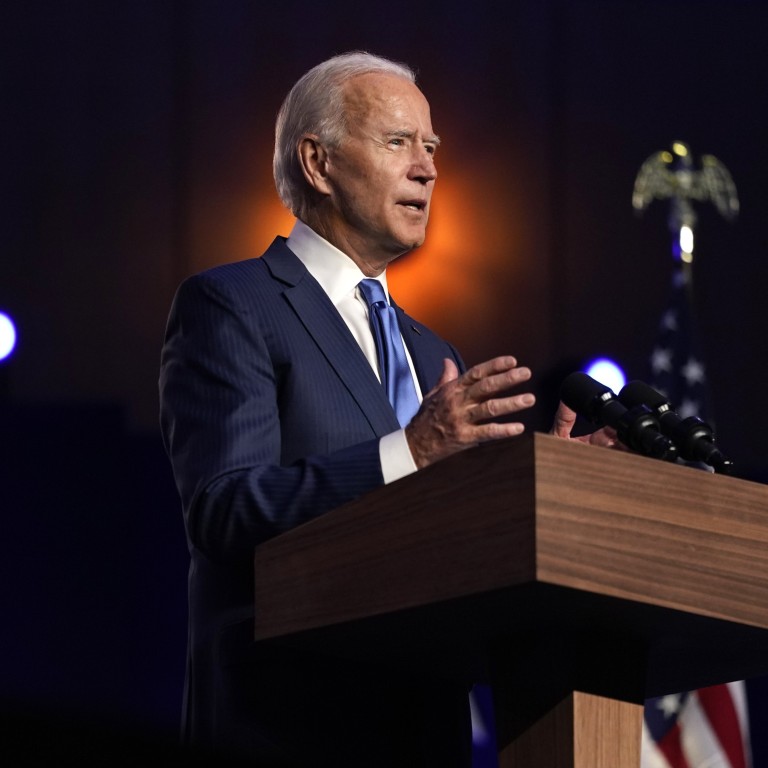 US presidential election: Biden says 'we're going to win', as Trump's slump continues
In contrast to the president's recent combative speeches, Democratic candidate says America has 'serious problems to deal with … We don't have any more time to waste on partisan warfare'
Biden has already secured the most votes of any presidential candidate in US history, surpassing Barack Obama's record from 2008
Joe Biden
took to the stage in Wilmington, Delaware on Friday night to tell his supporters that victory was at hand.
"We don't have a final declaration of victory yet, but the numbers tell us a clear and convincing story," the Democratic presidential candidate said, with running mate Kamala Harris at his side. "
We're going to win this race
."
In a tone that contrasted sharply with recent addresses by
President Donald Trump
, Biden urged people to stay calm.
"We have serious problems to deal with – Covid, the economy, racial justice, climate change," he said. "We don't have any more time to waste on partisan warfare."
As he spoke, news was breaking of the latest member of Trump's entourage, chief of staff Mark Meadows, to test positive for the
coronavirus
.
Meanwhile, in Asia, governments were pondering what their relationships with the US might look like under a new administration.
Biden's gargantuan task in bringing the virus under control was made clear on Friday as the US set a third straight daily record for new infections, notching up more than 127,000, according to Johns Hopkins University.
Even as this most extraordinary of elections left the country in suspended animation for days, and as bitter divisions threatened to spillover, Biden vowed to bring Americans together.
"My responsibility as president will be to represent the whole nation," he said. "And I want you to know that I will work as hard for those who voted against me as for those who voted for me. That's the job. That's the job. It's called a duty of care, for all Americans.
"We may be opponents, but we're not enemies – we're Americans," he said.
But the scale of Biden's task should not be underestimated. Trump has vowed to challenge the election result in the courts, and his base is mobilised and angry. Thousands of his supporters,
some of them heavily armed
, targeted counting stations following unfounded accusations of fraud.
Nonetheless Biden's success looks broader now than it did just a few days ago. While official confirmation is pending in Arizona, Georgia, Nevada, and Pennsylvania, he appears, to use his words, to have "rebuilt the blue wall", by winning all four.
Biden has already secured the most votes in
US presidential election
history, surpassing Barack Obama's record from 2008. Trump, meanwhile, is set to become the first president for almost 130 years to lose the popular vote twice.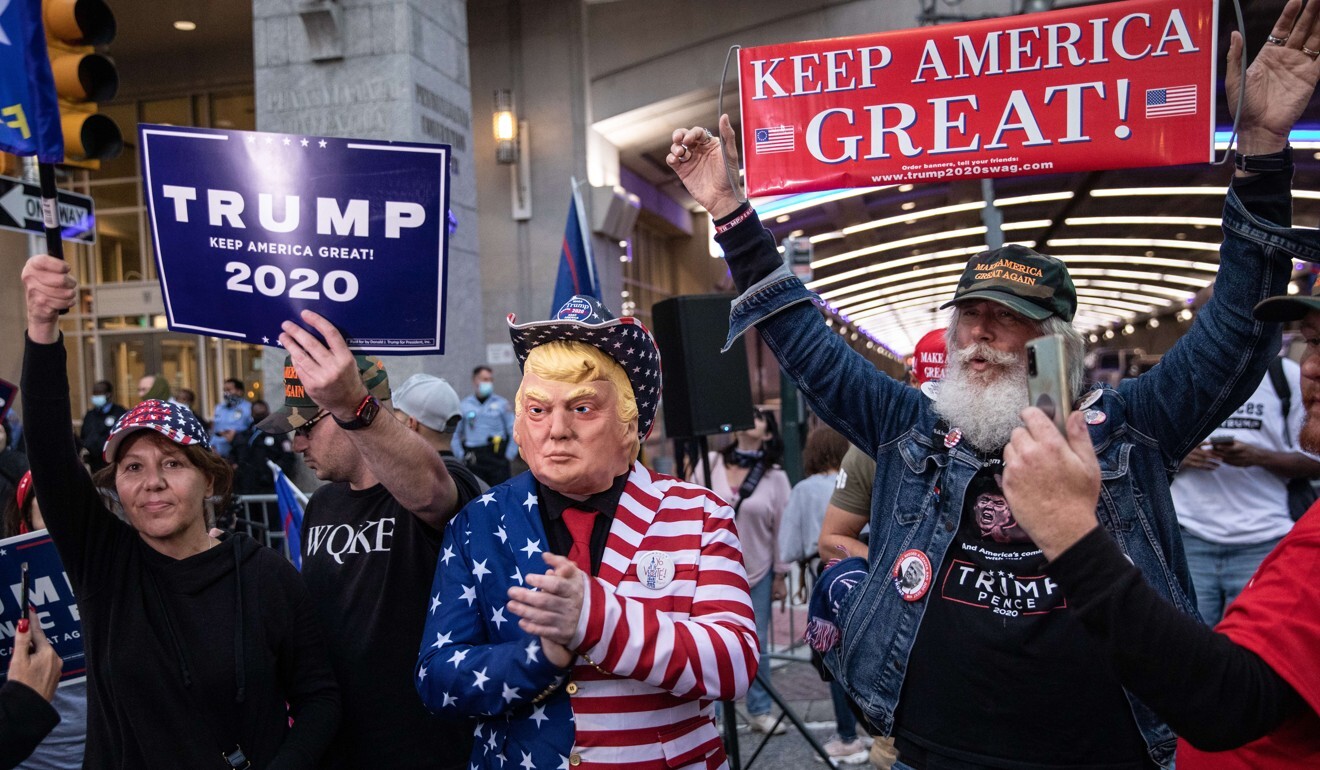 Two key Senate run-offs in Georgia in January will determine whether Biden becomes the first Democratic president since Grover Cleveland in 1885 to enter the White House without control of the chamber. Those races could help determine how hamstrung Biden's policy-building plans could be over the next four years.
But with Biden edging ever closer to the prize, Beijing pundits are starting to consider a new sort of relationship between China and the US.
Wang Yiwei, an international relations professor at Renmin University, said "the Trump aftermath" could dominate the early months of Biden's presidency.
"The harm Trump has caused to the US and its foreign relations will not disappear in the short run and it will be time consuming and take a lot of effort to heal the wounds," he said.
Jia Qingguo, an international relations professor at Peking University, said that while Biden might be more "sensible, predictable and reasoned" than Trump, the challenges would remain for Beijing.
"If Biden wins, his administration is likely to continue Trump's hardline on China in Hong Kong, on human rights and market access, but his multilateral approach could bring opportunities for cooperation for both countries," he said.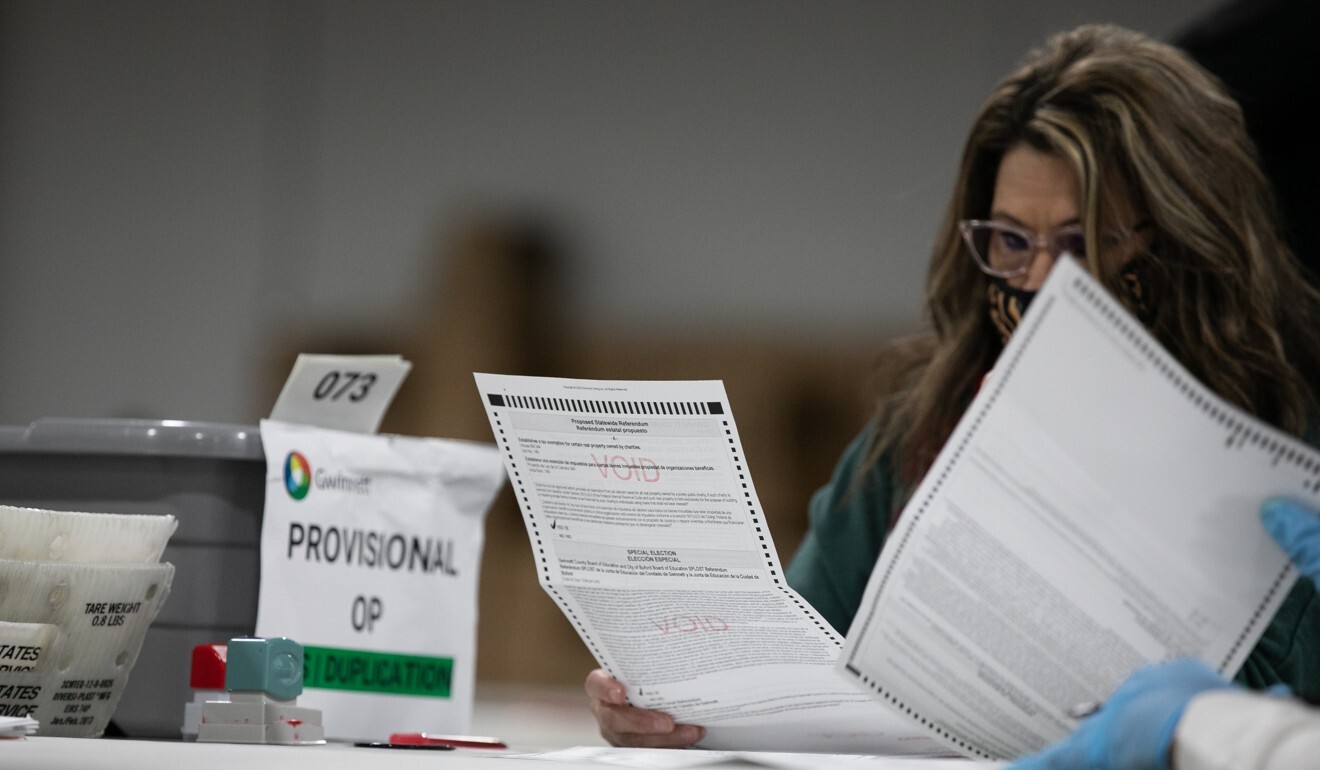 Elsewhere in Asia, governments were considering what life might be like with Joe Biden in the White House.
South Korean Foreign Minister Kang Kyung-wha said on Saturday she did not believe a new US administration would reverse the attempts made by the Trump administration to disarm
North Korea
.
"I believe [the Democrats] also share the view on the need for the denuclearisation and peace on the Korean peninsula," she told the National Assembly.
"There exist achievements made over the past three years as well as agreements and resolutions publicly announced at summits [between Trump and
Kim Jong-un
]. I don't think all these would return to square one."
During the final presidential debate, Biden accused Trump of legitimising North Korea and cosying up to Kim, who he referred to as a "thug". But Biden said he would meet Kim if Pyongyang agreed to denuclearise, and would maintain pressure on China to help rein in its ally.
In Vietnam, foreign ministry deputy spokesman Duong Hoai Nam said on Friday that Hanoi was confident that any US president would support bolstering Vietnam-US ties.
"After 25 years since establishing diplomatic ties, Vietnam-US relations have made great strides in substance and depth, which have laid a solid foundation for the two countries to promote and expand their relations, thus contributing to peace, stability, cooperation and development in the region and the world at large," he said.
"We believe that any new US president will also support this process."
While it is still unclear when Biden's victory will be officially called, as results continue to dribble in, Trump's position in the race is looking increasingly precarious.
The two greatest electoral college prizes left on the map,
Pennsylvania and Georgia
, have both witnessed a steady "blue shift" since Tuesday, with Biden taking the lion's share of the postal and early votes that tend to be processed after election day.
A recount is expected in Georgia, given the inevitability of a razor-thin margin of below 0.5 per cent between the two candidates once all the votes are in.
But even without Georgia and its 16 Electoral College votes, Biden will cross the 270-vote threshold even if he wins only his home state of Pennsylvania.
At 5pm Hong Kong time, Biden held a 28,877-vote advantage in Pennsylvania, or 49.6 per cent to 49.2 per cent, with 96 per cent of the estimated votes counted, according to Associated Press. Most of the remaining ballots to be counted were in Democratic-leaning counties.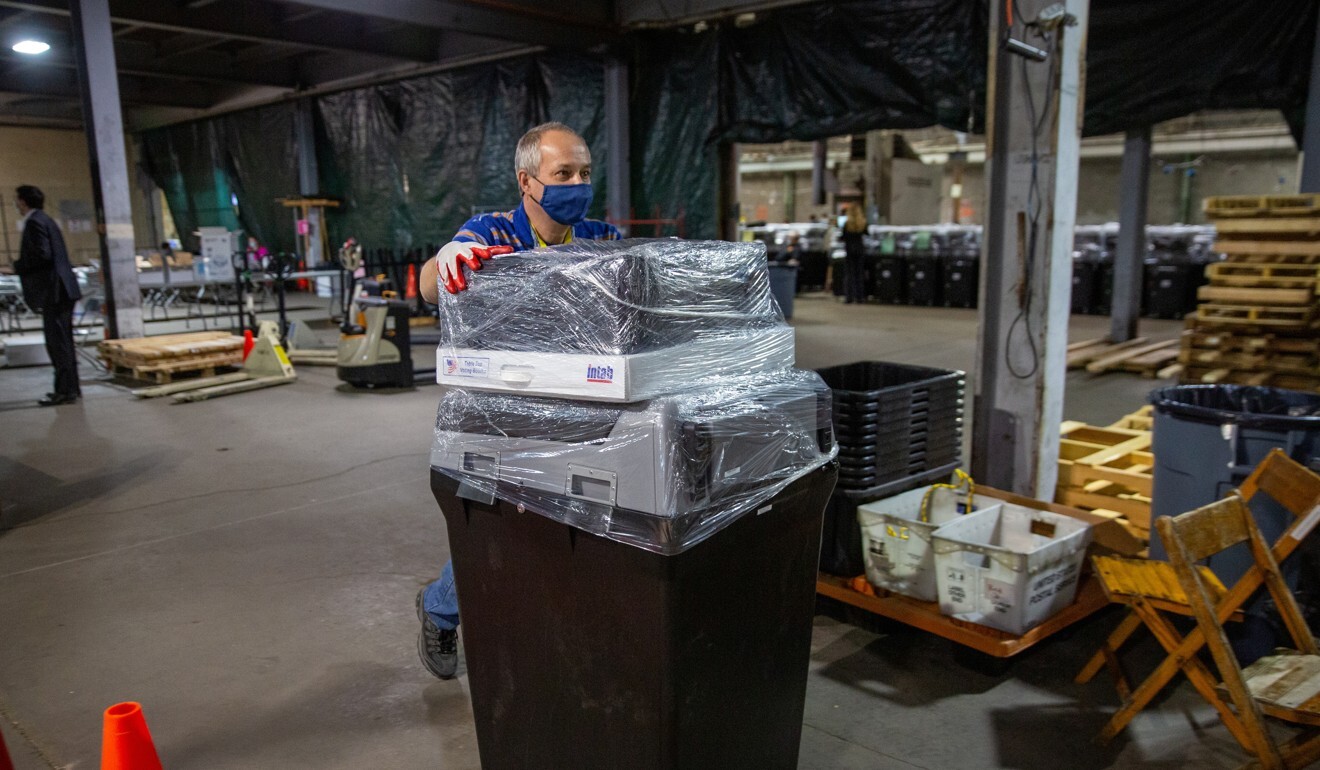 Out west, Biden widened his lead in Nevada on Friday, where a slow but steady count has seen ballots from the vote-rich Las Vegas area trend heavily towards the Democratic candidate.
In neighbouring Arizona, Trump, who carried the state in 2016, has been chipping away at Biden's advantage, but not at the rate he needs to overtake the former vice-president with about 173,000 ballots left to count. Officials expect the count to finish by the end of the weekend.
As Trump's lead unravelled, he and the Republican Party became more litigious, launching legal action in each of the states he looks set to lose. Allegations of impropriety in the vote counting process were made with no substantive evidence.
Responding to an appeal by the Pennsylvania Republican Party, the US Supreme Court on Friday ordered all counties in the state to ensure that postal ballots postmarked before Election Day but that arrived within three days after were kept separate from other absentee ballots, pending further court action.
But by and large, the Republican Party and Trump campaign's efforts to cease counting have so far failed, with cases in Michigan and Georgia being swiftly dismissed by judges on Thursday.
The approach of allegations before proof, spearheaded by Trump, has prompted criticism from a sea of Democrats and a handful of Republicans.
On Friday, Utah's Republican Senator
Mitt Romney
said Trump had the right to call for investigations where evidence existed, but was "wrong to say that the election was rigged, corrupt and stolen".
"Doing so damages the cause of freedom here … and recklessly inflames destructive and dangerous passions," he said.
Yet even as some aides resigned themselves to defeat, Trump continued with bellicose claims of rigged voting, fuelling his supporters to continue their protests on Friday in Michigan, Pennsylvania and Arizona.
"Joe Biden should not wrongfully claim the office of the President," he tweeted ahead of his opponent's Friday night appearance. "I could make that claim also."
Trump – who said earlier this week that "winning is easy; losing is never easy, not for me it's not" – has not prepared a concession speech and told aides he had no intention of conceding to Biden, multiple US outlets reported Friday.
Legally speaking, Trump's intentions are moot. While there is a long-standing precedent of concession speeches and congratulatory phone calls to the victor, there is no law requiring such formalities.
Responding to reports that Trump did not intend to concede, Biden spokesman Andrew Bates said: "American people will decide this election. And the United States government is perfectly capable of escorting trespassers out of the White House."
Additional reporting by Wendy Wu and Park Chan-kyong
This article appeared in the South China Morning Post print edition as: 'We are going to win'