China faces urgent 'unprecedented challenge' to develop jet engine as foreign hostility grows
A senior Chinese aviation engineer says it is an 'urgent political task' for China to speed up development of its own jet engine
Access to crucial technology is no longer guaranteed due to external hostilities and China must become more self reliant
China must be able to produce its own jet engine for commercial use as the world's second biggest economy can no longer "leverage market access in exchange for technology" due to increasing foreign hostility, a senior engineer from state-owned Aviation Industry Corporation of China (Avic) says.
Liu Daxiang, deputy director of the science and technology committee at Avic, said aviation technology had accelerated this century and competition was getting "more fierce".
"The established countries in aviation have become more strict with us when it comes to technology access," he said in a video seminar organised by the Chinese Society of Aeronautics and Astronautics.
"Recently we have seen the US utilising national power to suppress
Huawei Technologies Co
, and this tells us that crucial technology cannot be bought, even if you spend big.
"In the past, we have leveraged market access in exchange for technology – I don't think it works [for aviation]."
The aero engine expert, who was a former member of the Standing Committee of the National People's Congress, said China needed to stop "fantasising" about acquiring the technology for engine manufacturing and focus on self-reliance, adding import costs were high and supplies "unreliable".
"This is a serious and urgent political task, this is the unprecedented challenge that we are now facing," he added.
Liu's comments, which were published on Monday, follow a Reuters' report last month that said the US Department of Commerce had drafted a list of 89 Chinese and 28 Russian companies, including Avic and 10 related entities, that were considered "military end users".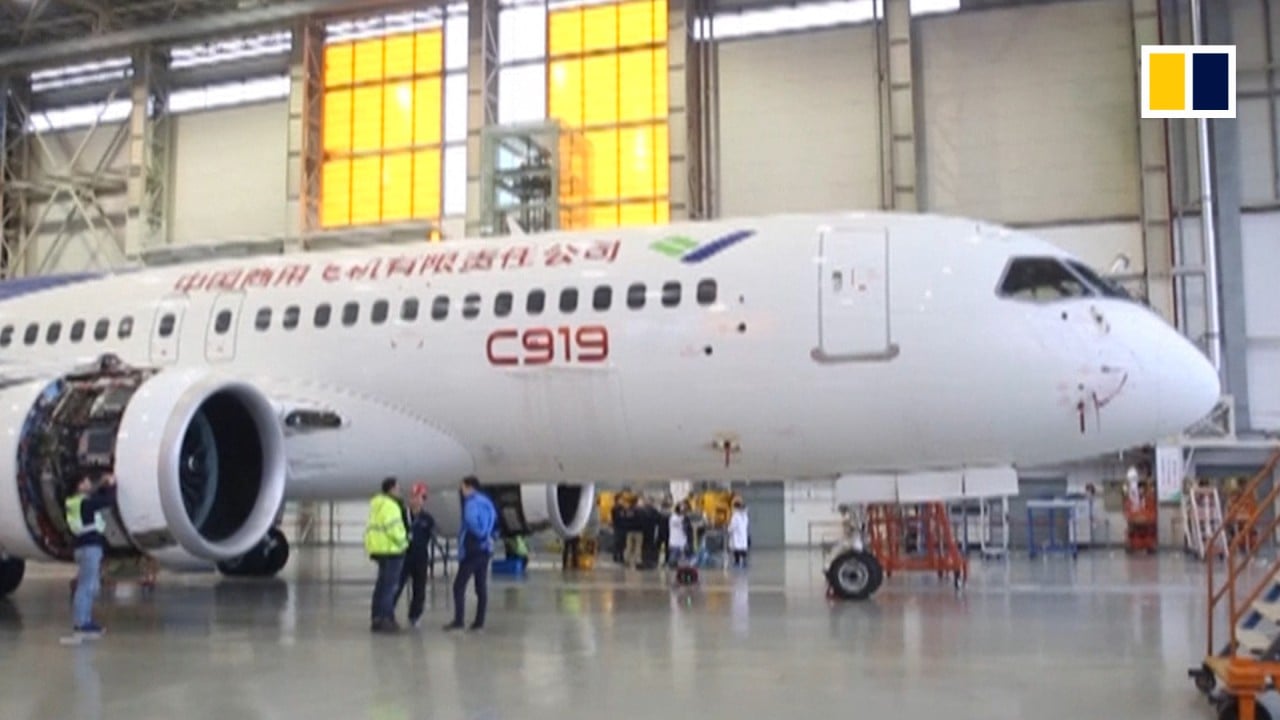 01:07
Three more Chinese C919 passenger jets to start test flights by late 2019
Three more Chinese C919 passenger jets to start test flights by late 2019
If formalised, the designation would require US suppliers to obtain a licence to sell products to them and is likely to ratchet up tensions between Beijing and Washington, while forcing Chinese companies to seek alternative suppliers.
The US has already blacklisted 35 Chinese firms for their connections to the country's military, adding four firms – including Semiconductor Manufacturing International Corporation – to the list earlier this month.
To offset external uncertainty, President Xi Jinping introduced his "dual circulation" economic strategy earlier this year, placing new emphasis on domestic consumption and self-reliance in key technologies, like semiconductors.
In the aviation sector, state-owned Aero Engine Corporation of China has been building its own engine, the CJ-1000AX, for
China's narrow body C919 jet
, which is being developed to compete with the Boeing 737 and Airbus A320.
At present, the C919 imports many of its parts, including the LEAP engine made by French company Safran Aircraft Engines and America's GE Aviation.
Liu, who is also a senior consultant at Aero Engine Corporation of China, said while there have been breakthroughs in the development of CJ-1000AX, there is still a long way to go before it will be available.
He cited a lack of research in key areas of engine manufacturing over the last 70 years, including material science, as a major hurdle when it comes to catching up with leading manufacturers.
The LEAP engine, which is used in the Airbus A320neo and the
Boeing 737 MAX
, is now in its fifth generation and China could not match the technology behind it, Liu said.
"We are making an engine that is of low quality, equivalent to the second, third and fourth generation. You won't be able to sell it, it is not economical," he said.
"We need to turn around the situation where the [jet] engine is controlled by others – as soon as possible," he said.
This article appeared in the South China Morning Post print edition as: China urged to develop jet engine as hostility rises