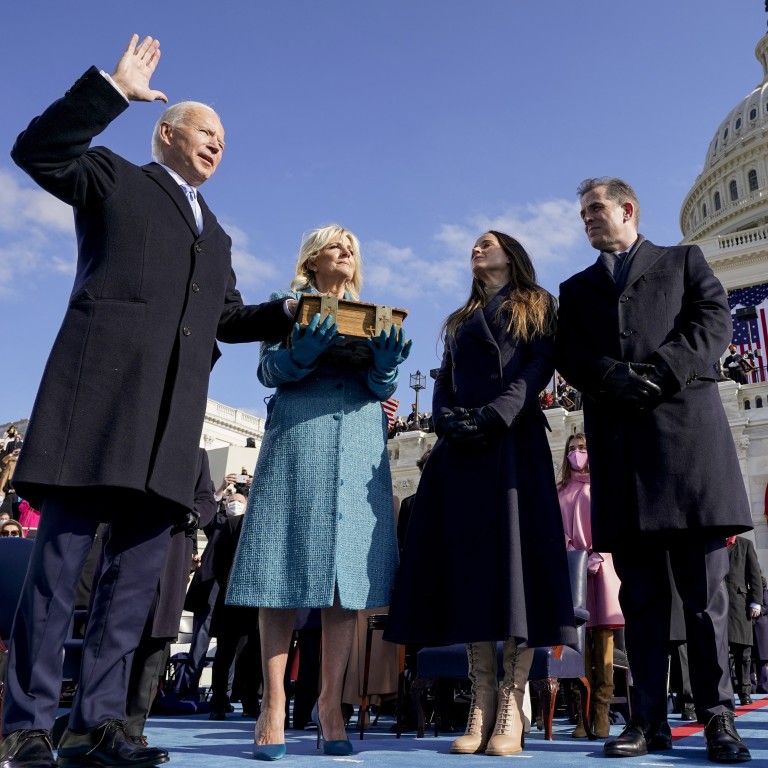 As Biden takes office, US still viewed as 'grey rhino' risk for Chinese economy
Chinese economists see 'negative energy' and continued US pressure under President Joe Biden, who was sworn in on Wednesday
Biden expected to adopt a less antagonistic tone, but his policies may not differ hugely from the Trump administration in the short term
The outlook for China-US trade ties under a Joe Biden presidency has been met with mixed views by Chinese economists, with some saying the United States remains the nation's biggest "grey rhino" – a very obvious yet ignored threat – in terms of economic risk this year.
Biden, who was sworn in as the 46th US president on Wednesday, inherits a bilateral relationship at historic lows and many economists are hoping he can reverse the course set by former president Donald Trump, who launched a damaging
trade war
in 2018.
"It is quite safe to say that in the past two years, no one has won the trade war. China may have suffered heavily, but the price the US has paid was also very high," said Yu Yongding, a prominent Chinese economist and former central bank adviser.
China's trade surplus with the US rose to US$316.91 billion in 2020 from US$295.77 billion in 2019, despite China's purchasing commitments in the phase one trade deal and heavy tariffs imposed by the Trump administration on Chinese goods.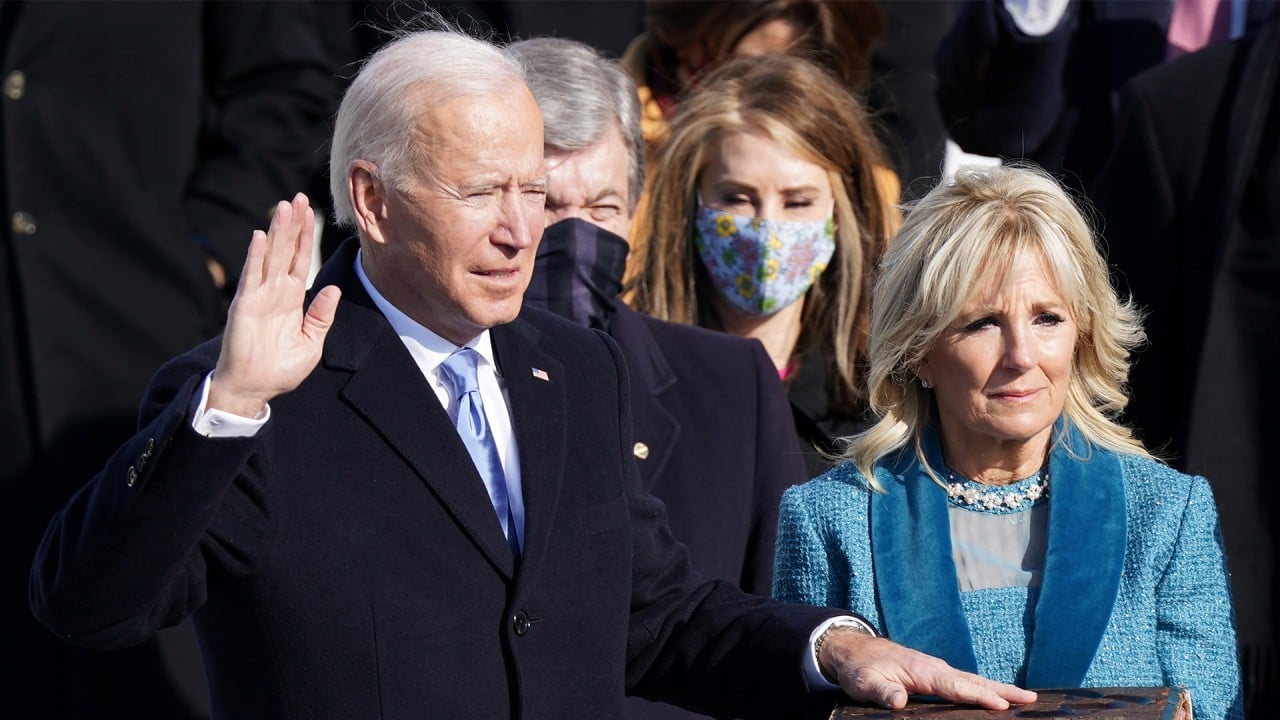 07:49
Joe Biden becomes 46th US president in scaled-down, socially-distanced inauguration
Joe Biden becomes 46th US president in scaled-down, socially-distanced inauguration
The 2020 figure represents a 14.9 per cent jump from a US$275.8 billion surplus in 2017, when Trump took office claiming that China's trade practices were unfair and cost Americans jobs.
One year after signing the
phase one deal
, China remains far behind in its commitment to buy more American goods. In the first 11 months of last year, China's purchases of products included in the agreement reached only 58 per cent of its targets using US Census Bureau statistics, or 56 per cent using Chinese customs data, according to a report by Peterson Institute for International Economics released this month.
Yu said given China was so far behind the target partly due to the coronavirus pandemic, the two countries should renegotiate the agreement in accordance with the force majeure clause, which frees both sides from obligation due to extraordinary events outside their control.
"To show good faith, China should in principle adhere to its commitments made in the phase one agreements," he said. "Although personally I don't like quantity targets – a deal is a deal."
Scott Kennedy, senior adviser and trustee chair in Chinese business and economics at the Center for Strategic and International Studies in Washington, said Biden must change US policies towards China, including rolling back the Section 301 tariffs, most of which are still in place and borne by US importers and consumers, not Chinese exporters.
Although the Trump administration deserves credit for sounding the alarm on Xi Jinping-led China, "it did not address that challenge with effective policies that changed the facts on the ground in America's favour," said Kennedy in a note this week.
Biden is expected to adopt a less antagonistic tone towards China, but he has indicated his approach on trade will not differ hugely from Trump, at least in the short term. This has caused some Chinese economists to take a cautious stance towards the new president.
Guan Qingyou, an economist and president of Rushi Advanced Institute of Finance, said China's fast recovery from the pandemic has accelerated it along its path to surpass the US as the world's largest economy, and conflict between the two powers will become more pronounced.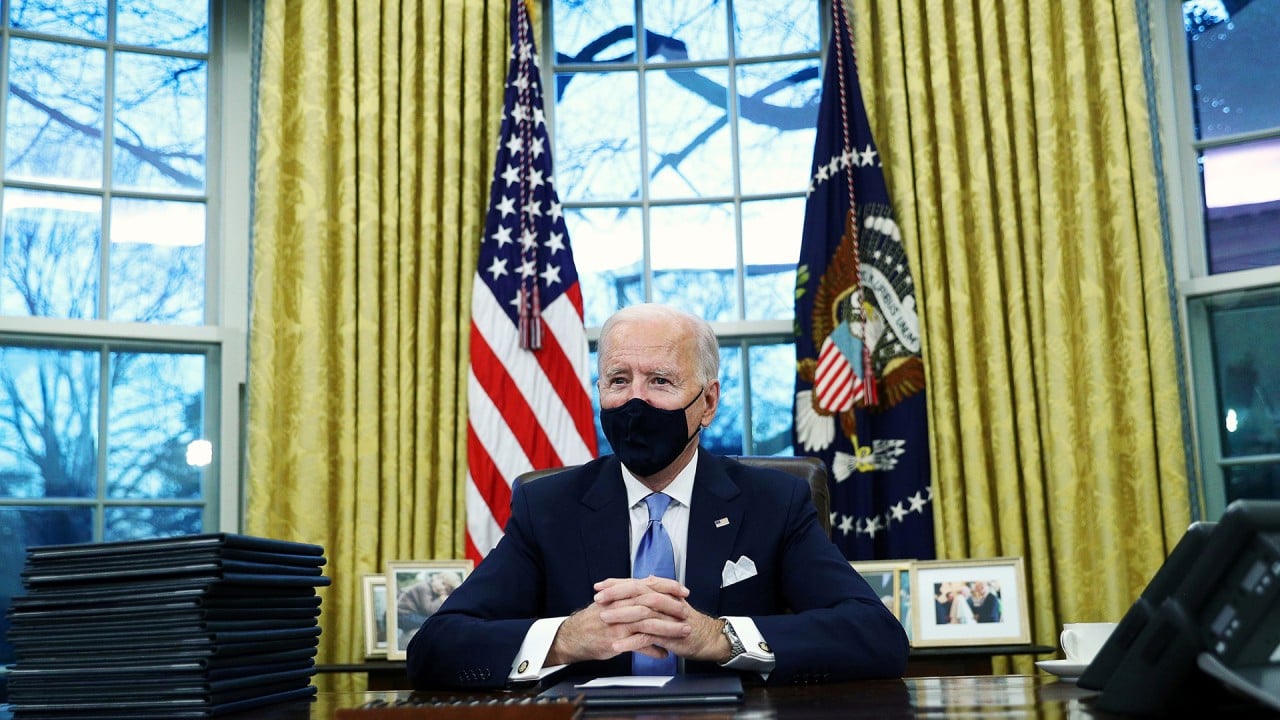 04:33
As Biden enters White House, world leaders express 'relief' and welcome 'friend' and 'mate' back
As Biden enters White House, world leaders express 'relief' and welcome 'friend' and 'mate' back
"The current appointments of senior officials in the Biden administration indicate that the US is building up pressure on China, and the grey rhino China faces this year may still come from the US," he said in a note published this week.
His view was echoed by Chen Wenling, chief economist at the China Centre for International Economic Exchange, a government-backed think tank, who said on Tuesday "negative energy" from some American politicians had affected efforts to fight the pandemic and rescue the global economy, and might continue during the Biden administration.
"Even though some absurd politicians have withdrawn from the stage of history, the ghosts of the extremely ignorant populism, anti-intellectualism and McCarthyism will keep diffusing over these countries for a long time, continuing to impact the world economy and China-US relations," she said.
There are also concerns about Biden's impact on the Chinese yuan exchange rate. The Chinese currency surged against the US dollar last year starting in May, as the world's second largest economy remained a rare bright spot in an otherwise ravaged global economy.
However, the yuan has declined so far this month on expectations for more US economic stimulus under Biden, who unveiled a $1.9 trillion economic rescue plan last week.
China promised not to manipulate the yuan's exchange rate for competitive advantage as part of the phase one deal, but the US Department of the Treasury kept China on its
watch list
for foreign-exchange manipulation in its final report before the Trump left office.
Zhong Zhengsheng, chief economist at Ping An Securities, expected more volatility ahead for the yuan, especially in the early stage of Biden's term.
"Last year the capital market had a very high expectation of a de-escalation in US-China relations, which partially led to the surge of the yuan," Zhong said in a webinar this week. "We've previously glorified Biden that he might cut tariffs when he comes into power, but now it seems that he won't roll back the tariffs immediately.
"That's the key point, because the gap in the expectations will inevitably cause fluctuations in the yuan exchange rate."
Additional reporting by Orange Wang.
This article appeared in the South China Morning Post print edition as: US still seen as biggest 'grey rhino' risk for China