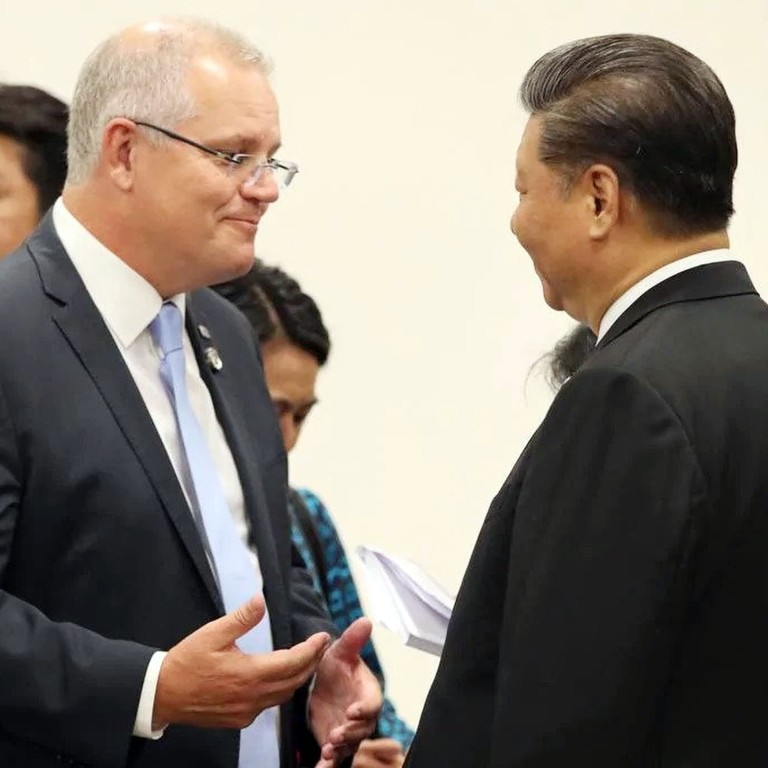 China-Australia relations: state media blast 'disingenuous' comments from PM Scott Morrison
China Daily says Beijing never shut the door on dialogue with Australia, but it must 'reflect upon and redress' its wrongdoing first
Editorial follows an address by Prime Minister Scott Morrison in which he reiterated Australia remained committed to engaging with China
Chinese state media on Wednesday lashed out at the latest call from Australia to reset fractured diplomatic ties, saying "it will take more than a verbal olive branch to repair" the relationship.
The editorial in China Daily also said China has never closed the door on dialogue with Australia, but added that the tactic of calling for China to "change its ways, rather than reflecting upon and redressing their own wrongs, will simply not work".
Relations between Australia and its largest trading partner have become increasingly strained over the past year, with Beijing imposing a series of trade actions on Australian
barley
, beef, wine, coal and
cotton
after Canberra called for an
independent inquiry
into the origin of the coronavirus.
The Australian government has said it is
ready to improve dialogue
with Beijing, but China has knocked back efforts to talk, saying last year that Australia needs to "take concrete actions to correct their mistakes".
In November, China released a list of
14 grievances
– including Canberra's rejection of Chinese investments and "antagonistic" reporting by Australian media – saying these had helped "poison bilateral relations".
Wednesday's editorial followed an address by Prime Minister Scott Morrison at the National Press Club in the capital in which he acknowledged the evolving diplomatic ties but reiterated that Australia remained committed to engaging with China.
"China's outlook and the nature of China's external engagement, both in our region and globally, has changed since our Comprehensive Strategic Partnership was formed and going further back than that, certainly in the decades that have led up till now," he said.
"We cannot pretend that things are as they were. The world has changed."
China Daily
described Morrison's comments as "disingenuous", saying the two sides' different economic and political systems did not prevent Australia from signing a
free-trade agreement
with China in 2015, nor from reaping bilateral benefits in other fields.
Two-way trade between the countries is worth around A$240 billion (US$171 billion), while China buys around 39 per cent of Australia's merchandise exports,
including iron ore
.
The editorial said Australia should look to its neighbour
New Zealand for advice
on how to constructively engage with China.
Last week, New Zealand expanded the breadth of its more-than-decade-old
free-trade agreement with China
, reducing tariffs on nearly all of its exports to the world's second-largest economy to zero.
This article appeared in the South China Morning Post print edition as: 'Verbal olive branch' by Australia rejected