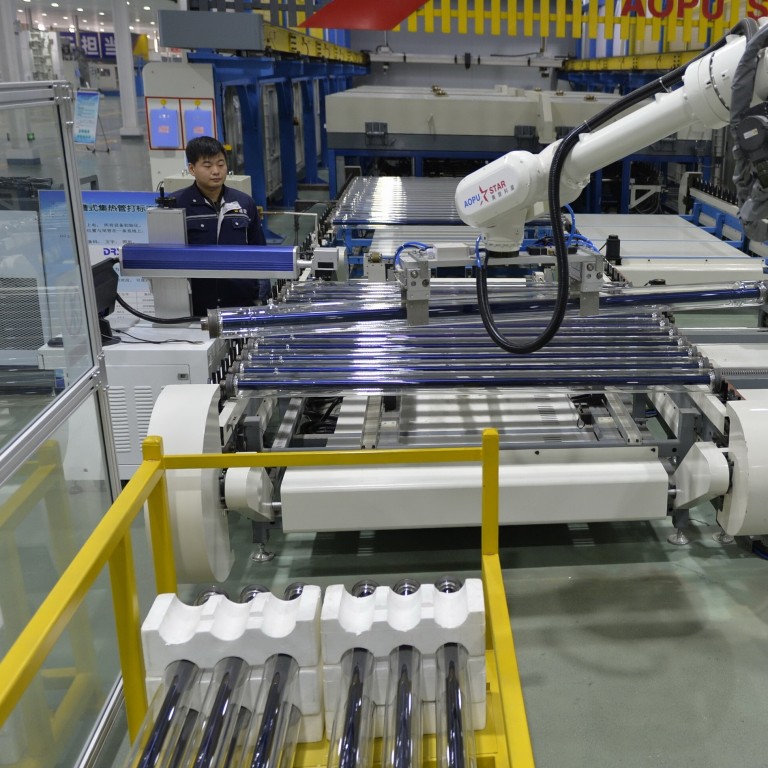 China's robotics revolution falls behind target as technology gap with rivals Japan, Germany persists
Robots made by Chinese companies accounted for about 39 per cent of the domestic market last year, according to Shenzhen Gaogong Industry Research
Beijing's 'Made in China 2025' plan set a target for local robot manufacturers to supply half of the domestic market by 2020 and 70 per cent by 2025
China's robotics industry has fallen behind targets set out by Beijing in a plan to upgrade the industrial sector, despite production surging 19.1 per cent last year, research shows.
China buys and builds more
industrial robots
than any country, but its market is still dominated by Japanese companies, followed by manufacturers from Europe and South Korea, according to data from Shenzhen Gaogong Industry Research (GGII).
Robots produced by Chinese companies made up about 39 per cent of the domestic market last year, while Chinese computer chips were used in 45 per cent of locally-made machines, up from 12 per cent in 2016, according to the market research firm.
Beijing's "
Made in China 2025
" plan, a strategy to upgrade the nation's industrial sector and cut reliance on foreign technology, set a target for local robot manufacturers to supply half of the domestic market by 2020 and 70 per cent by 2025, by which time local robotics systems should be "perfected" to compete with global rivals.
While the plan has since been sidelined, Beijing still sees it as a key element in modernising the nation's manufacturing through
technological innovation
to offset soaring labour costs amid a shrinking work force.
Lu Zhangyuan, the director of GGII, said China had failed to reach the 2020 target because there was still a large gap in core technology between home-grown and foreign brands.
"Confidence on home-grown industrial brands has not been fully established on the user end, especially in the high-end industries such as automotive and 3C [manufacturing], which are still dominated by foreign brands," he said.
Ning Xi, chair professor of robotics and automation at the University of Hong Kong, said he was not surprised China failed to hit its goal, because "the market has been significantly impacted by both the trade war and the pandemic".
However, the recovery in the sector would be stronger than other industries as "demand is still there", he added.
China's government has showered the robotics industry with lavish subsidies that account for roughly 20 per cent of its net profit, according to Sinolink Securities, a financial services firm. State support for the sector has made it a frequent target of Washington, which says it exemplifies China's unfair trade practices.
China has been the world's largest industrial robot market since 2013 and accounted for 38 per cent of total installations in 2017-18. In 2019, 140,492 units were installed in factories around the country, 9 per cent less than in 2018 but still more than the number of robots installed in Europe and the Americas combined, according to the International Federation of Robotics.
Manufacturing of speed reducers and servomotors, two core components of industrial robots, are still dominated by Japan, especially in the mid to high-end market.
More than 75 per cent of reducers used in China are imported from Japanese engineering companies like Nabtesco and Harmonic Drive Systems, according to analysts from HSBC Holdings.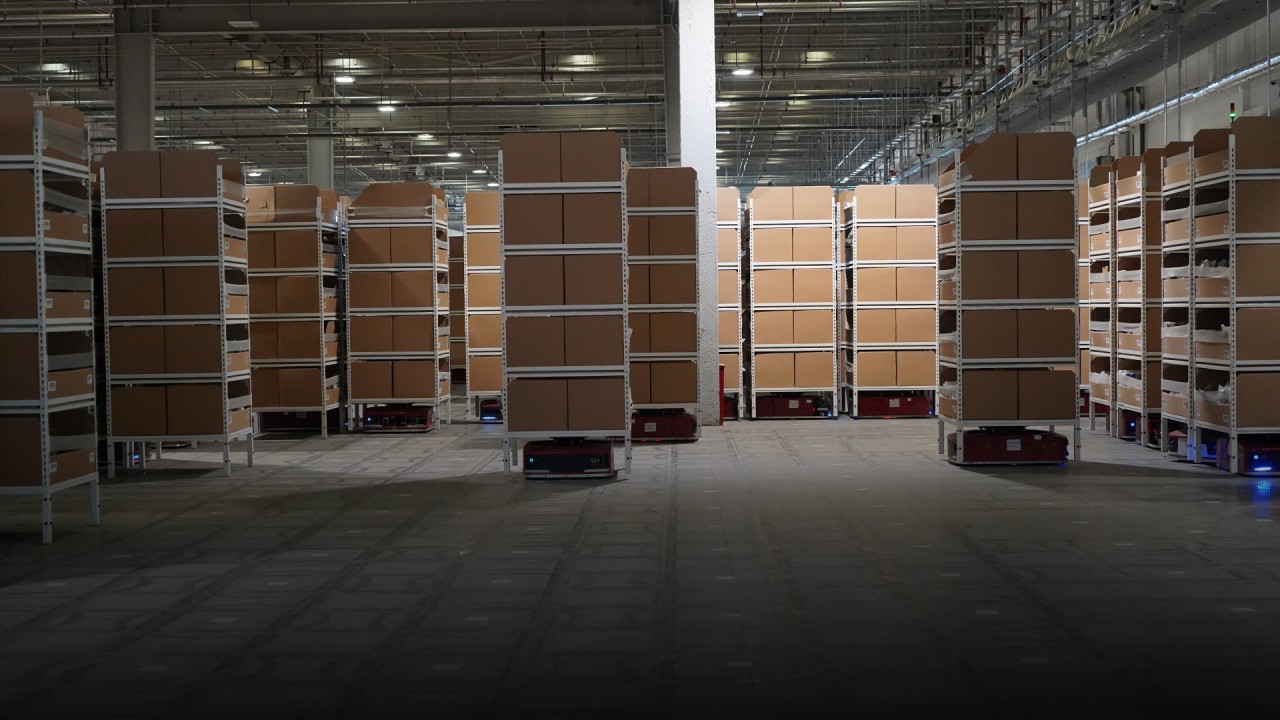 02:20
Intelligent sorting systems help China's JD.com cope with demand during Covid-19 pandemic
Intelligent sorting systems help China's JD.com cope with demand during Covid-19 pandemic
These components account for more than a third of the cost of industrial robots made in China, compared to 12 per cent for those produced in Japan.
But Chinese manufacturers have been gradually replacing foreign controllers, another key component, with home-grown brands, according to a report by Zhongtai Securities, which was published last month.
Last year, China increased the number of industrial robot units it produced by 19.1 per cent on year to 237,068, with 29,706 built in December alone, up 32.4 per compared to a year earlier, according to the Ministry of Industry and Information Technology (MIIT).
The operating income of larger industrial robot manufacturers – those with an annual income of above 20 million yuan – registered a year-on-year increase of 6 per cent in 2020, MIIT data showed.
Still, overseas manufacturers should not be worried about Chinese competitors just yet, said Xi.
"Japan and Germany now have competitive advantages because they had the right approach and made investments many years ago," he said.
"But to maintain that, you have to continue to invest in R&D. China is doing the same thing, trying to catch up.
"It's very difficult to predict the winner, but the bottom line is, as long as you keep advancing the technology and stay in the frontier of the technology, you always have a competitive advantage," he said.
This article appeared in the South China Morning Post print edition as: Plan to transform robotics sector fails to hit target