Taiwan's coronavirus outbreak, drought and power cuts force semiconductor makers to ramp up contingency plans
The island's chip makers are grappling with surging coronavirus infections, a drought and erratic power supply
The combination of risks threatens to knock back productivity in Taiwan's US$10.3 billion semiconductor industry
Standing outside Nanya Technology's vast manufacturing complex in Taiwan, it could be mistaken for Lunar New Year, when workers leave en masse.
On a recent Friday, just a trickle of light delivery trucks stopped by the complex's Art Deco-style reception area west of Taipei, and employees exited the 10-storey administration building alone or in pairs for lunch at a canteen across the street.
But inside the hulking factory walls at Nanya, the world's fourth largest manufacturer of dynamic random-access memory for consumer electronics, operations are chugging along near normal – albeit with a few added precautions.
Some workers have been sent home and factory staff are only allowed to gather in groups of three. Behind a tall glass window near the reception, employees wearing protective eye goggles and face masks could be seen sitting in front of big-screen PC keyboards two chairs apart.
Yellow Xs were taped across upholstered blue benches in the lobby to prevent people from sitting too close to one another.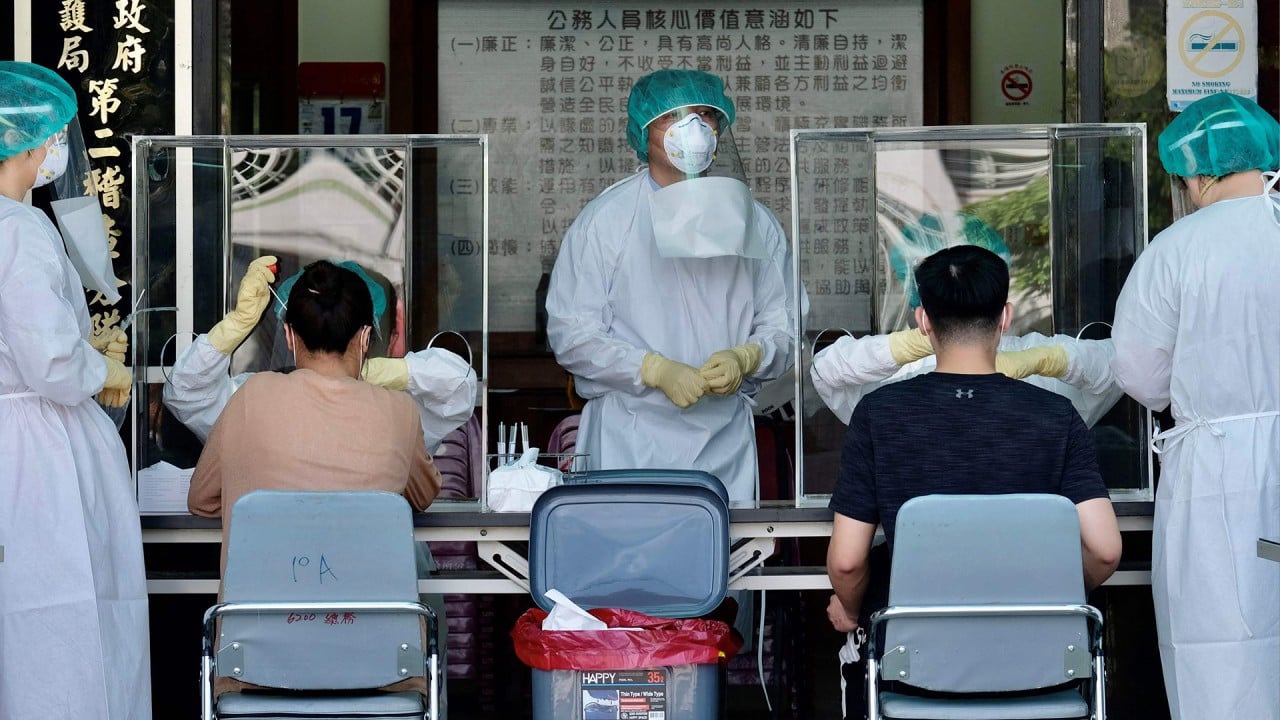 02:46
Cross-strait politics get in the way of Taiwan's desperate need for Covid-19 vaccines
Cross-strait politics get in the way of Taiwan's desperate need for Covid-19 vaccines
The scene reflects the new reality for the island's powerhouse semiconductor manufacturers, who have been forced to put in place a range of contingency measures to avert production setbacks caused by a triple threat of surging coronavirus infections, a drought and
erratic power supply
.
Taiwan is trying to stop a
new wave of Covid-19 cases
that began in mid-May and has been exacerbated by difficulty acquiring vaccines and low vaccination take up among the island's 23.5 million people.
The Central Epidemic Command Centre announced 211 new cases on Monday, bringing the total to 11,298 with 260 deaths.
Restaurants in greater Taipei are closed save for takeaway, and the government has urged employers to let people work from home.
Clusters of Covid-19 infections have been reported at
electronics factories
, including one at King Yuan Electronics factory in Miaoli county, where 131 employees tested positive for the coronavirus.
But the island's chip makers are grappling with other challenges, too. Sub-tropical Taiwan is dealing with its worst drought in decades because no typhoons directly hit the island last year, meaning much less rain.
The water shortage has raised the risk of supply curbs for semiconductor manufacturers in some parts of the island, forcing companies to implement water saving measures.
Many have also been dealing with power outages following a spike in demand amid the drought and a heatwave, which also coincided with a crippling technical failure at a coal-fired power plant last month.
The combination of threats risks knocking back productivity for Taiwan's US$10.3 billion semiconductor industry, one of the world's biggest by dollar value and a cornerstone for global consumer electronics manufacturing.
But Nanya, like its chipmaking peers around Taiwan, has found ways to sustain production despite the odds – and so far it appears to be enough to stave off financial problems.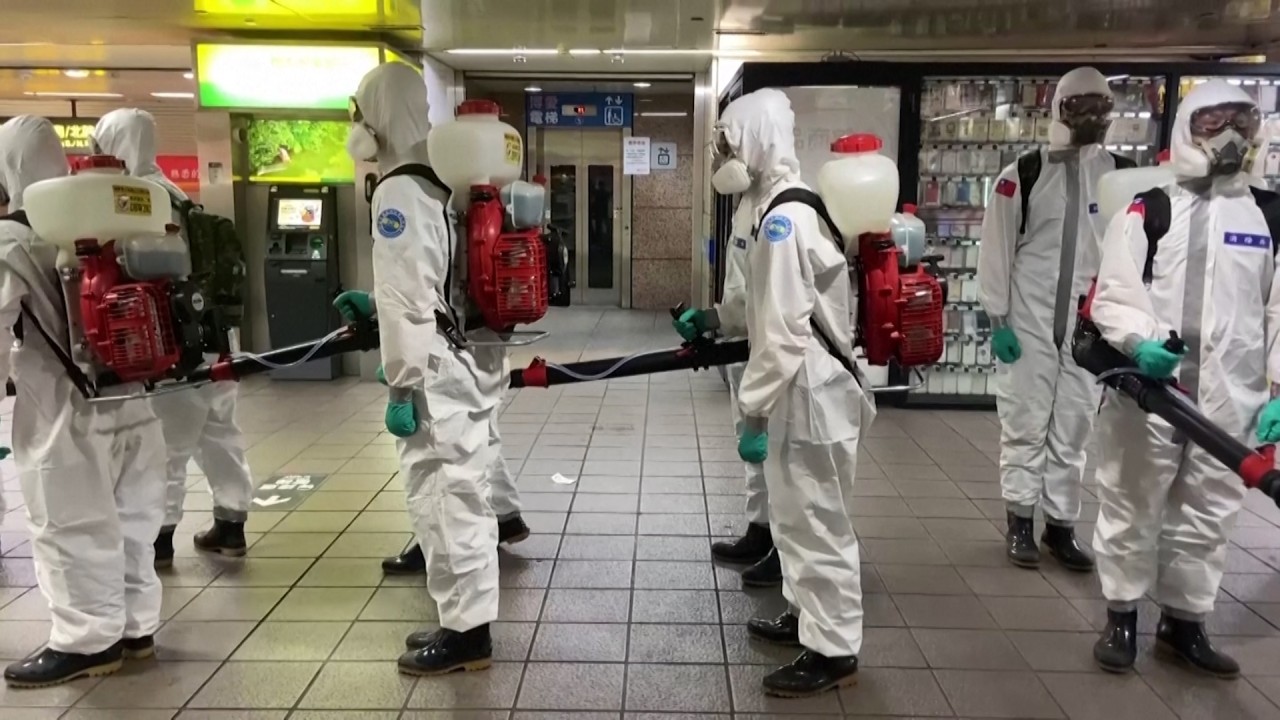 02:38
Taiwan deploys military to disinfect subway station after Covid-19 cases surge
Taiwan deploys military to disinfect subway station after Covid-19 cases surge
The company said revenue rose 20 per cent in the first quarter to NT$17.7 billion (US$639 million), with a 17.1 per cent operating margin, up 8.3 percentage points over the previous quarter on surging global chip demand. In April, it announced plans to build an NT$300 billion advanced chip plant by 2023.
To offset any problems with electricity supply, Nanya has struck a deal with the government-run Taiwan Power to ensure it is notified in advance of any outages, a company spokeswoman said.
The firm also has enough water supply of its own to weather the drought. The company recycles 95 per cent of the water it uses for manufacturing, according to a poster in the Nanya reception.
Though the company is keen to project an air of confidence, Asan Cheng, an operations room worker, said the factory was "not seeing as much activity now as before because of the pandemic".
Other Taiwanese chip makers have taken similar precautions in recent months.
Taiwan Semiconductor Manufacturing Co., the world's biggest contract chip maker, recycles water and has backup supplies in case of rainfall shortages, it said in April. United Microelectronics Corporation has "adopted numerous water-saving countermeasures" for its plant in northwest Taiwan, the company's media office said, adding that it has seen "no impact on production".
Rainfall in early June has
eased fears of a prolonged drought
. But Brady Wang, an analyst in Taipei with the market intelligence firm Counterpoint Research, said that even without rain the government will "give top priority to semiconductor production".
"However, there may be unexpected power outages for a short period of time, which may cause slight losses," he said.
Chip makers around Taiwan have shuffled staff in light of the coronavirus pandemic to keep plants "well protected", Wang said.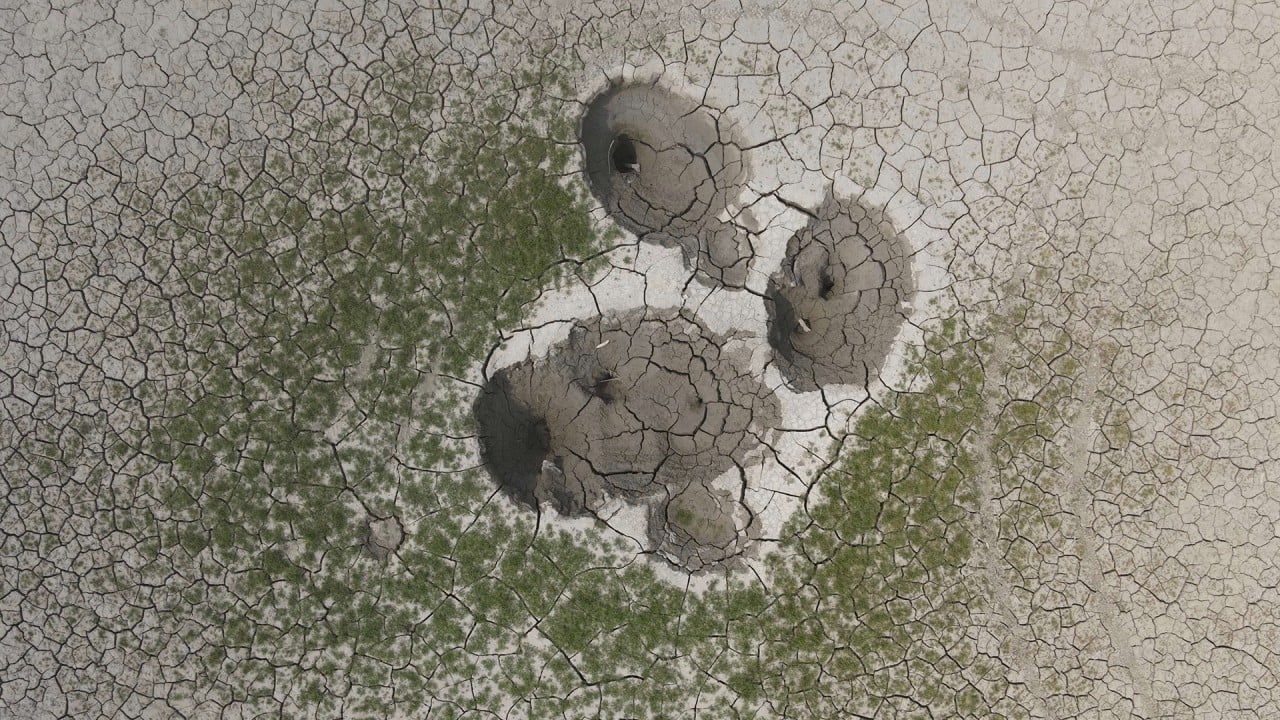 03:46
Taiwan's worst drought in decades adds pressure to global chip shortage
Taiwan's worst drought in decades adds pressure to global chip shortage
"Employees in the field have been divided into a few divisions, with some working from home," he said.
Semiconductor firms outside Taiwan are following a similar playbook, said Ravi Vijayaraghavan, Asia-Pacific head for telecommunications, media and technology with the consultancy Bain & Company.
Automation had already thinned out staff before the pandemic and chip makers have built in "a lot of redundancies" to secure power and water because downtime is so costly, he said.
"In terms of the Covid-19, most of the current wafer manufacturing has been converted to automated processes, and the demand for manpower is low," said Cheng-kai-an, senior industry analyst with the Market Intelligence & Consulting Institute in Taipei.
"Under the current measures, like … remote working in semiconductor foundries, production should not be affected significantly."