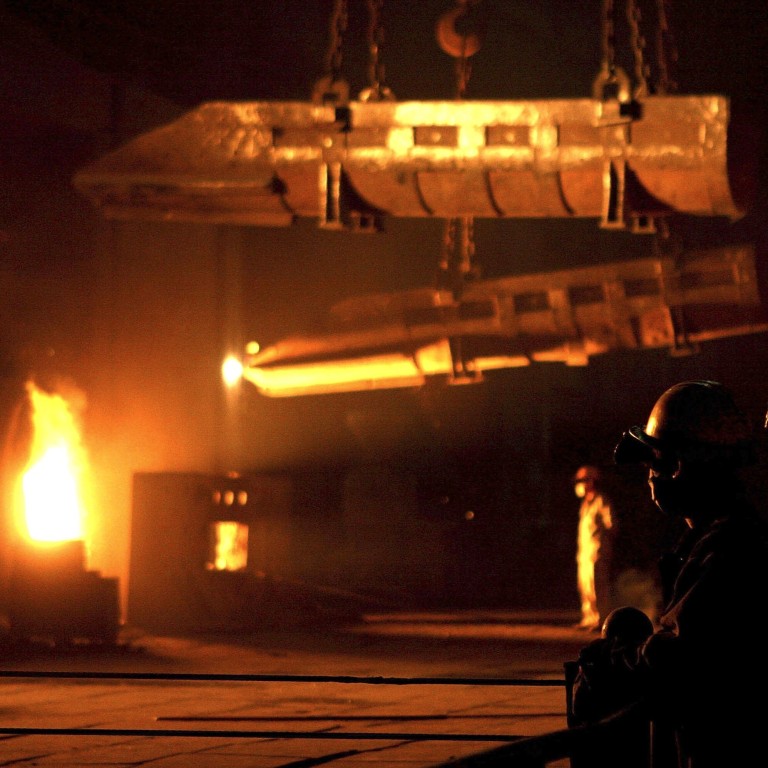 China sees Pittsburgh as role model for industrial transformation, eyeing hi-tech shift from rust-belt roots
Through decades of revitalisation efforts, the US city of Pittsburgh reversed its fortunes and became a destination for advanced manufacturing
But for Jilin and other Chinese provinces to become hi-tech hubs, some experts say US technology will be indispensable
China's old northeastern rust-belt province of Jilin is looking for a bit of inspiration in the US city of Pittsburgh – the one-time steel capital that gradually transformed into a hub for advanced technology companies.
This type of economic transformation forms a key part of President Xi Jinping's
dual-circulation strategy
, which aims to cut China's dependence on overseas markets and technology in its long-term development – a shift brought on by a deepening rift with the US.
In a round-table discussion with dozens of American business executives on July 8 in Jilin's capital, Changchun, Xiao Weiming, an official with the National Development and Reform Commission (NDRC), said Pittsburgh's economic renaissance could serve as a model for China's state-dominated old industrial base.
"Typical old industrial cities in the United States, such as Pittsburgh, through decades of hard work and efforts, vigorously develop diversified industries such as advanced technology, medical care, education and finance, and have achieved a magnificent turnaround," Xiao said.
"On the one hand, we actively learn from the United States and other countries to promote old industrial bases; make adjustments based on experiences and practices in their transformations; learn from each other's strengths, and build on the reality of the old industrial bases in northeast China," he said.
Jilin, which borders both Russia and North Korea, is a key agricultural province and also a major developer and manufacturer of China's high-speed Fuxing bullet trains. It is also synonymous with the production of Hongqi luxury cars – the beloved marque of former revolutionary leader Mao Zedong. Hongqi is produced by state-owned carmaker FAW.
Foreign investment remains an important gateway for Chinese companies to access new technology. Changchun, sometimes referred to as the "Detroit of China", is stepping up to expand to new energy vehicles and biochemicals, pivoting from traditional auto manufacturing and petrochemical production. However, it needs heavy capital investment to develop new industries, while competition with other cities for foreign investment is intensifying.
"China still depends on select joint ventures for advanced components and sectors, such as maglev [magnetic-levitation trains], but has largely pushed out foreign firms and products as part of an increasingly aggressive and punitive effort at import substitution. This is short-sighted," said Nigel Cory, associate director at the Information Technology and Innovation Foundation, a US-based think tank.
"China is a world leader in high-speed rail, largely due to the Chinese domestic market. It is able to innovate to a degree, but not at the same level as foreign firms like Siemens, Alstom and Kawasaki that have invested billions, over decades, to truly master the many technologies that go into a high-speed rail system," Cory added.
A Changchun-based official responsible for monitoring international trade said there are challenges in setting up new supply chains or industries with foreign investors, because doing so requires significant capital.
"In Jilin, foreign investment has really evolved around the auto industry," said the official who did not want to be identified. "Right now we are focusing on our leveraging our local companies that are leaders in the industries. At the end of the day, if they [foreign investors] don't think there's strong potential growth, they are not going to sign up. And Jilin is just not as resourceful compared with coastal cities."
Like many provinces in China, the economic growth of Jilin has been steadily declining in the past five years, and so has its population. In 2020, the province's total population was about 24.07 million – down 12.31 per cent versus a decade prior – resulting in an average annual decline of 1.31 percentage points.
The official pointed to Icelandic biopharmaceutical company Alvotech's joint ventures with local companies to produce medicine in Changchun as a successful case. "They [Alvotech] have the technology but want a big market, and we already have biomaterials production plants here, so it's a good match."
Some foreign companies, however, said local governments would have to provide more incentives to establish a new industrial supply chain.
"Should we consider encouraging or even offer rewarding measures when foreign-funded enterprises play a role in promoting certain industrial chains in China? This is a very good way to cultivate local industrial chains," said Chen Rongsheng, vice-president of General Electric in China, a speaker at the round-table chat.
Meanwhile, Jilin also hopes to leverage its economic relations with South Korea, one of its top trading partners.
Zhou Bo, an official in charge of the newly established China-Korea (Changchun) International Cooperation Demonstration Zone, said the pilot zone serves as a sharing platform for international investment.
"It's not just for South Korean companies," Zhou said, adding that foreign investors can connect with other global firms in the pilot zone.
The zone, which seeks to promote business and cultural exchanges between China and South Korea, had a soft opening last July. Travel restrictions brought by the coronavirus pandemic have left a new exhibition hall mostly empty, with just a small number of South Korean products on display.
South Korea's total investment in China hit US$5.54 billion in 2019 but dropped to US$3.61 billion in pandemic-hit 2020, according to data from the Ministry of Commerce.
Wang Dong, executive vice-president at Samsung Electronics, said consumer products are no longer the focus for the South Korean firm in China.
"That is a big change. Our sales of mobile phones, TVs and home appliances are less than 12 per cent [of our China business]," Wang said at the round-table chat. "In recent years, our transformation and upgrading in China were completed. In the future, we will focus on investments in components and semiconductors in China."
For Jilin and indeed other parts of China to become a hi-tech hubs domestically and internationally, some experts say US technology has a significant role to play.
"American technologies are indispensable for all Chinese hi-tech products sold in both the domestic market and overseas markets. Huawei is the most innovative Chinese company. The fall and rise of Huawei's mobile phone sector is unambiguous evidence of how dependent the Chinese hi-tech industry is on American technologies," said Xing Yuqing, an economics professor with the National Graduate Institute for Policy Studies in Tokyo. "However, the ban imposed by the US does not apply to all Chinese hi-tech companies."
This article appeared in the South China Morning Post print edition as: Pittsburgh seen as a model to help transform Jilin