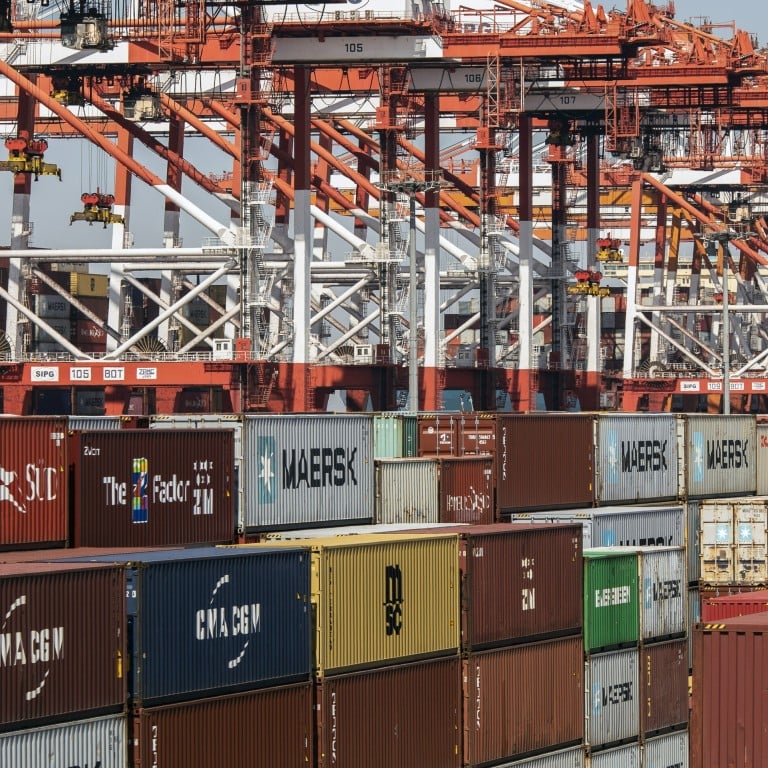 China bucks coronavirus shipping disruptions to record surging port traffic in first half
In the first half, cargo throughput at China's major ports was 13.2 per cent higher than the same period last year
The surge in port traffic reflects the country's rapid growth in trade during the coronavirus pandemic, officials say
China's strong export performance in the first half of the year has led to a surge in cargo and container throughput at major ports, defying a global trend of shipping disruptions caused by pandemic.
In the first six months, China's ports handled 7.64 billion tonnes of cargo, some 13.2 per cent more than the same period last year, the Ministry of Transport said last week.
Foreign trade accounted for 30 per cent of the total cargo passing through ports, or roughly 2.36 billion tonnes. The figure was 9.2 per cent up on the same period last year and 11.53 per cent higher than 2019.
Container throughput also increased 15 per cent year on year to 138 million twenty-foot equivalent units (TEU) in the first six months.
The surge in cargo and container throughput over the past six months reflected the country's rapid growth in trade, Sun Wenjian, a transport ministry spokesman, said at a press conference last week.
China's exports rose by 38.6 per cent to US$1.52 trillion in the first half of the year from a year earlier, while imports rose 36 per cent over the same period to US$1.27 trillion, data from China's customs agency showed.
The Port of Ningbo-Zhoushan in east China's Zhejiang province handled the most freight, contributing more than 12 per cent to the country's total foreign trade cargo throughput.
That was followed by Qingdao Port in Shandong province and Shanghai Port, which handled 10 per cent and 8.7 per cent of exports and imports, respectively.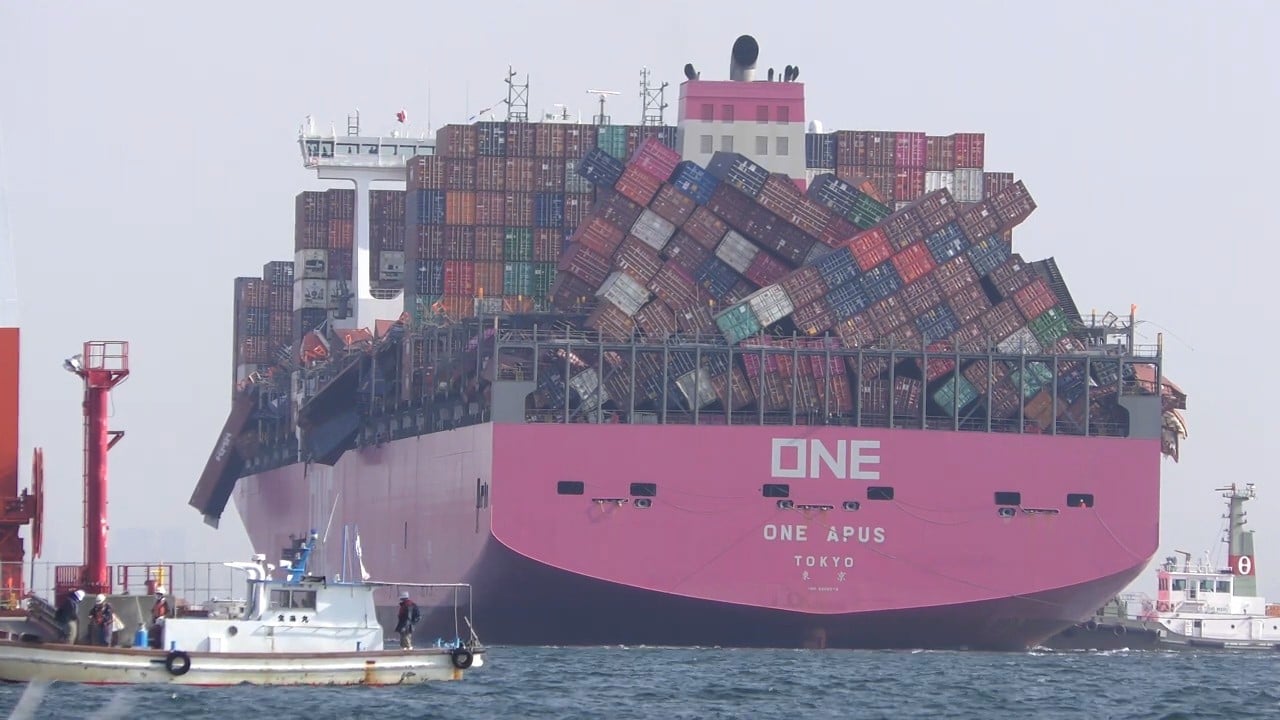 01:44
Cargo ship loses more than 1,800 containers in Pacific storm
Cargo ship loses more than 1,800 containers in Pacific storm
The Port of Shenzhen, which includes several ports in the Pearl River Delta, reported a 23.4 per cent year-on-year increase in foreign trade cargo throughput to 101 million tonnes, even though its busiest terminal,
the Yantian Port
, was shut for three weeks in the second quarter after a Covid-19 outbreak among port workers.
Chinese ports have stepped up efficiency during the pandemic, including adopting paperless logistics systems, said Sun.
Going paperless is critical for the global shipping industry given current disruptions brought on by the pandemic, said Bertrand Chen, CEO of Global Shipping Business Network, a not-for-profit data exchange platform that has helped major Chinese ports slash cargo release times from two days to four hours via blockchain technology.
"China has probably taken the challenge [in the global supply chain] more seriously than other countries, and they have the mobilisation ability to coordinate the innovation process quickly," Chen said.
China's buoyant figures contrast with many other ports around the world.
Even though global demand for logistics services remains strong, pandemic-related shipping disruptions, including
container shortages
and longer dwell times outside ports, continue to cause disruptions, according to the latest market outlook from Danish shipping giant Maersk.
With North America and Europe producing fewer products for export, empty containers are piling up at ports, delaying their return to Asia and leading to shortages in China.
As of July, major ports in China were reporting equipment shortages for a range of containers, according to Maersk.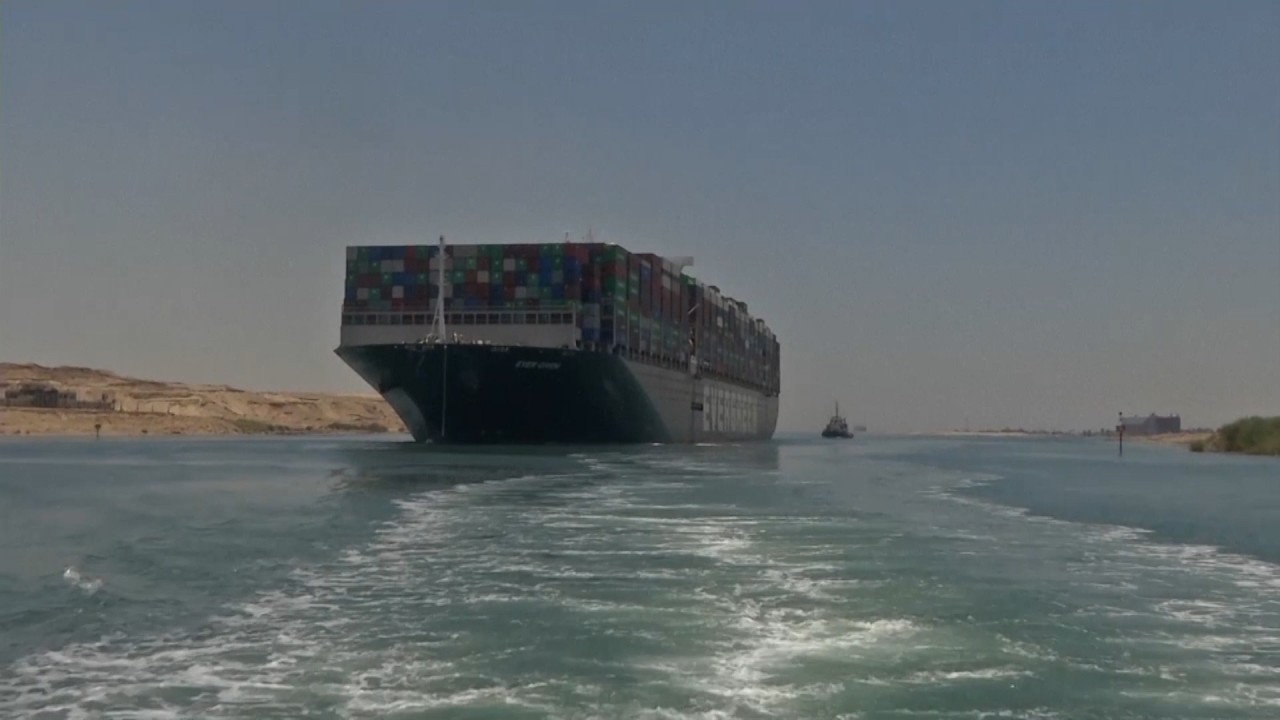 01:56
Egypt releases container ship that blocked Suez Canal for nearly a week following deal with owner
Egypt releases container ship that blocked Suez Canal for nearly a week following deal with owner
To combat the problem, Chinese authorities have coordinated with
domestic container manufacturers
to increase output, which resulted in a record monthly production of more than 500,000 TEUs
in July – about 2.5 times the capacity of normal, the Ministry of Transport said.
China produces more than 96 per cent of the world's dry cargo containers and 100 per cent of temperature controlled – or "reefer" – containers, according to Drewry, a British maritime consulting company.
At the higher production rates, industry insiders have expressed concerns about an oversupply of containers once the pandemic is over.
Though China reported 12 consecutive months of export growth in June, the outlook in the second half of the year is increasingly uncertain. The new export orders subindex within manufacturing purchasing managers' index dropped for the fourth consecutive month to 47.7 in July.
"The previous strong exports relied on the 'pump priming' of the overseas central banks, and now the original cash payout schemes are facing withdrawal," said Li Qilin, chief economist at Hongta Securities in a note.
"Without these subsidies, foreign consumers' willingness to consume will naturally begin to decline. Coupled with the restoration of overseas supply chains, it would be difficult for China's exports to maintain a high level of prosperity as in the first half of the year."
However, Zhong Zhengsheng, chief economist at Ping An Securities, said China's export growth showed signs of resilience, though the speed may slow down.
"There is room for further repair on the exports to Europe; the vaccination rate in Southeast Asia and other underdeveloped regions is lagging behind; and the exports to countries along the 'Belt and Road' have effectively increased," Zhong said in a report last month.
New trade data will be released this week, although expectations are mixed. Some analysts have tipped slowing exports due to the
high base in July 2020,
while others have suggested pent-up lockdown demand for goods will continue to push up shipments.
This article appeared in the South China Morning Post print edition as: Strong exports fuel 13.2pc rise in China port traffic